Above: Rescuer workers walk down a road damaged by flash flooding, Friday, May 19, 2017, in Sumner County, Tenn. Overnight storms brought several inches of rain, causing several creeks to rise. Image credit: Lacy Atkins/The Tennessean via AP.
Severe thunderstorms swept across a broad swath of the U.S. on Thursday, leaving behind many pockets of wind damage but little tornadic destruction. As of late Friday morning, the NOAA/NWS Storm Prediction Center had collected a massive 303 preliminary reports of severe wind gusts--stretching across a belt from Oklahoma to northern Maine--and 211 reports of severe hail, along with 22 tornado reports. Countless trees were uprooted or damaged in Thursday's widespread wind. The highest gust from an official source was the 104 mph notched at an Oklahoma Mesonet station 4 miles northwest of Walters. Giant hail pounded parts of the Southern Plains, with numerous reports of baseball-sized hailstones--though none were reported as large as the 3-inch-wide-plus missiles observed in some of Tuesday's storms.
Figure 1. Winds gusted to 104 mph in a severe thunderstorm at this automated weather station near Walters, OK, about 120 miles southwest of Oklahoma City. The gust was measured at a standard height of 10 meters (33 feet) and confirmed by measurements closer to ground level. Temperatures plummeted from the low 80s to the upper 50s with the passage of the storm. Image credit: Oklahoma Mesonet.
Figure 2. This rainbow emerged around 8:00 pm Thursday after an intense thunderstorm squall produced heavy rain and winds topping 60 mph in Norman, OK. Image credit: Bob Henson.
Fears of a destructive tornado outbreak in the Southern Plains were bolstered by a high-risk designation from SPC. However, widespread thunderstorms developed early across much of Kansas, Oklahoma, and north Texas. Although many of these storms proved to be severe, they also tamped down on instability and hindered the formation of individual supercells. The tornadoes that did form stuck mainly to rural areas.
Short-range mesoscale models, such as the HRRR, did an excellent job of predicting the early, widespread storms, a possibility we discussed in Thursday's post. These models are fairly recent arrivals on the scene, so it's encouraging to see how well they performed. Even though it appears no truly violent, long-track tornadoes developed on Thursday, the storm-making ingredients on hand were so potent and the density of severe weather was so great that the ample caution generated by the high-risk designation was probably a very good thing.
Severe weather continued on Thursday night into Friday morning, hitting northern Tennessee especially hard. Swift water rescues were ongoing north of Nashville on Friday morning, according to weather.com, after localized rainfall amounts of up to 7" overnight. Flash flood warnings remained in effect early Friday afternoon for parts of several counties.
Flooding is again a major concern from Oklahoma into hard-hit Missouri, where clusters of thunderstorms are propagating northeast along a slow-moving frontal system. SPC has placed much of the belt from Texas to Ohio under a slight risk of severe weather for Friday, with an enhanced risk for the Red River valley of OK/TX. While all forms of severe weather are possible on Friday, including tornadoes, flooding is likely to increasingly dominate the severe-weather picture into Saturday.
U.S. severe weather accounts for more than one-third of global catastrophe toll in 2017 thus far
This week's intense convection (showers and thunderstorms) came on top of what's already been an expensive year thus far for U.S. severe weather. In a weekly report issued Friday, insurance broker Aon Benfield reported: "This latest event continued a costly first half of 2017 for the severe convective storm peril in the United States that has accounted for nearly 40 percent of global natural catastrophe economic losses to this point in the year."
Dramatic storms and record heat in the eastern U.S.
The most visually stunning storms of Thursday developed not in the Plains, but in the Washington, D.C., area, where such photogenic convection is unusual. At Capital Weather Gang, Jeff Halverson and Jason Samenow posted great photos and analysis of a "mothership" supercell storm that formed west of D.C., as well as a spectacular display of mammatus that formed in the storm's wake.
Severe storms across much of the Northeast were fed by an intrusion of extremely warm air for mid-spring. In Boston, the venerable Blue Hill Observatory hit 95.5°F—its warmest May day in records going back to 1885, topping 94°F from May 26, 2010. Boston's Logan International Airport saw its second-earliest 95°F on record (beaten only by May 9, 1979). New York's LaGuardia International Airport hit 97°F on Thursday, tying the monthly record for May. It was the hottest reading so early in spring in LGA records going back to 1939. Records for the date were also notched at Central Park (92°F) and Newark (94°F).

Capital Weather Gang has a solid roundup of the extreme heat recorded across the eastern U.S. on Wednesday and Thursday. In Florida, Sarasota/Bradenton set a monthly record high of 100°F on Wednesday, and Tampa's 98°F tied its monthly record high. Both cities were just 1°F shy of their all-time highs for any month.
Figure 3. Emily Weir, left, and Barrac Elgee, head to their home for snow shoveling during a steady snow in Nederland, Colo., on Thursday, May 18, 2017. A rare May snow dump across Colorado prompted some emergency warming shelters to re-open after being closed for the season. Image credit: Cliff Grassmick/Daily Camera via AP.
Colorado Front Range digs out from snowy spring onslaught
More than three feet of snow buried parts of the Rocky Mountain foothills northwest of Denver in a prolonged late-spring winter storm. The snowfall gradually dribbled to an end Friday morning after intense snowfall rates through much of Thursday. A total of 42" was reported on Friday morning near Allenspark, with 41" close to the nearby town of Ward and 31" at Estes Park.
Amounts were lower but still very impressive for late May in the urban corridor from Denver northward. Boulder received 4.8" of snow that included 1.83" of liquid (far below the common 10-to-1 snow-to-rain ratio, a sign of how dense and wet this snow was). There was only a trace of snow at Denver International Airport, the city's official reporting site, but an inch or two fell across much of central Denver. Freeze warnings are in effect for Friday night along the entire Colorado Front Range, putting many thousands of gardeners on alert.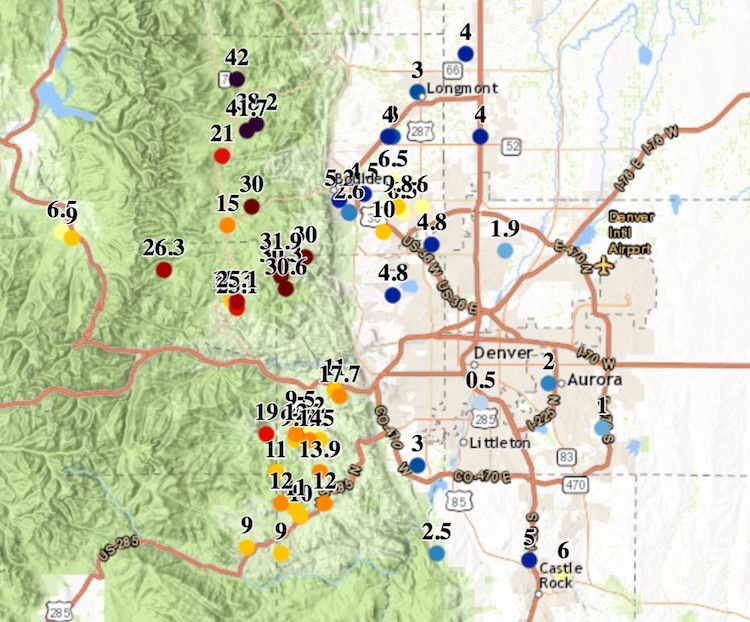 Figure 4. Snowfall totals (in inches) as of 11 am MDT Friday, May 19, 2017, in and near Denver, Colorado. The highest amounts were in the foothills and mountains just northwest of Denver. Image credit: Denver-Boulder NWS.