Above: A wildfire rips across the Oklahoma prairie west of Taloga at 6:43 pm CDT Thursday, April 12, 2018. Image credit: Courtesy David Ewoldt.
Destructive wildfires broke out across northwest Oklahoma late Thursday and raged into Friday, the opening salvo of a fierce spring storm dubbed Xanto by the Weather Channel. The sprawling system will generate wild weather and huge temperature contrasts from the Great Plains eastward to New England before the weekend is done.
At least 100,000 acres were scorched from Thursday into Friday morning by clusters of fast-growing fire in Oklahoma that forced several evacuations, including the towns of Vici and Mutual. Strong winds kept the fires unusually active overnight, with some 15,000 more acres consumed, according to newsok.com. A missing hunter was found with burn injuries on Friday morning. The fires made a dramatic appearance in high-resolution images from the GOES-16 satellite (see embedded tweet below).
Amazing and scary #GOES16 imagery of smoke and #pyroCu from the #Oklahoma #wildfires pic.twitter.com/uMSEu7kpjM

— Dan Lindsey (@DanLindsey77) April 12, 2018
Thursday's blazes were fueled by exceptionally volatile weather: temperatures of 90°F to 100°F, relative humidity well below 10%, and southwest winds gusting above 40 mph. Adding to the threat, most of the tinder-dry grasslands from eastern New Mexico to far western Oklahoma have gotten less than a half-inch of moisture in the past six months—the driest such period in more than a century of recordkeeping at some spots.
As the powerful surface and upper-level storm moves into the Plains on Friday, the hottest and driest zone will shift south into southeast New Mexico, west Texas, and southwest Oklahoma. A large area has been flagged for "extremely critical" fire weather, the most dire of the categories routinely used by the NOAA/NWS Storm Prediction Center, or SPC. "Models are consistent in depicting an expansive, higher-end fire weather scenario," said SPC early Friday.
A cold front pushing into Oklahoma on Friday afternoon will force winds to shift to the west and northwest, which could trigger a further expansion of the existing fires. Fire weather is expected to remain critical across the southern High Plains on Saturday.
Figure 1. Visible satellite image of the sprawling storm dubbed Xanto. Image credit: NOAA, via NCAR/RAL.
Figure 2. WU depiction of convective (severe thunderstorm) threat areas for Friday through Sunday, April 13-15, 2018, issued by NOAA/NWS Storm Prediction Center on Friday morning.
A long weekend of severe weather across the South
Tornadoes and very large hail are possible on Friday afternoon and evening along and ahead of a sharp dry line that will barrel through the Southern Plains ahead of the cold front. SPC upgraded a small band from roughly Texarkana, TX, to Little Rock, AR, to a moderate risk of severe weather (the second highest ranking) early Friday morning, surrounded by an enhanced-risk area (third highest ranking) from Texas to Iowa.
An area of rich moisture ahead of the front and beneath strong upper-level wind shear—mainly across Arkansas and northern Louisiana—will have the greatest threat of supercell storms that could generate a few stronger tornadoes. Hail-bearing storms may be scattered throughout the enhanced-risk zone. By late Friday, the storms will likely congeal into one or more intense squall-line segments that could produce mostly short-lived tornadoes well into the night.
The severe weather threat will shift east of the Mississippi on Saturday. Tornadic storms will again be possible from the Gulf Coast through parts of Louisiana, Mississippi, and Alabama, especially if any overnight storms weaken in time for fresh development. Another pocket of severe weather may erupt in Illinois and Indiana, as unstable air wraps toward the surface low.
Severe storms packing high winds may develop on Sunday east of the Appalachians, from Florida to Virginia.
Figure 3. Depiction from weather.com of winter-weather watches, warnings, and advisories in effect from the National Weather Service as of Friday morning, April 13, 2018.
From the Northern Plains to New England, winter hasn't left the building yet
Blizzard warnings were plastered on Friday morning from northeast Colorado to southern Minnesota, along the north side of a sharpening stationary front. Heavy snowfall rates and wind gusts to 40-50 mph (or more) will paralyze travel across large stretches of the Northern Plains. Snowfall could total more than a foot across parts of South Dakota, with larger drifts a very good bet. As the storm heads into the Great Lakes states, it will slow down, prolonging the wintry conditions north of the front and adding to impressive spring snow totals.
If Minneapolis racks up 10" of snow in this storm—which is quite plausible, given the local forecast on Friday morning of 10-14"—it will put 2018 in the rare company of just four other years that have given the Twin Cities this much snow in April or May: 1893, 1907, 1928, and 1983. Snowfall will be especially heavy over northern Michigan, where a few totals topping 18" aren't out of the question. Marquette, MI, knows this playbook: it endured 22.6" of snow on April 15-16, 1993, and 22.4" on May 9-10, 1990.
South of the snow, there may be a strip of mixed winter precipitation just north of the frontal zone from Minnesota to New England, with the potential for sleet or freezing rain. It's usually difficult to get much ice accretion by mid-April, when the ground is in spring warming mode and strong sunlight can filter through clouds. However, in this unusual case, a shallow but strong wedge of cold air means that significant accumulations are possible from parts of lower Michigan across southern Ontario and northern New York into northern Vermont. High winds over Michigan could add to any impacts.
There's history of April being an icemaker in this region. A historic ice storm moved from southern Michigan to upstate New York on April 3-5, 2003, knocking out power to hundreds of thousands of customers.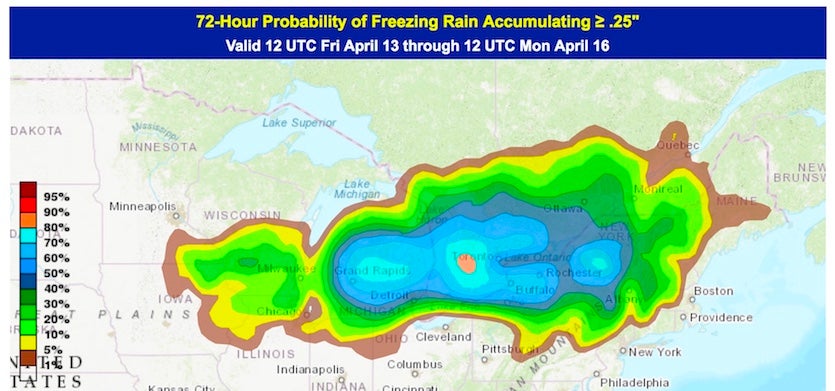 Figure 4. Odds of receiving at least a quarter-inch of freezing rain during the 72 hours from 8 am EDT Friday through 8 AM Monday, April 13-16, 2018. Pockets of a half-inch or more (not shown) are possible in Michigan, southern Ontario, and upstate New York. The actual accretion on objects will vary depending on pre-storm temperatures and other factors. Image credit: NOAA/NWS Weather Prediction Center.
Saturday will bring an eye-popping set of weather contrasts from the Midwest to the Northeast, across a stationary front that should lie in the rough vicinity of Interstate 90 around midday. To the north of the front, a potpourri of heavy snow, freezing rain, and sleet will accompany temperatures near the freezing mark, while folks to the south will be swaddled in balmy, humid air. By Saturday afternoon, the Hudson Valley of New York could see temperatures vary from around 32°F in Albany to near 80°F in New York.
Weather.com will have frequent updates on Winter Storm Xanto throughout the weekend.
Figure 5. Temperature forecast for the northeast U.S. from the 06Z Friday run of the GFS model, valid for 2 pm EDT Saturday, April 14, 2018. Image credit: tropicaltidbits.com.