Above: MODIS satellite image of Tropical Storm Rina taken on Wednesday morning, November 8, Image credit: NASA.
Tropical Storm Rina, the seventeenth named storm of this hyperactive Atlantic hurricane season, is on its last day of life as it chugs northward at 20 mph over cold waters of 22°C (72°F). At 10 am EST Wednesday, Rina's top winds were 60 mph, which is likely to be the storm's lifetime maximum intensity. Rina will get absorbed by a cold front to its north on Thursday without affecting any land areas, and the storm's remnants will reach Ireland and the UK on Friday.
It's been an exceptionally busy Atlantic hurricane season in 2017. Rina's formation in November means that all six months of the official Atlantic hurricane season, June through November, saw formation of a named storm. Since hurricane names began being assigned in 1950, only six other years have had this happen: 1954, 1989, 1996, 2005, 2011, and 2013 (thanks go to WU member Mark Cole for this stat). Rina puts us in 9th place for most named storms in an Atlantic hurricane season (17); this season is also in 8th place for hurricanes (10), 3rd place for major hurricanes (6), and 7th place for Accumulated Cyclone Energy (225).
Atlantic Accumulated Cyclone Energy generated by each named storm so far in 2017. #Irma, #Maria and #Jose the largest ACE generators. #Rina pic.twitter.com/H1khukGylh

— Philip Klotzbach (@philklotzbach) November 7, 2017
The Atlantic hurricane season is not over yet
The Atlantic hurricane season officially ends on November 30, but there is a good chance we will see Tropical Storm Sean or Subtropical Storm Sean in the coming weeks. Three of the six years with more ACE than 2017 ended up having at least one more named storm after mid-November, so past history suggests that a busy season like 2017 may see more activity. The Wednesday morning runs of the GFS and European models showed one possible area of tropical cyclone formation early next week: the waters of the east-central Atlantic near 30°N, 30°W, several hundred miles south of the Azores Islands. A non-tropical area of low pressure is expected to form in this region, where waters of about 24°C (75°F) exist. These waters may be warm enough to allow the storm to transition to a named subtropical storm. We also need to watch the waters of the Western Caribbean off the coast of Nicaragua in the coming weeks, as well. Sea surface temperatures there are close to 30°C (86°F)--more than 1°C above average for this time of year, and plenty warm enough to support a hurricane--and the long-range GFS model has been predicting low pressure and reduced wind shear favorable for tropical cyclone formation in this region after November 20. Recall that last year, Category 3 Hurricane Otto formed in this region and hit Nicaragua on Thanksgiving Day—November 24.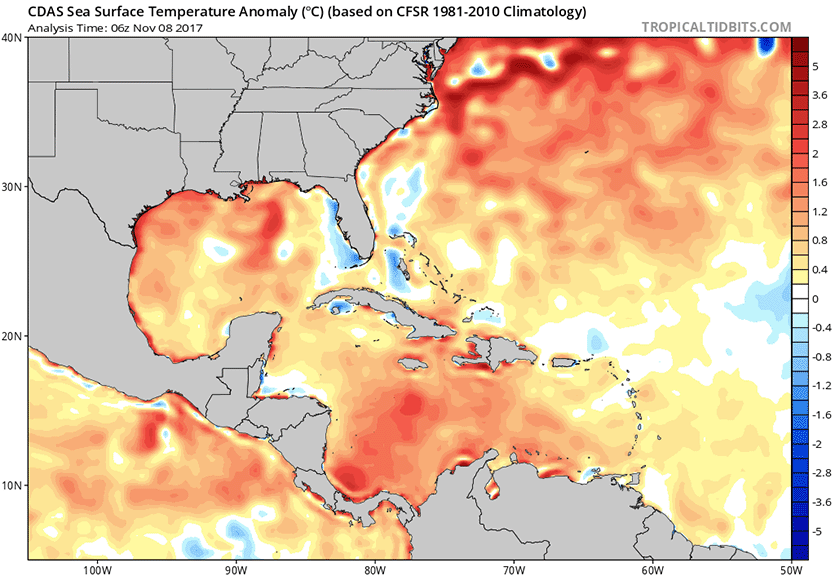 Figure 1.
Sea surface temperatures as of Wednesday, November 8, remained well above average for this time of year across nearly all of the Gulf of Mexico and Caribbean Sea. Departures from average are shown above, in degrees C. Image credit:
tropicaltidbits.com
.
During the active Atlantic hurricane period 1995 through 2016, a total of 11 named storms, 5 hurricanes, and 1 major hurricane formed November 15 or later, with 8 of those 22 years (36%) having one or more of these very late-season named storms. The busiest year was (no surprise) 2005, when three late-November/December named storms formed (Delta, Epsilon, and Zeta). Here are all the mid-November or later named storms since 1995 and their formation dates:
2016: Major Hurricane Otto (Nov. 20)
2007: Tropical Storm Olga (Dec. 11)
2005: The "Greek" storms: TS Delta (Nov. 22), Hurricane Epsilon (Nov. 29), and TS Zeta (Dec. 30)
2004: Tropical Storm Otto (Nov. 29)
2003: TS Odette (Dec. 4), and TS Peter (Dec. 7)
2001: Hurricane Olga (Nov. 24)
1998: Hurricane Nicole (Nov. 24)
1996: Hurricane Marco (Nov. 19)
Three of these eleven storms (27%) caused loss of life: Hurricane Otto of 2016, which killed 23 in Central America; Tropical Storm Olga of 2007, whose floods killed 24 on Hispaniola and 1 in Jamaica; and Tropical Storm Odette of 2003, whose floods killed eight people in the Dominican Republic. There have been only four major Category 3 or stronger hurricanes that existed in the Atlantic after November 15: Hurricane Otto of 2016 (November 24), Hurricane Kate of 1985 (November 20 – 21), Hurricane Lenny of 1999 (November 17 – 18), and Hurricane Seven of 1912 (November 17 – 18).
Figure 2. One of the most notorious Atlantic hurricanes of all-time was an "S" storm—Hurricane Sandy of 2012, seen here on October 28, 2012. Image credit: NASA/GSFC.
History of Atlantic "S" storms
If Tropical Storm Sean forms in 2017, it will be only the sixth storm beginning with the letter "S" to form since hurricanes began getting names in 1950. The others:
Tropical Storm Sebastien (1995); hit Lesser Antilles on October 24 as a tropical depression
Hurricane Stan (2005); Cat 1 storm had its name retired after bringing catastrophic rains to Mexico and Central America that killed 1,668 and caused $4 billion in damage
Hurricane Shary (2010); Cat 1 storm stayed out to sea southeast of Bermuda
Tropical Storm Sean (2011); brought tropical storm-force winds to Bermuda on November 11
Hurricane Sandy (2012); Cat 3 storm had its name retired after killing 159 and causing over $70 billion in damage in Northeast U.S. and Caribbean.