Above: Tropical Depression 19 as seen by NASA's Terra satellite on Monday morning, November 6, 2017. Image credit: NASA.
Tropical Depression Nineteen (TD 19) formed on Monday morning in the Central Atlantic, far from any land areas, and is not expected to be a threat to any land areas during its three-day lifetime. Satellite images on Monday morning showed that TD 19 had only a limited amount of heavy thunderstorm activity, which was confined to the southeast side of the circulation due to upper-level winds out of the west-northwest that were causing about 15 knots of wind shear. TD 19 was headed north-northeast at 3 mph over waters of 26°C (79°F), about 0.5°C above average. This is ordinarily only marginally warm enough to support a tropical storm, but temperatures in the upper atmosphere over TD 19 were about 2°C below average, making the difference in temperature between the surface and upper atmosphere large enough to create the instability needed for development of a tropical storm. This is the same combination of surface- and upper-level ingredients that allowed Category 3 Hurricane Lee to form in the same general area in late September--though TD 19 is not expected to reach hurricane strength.
Figure 1. NHC's wind probability forecast for TD 19 issued at 10 am EST Monday morning, November 6, 2017, kept TD 19's strong winds out to sea for the duration of the storm's life. Image credit: NHC.
Forecast for TD 19
The 12Z Monday run of the SHIPS model predicted that wind shear would remain moderate, 15 – 20 knots, through Wednesday, which should allow TD 19 enough time to intensify into Tropical Storm Rina--even though the storm will be moving over progressively cooler waters. This intensification process will be aided by non-tropical (baroclinic) processes, as the storm interacts with a cold front to its north. By Wednesday evening, TD 19 should become embedded in the cold front and become post-tropical, as the storm accelerates to the northeast towards Europe. If TD 19 does become Tropical Storm Rina, this would be the 17th named strom of the 2017 Atlantic hurricane season, putting it in a tie for ninth place for the most named storms on record for any Atlantic hurricane season since 1851.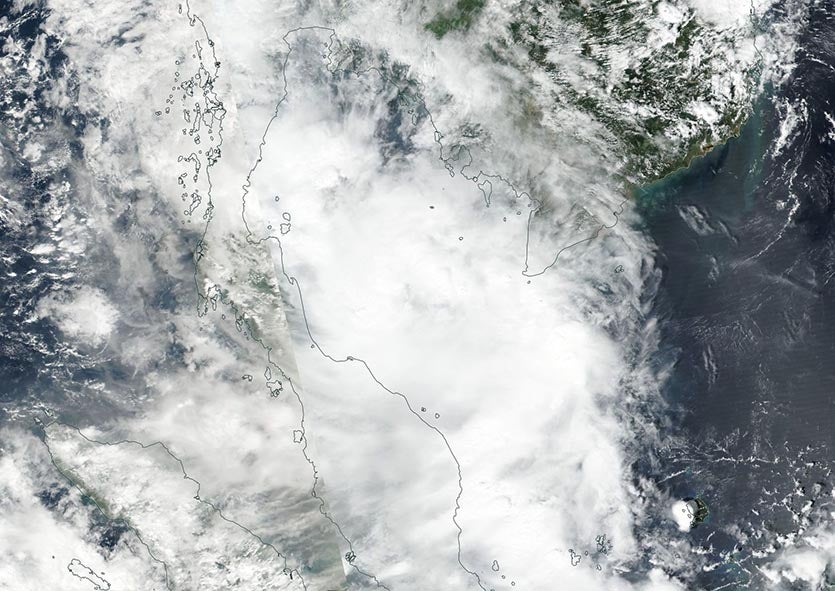 Figure 2. VIIRS visible image of TD 29 in the Northwest Pacific on Monday morning, November 6, 2017. Image credit: NASA.
New depression (TD 29) may pose a long-range threat in Bay of Bengal
In the Western Pacific, Tropical Depression 29 is expected to make landfall as a tropical depression in the Malay Peninsula near the Thailand/Myanmar border on Tuesday morning (U.S. EST time zone). The Joint Typhoon Warning Center predicted on Monday morning that TD 29 would slowly re-intensify to a Category 1 hurricane by the end of the week, as the storm traversed the Bay of Bengal towards India. However, the storm may also dissipate after hitting Thailand, as predicted by the 6Z Monday run of the GFS model. TD 29 is likely to bring 4 – 6" of rain to portions of Thailand and Myanmar along its track.
Figure 3. Nguyen Thi Hong looks out onto a flooded street in front of her house in Hoi An, Vietnam, on Monday, Nov. 6, 2017. Some of the worst flooding in decades was reported in Hoi An, located more than 200 miles north of where Typhoon Damrey made landfall. Image credit: AP Photo/Hau Dinh.
Floods from Typhoon Damrey continue to plague Vietnam
The death toll rose to 61 on Monday in the wake of Typhoon Damrey, which slammed into south-central Vietnam on Saturday local time. Damrey came ashore in the highly touristed area just north of Nha Trang. The typhoon expanded and peaked in strength just before landfall as the equivalent of a Category 2 hurricane with top winds of 105 mph (see embedded tweet below, posted by Phil Klotzbach on Friday night U.S. time). More than 100,000 homes were damaged or destroyed by Damrey, as reported by the Associated Press and weather.com. Torrential rains and flooding extended well beyond the landfall site, pushing some dams near capacity, Reuters reported. The widespread floods complicated preparations for the Asia-Pacific Economic Cooperation (APEC) summit that will bring world leaders to Da Nang, about 200 miles north of Nha Trang, on November 10.
Cat. 2 Typhoon #Damrey is currently making landfall in Vietnam. pic.twitter.com/714MuIJ5NI

— Philip Klotzbach (@philklotzbach) November 3, 2017
Overall, this has been a relatively quiet year for typhoons over the Northwest Pacific, with only 10 thus far (the average for a season is 16). However, Vietnam has taken some disproportionate hits. Powerful Typhoon Doksuri arrived in mid-September, packing 115-mph sustained winds. At least 20 people were killed and 200 injured in Vietnam by Doksuri, with damages topping $700 million (US dollars). In early October, Tropical Depression 23—which never reached tropical storm strength—slogged ashore in northern Vietnam, bringing torrential rains that triggered devastating floods and mudslides across a large swath of Southeast Asia. A total of 83 deaths were reported from TD 23, and more than 16,000 homes in Vietnam were flooded. In addition, two tropical storms, Talas and Sonca, hit central Vietnam in July--reportedly the first time the region has been struck twice in the same month since July 1971.
Bob Henson co-wrote this post.