Above: The Thomas Fire burns in the hills above Montecito, Summerland, and Carpinteria along the eastern edges of Santa Barbara County on Wednesday, December 13, 2017. Image credit: George Rose/Getty Images.
The North Pacific is bookended by two major weather stories this weekend—one involving too much rain, the other too little. A slow-moving tropical storm crawling across the Philippines was adding to rainfall that could end up totaling several feet in some spots (see below). Meanwhile, another round of dangerous fire weather conditions was predicted for parts of Central and Southern California as a destructive, nerve-racking December continued across the parched state.
Critical fire weather possible in parts of Bay Area on Saturday
A strong cold front pushing southward through California will kick up high winds early in the weekend, leading to potentially critical fire weather conditions. In its outlook for Saturday, issued early Friday, the NOAA/NWS Storm Prediction Center highlighted the risk of critical fire weather across a large swath of central California, including most of the Bay Area as well as the North Bay Hills that were hammered by catastrophic fire in October. Relative humidity (RH) is not expected to drop into the less-than-10% range, which is associated with the most severe fire behavior, but north-northeast winds gusting beyond 30 mph may coincide with low RH of 15-25%.
Critical fire weather conditions are also possible from late Saturday into Sunday across parts of coastal Southern California hard-hit by massive late-season fires over the last two weeks.
No rain has fallen in the last two weeks across much of the Southwest U.S. (see Figure 1). With luck, parts of Northern California could see a modest early-winter storm late next week, but otherwise no major rain or snow is expected across the state for at least the next week to 10 days.
Figure 1. Precipitation (rain and melted snow) for the two-week period ending at 7 am EST Thursday, December 14, 2017. Image credit: NOAA/NWS/AHPS.
Thomas Fire grinds its way to new records
The Thomas Fire—still raging across Santa Barbara and Ventura counties, northwest of Los Angeles—grew from 242,500 acres on Thursday to 252,500 acres on Friday. That's no small expansion: the fire consumed 15.6 square miles in just 24 hours.
The Thomas Fire now ranks as the fourth largest in California's wildfire history, according to Cal Fire. Just ahead of it is the August 2013 Rim Fire: that one devoured 257,314 acres, so it looks likely that the Thomas Fire will soon displace it as #3 on the list. The state's largest fire on record—the deadly, destructive Cedar fire of October 2003 in San Diego County—scorched 273,246 acres. Given the lack of rain in the forecast, it is quite possible that the Thomas fire will approach or break that record.
A total of 972 structures have now been destroyed by the Thomas Fire, putting it eighth on Cal Fire's list of most destructive wildfires. Three of the top ten most destructive fires in California history have occurred in the last three months: the Thomas Fire, the Nuns Fire of October 2017 in Sonoma County (1355 structures lost), and the simultaneous Tubbs Fire, also in Sonoma County (a record 5643 structures destroyed).
More than 8000 firefighters were battling the Thomas Fire on Friday. The deadly nature of their work was brought home on Thursday as Cal Fire reported that one of them—32-year-old Ken Iverson, a fire apparatus engineer from San Diego—died on Thursday. The other fatality associated with the December fires to date was a 70-year-old woman killed while evacuating, according to the Washington Post.
There is some good news: the Thomas Fire was 35% contained as of Friday morning, up from 30% on Thursday morning, and evacuations were lifted on Thursday afternoon for parts of Ventura County. Firefighting efforts were focused on the western and eastern ends of the fire. "Fire will continue to threaten the communities of Santa Barbara, Carpinteria, Summerland, Montecito and surrounding areas," said Cal Fire in a Friday morning update.
Vast amounts of smoke have wafted into California's Central Valley, leading to poor air quality. According to AirNow.gov, cities from Bakersfield to Stockton were experiencing air at noon PST Friday rated "unhealthy" as a result of small particulates (PM2.5).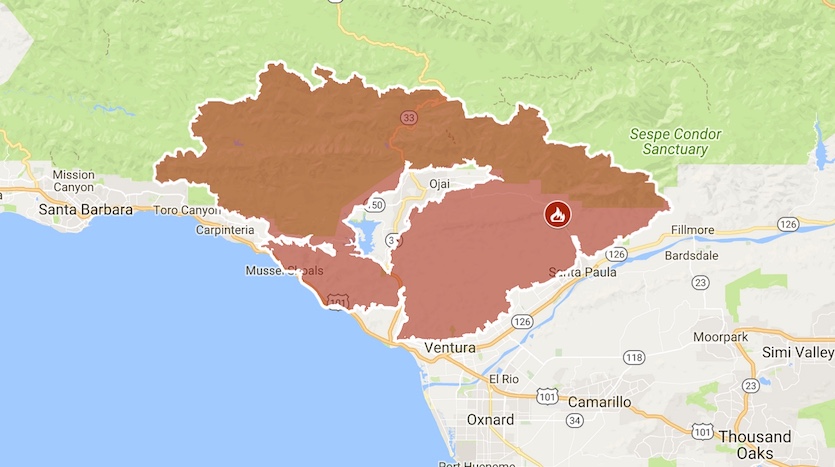 Figure 2. Perimeter of the Thomas Fire as of late Wednesday, December 13, 2017. The fire expanded by close to 10% between Thursday and Friday, Dec. 14-15. Image credit: Google Maps, via Cal Fire.
Floods and landslides the main threat from Tropical Storm Kai-Tak
Slow-moving Tropical Storm Kai-Tak (dubbed Urduja in the Philippines) will continue to drench the Philippines through the weekend as it slogs slowly westward. High wind shear will keep the storm from gaining a more coherent structure. However, Kai-Tak is embedded in a very moist atmosphere atop very warm sea-surface temperatures (28-29°C or 82-84°F), so it will be a prodigious rain producer, especially as it moves across higher terrain. Earlier this week, as NASA's polar-orbiting Global Precipitation Mission satellite passed over 96W (the disturbance that became Kai-Tak), it detected rainfall rates topping 143 mm/hr (5.6 in/hr)
At 15Z Friday (10 am EST), the Joint Typhoon Warning Center placed the center of Kai-Tak about 500 miles east-southeast of Manila. The storm was drifting south at just 2 knots but is expected to resume a gradual westward movement, bringing it to the island of Samar on Saturday and across the central Philippines on Sunday as a weak tropical storm.
Figure 3. Infrared image of Tropical Storm Kai-Tak (center) at 1:30 pm EST Friday, December 15, 2017. At right is a large disturbance that could develop into a typhoon next week. Image credit: JMA, via NOAA.
Kai-Tak's heavy rainfall rates combined with its slow motion has already led to some impressive rainfall totals, with 27.13" falling at Borongan over the past 4 days. More than 1000 people were evacuated from the northern Mindinao region due to heavy rains, according to ReliefWeb, with several houses destroyed. GFS model output suggests that rainfall over the next several days could exceed 20 inches in parts of the Visayas, the region slammed by Super Typhoon Haiyan in 2013, and perhaps along the eastern-facing slopes of Luzon.
A large and potent disturbance dubbed 97W, well east of Kai-Tak, could become a much stronger tropical cyclone over the next few days. Computer models have been consistent in developing the disturbance into a typhoon, but there remains a great deal of track uncertainty. The 00Z and 12Z Friday runs of the European model bring this new system across the Philippines in about 6-8 days. In contrast, the last several runs of the GFS model have featured a stronger midlatitude trough that picks up the potential typhoon and recurves it well east of the Philippines.