Above: Gabe Gunning of Scarborough, ME, uses the behind the back heave as he shovels his driveway on Thursday, March 8, after the winter storm known as Quinn dropped 12" to 20" of snow across much of Maine. Though the storm was not classified as a meteorological bomb like its predecessors Grayson (in January) and Riley (in early March), it left more than 775,000 without power in New York, New Jersey, and Pennsylvania. Image credit: Derek Davis/Portland Press Herald via Getty Images.
The nor'easter-producing machine of 2018 is cranking out yet another humdinger off the U.S. East Coast, this one likely to dump a foot or more of snow from Rhode Island to Maine from early Tuesday into Wednesday. With the spring equinox just a week away, it will take intense updrafts and heavy precipitation rates to chill the atmosphere enough for snow. However, that also means the white stuff may be pouring down at rates of 2" - 3" per hour in some places. Update: A blizzard warning has been issued for coastal Massachusetts north and south of Boston, including Cape Cod and Nantucket Island, valid from 11 pm EST Monday to 8 PM Tuesday.
A pre-existing frontal boundary from the mid-South to mid-Atlantic is being energized by a fast-moving upper-level trough diving into the region from eastern Canada. Several inches of wet snow fell from Sunday night into early Monday along a band from central Kentucky into western Virginia. After this impulse skitters off the East Coast—too far south to bring significant snow to the Washington, D.C., area—the associated surface low will gather strength offshore from late Monday into Tuesday, arcing poleward in classic nor'easter fashion. This low is predicted to easily qualify as a meteorological bomb or bomb cyclone—the third one of the year off the U.S. East Coast—with the surface pressure expected to drop more than 24 millibars from Monday AM to Tuesday AM.
The heaviest snows with this latest nor'easter, dubbed Skylar by The Weather Channel, will affect Long Island, most of New England except northern Vermont, and eventually far southeast Canada. There's still a wide range of potential snow totals at certain spots, given the marginal temperatures and some lingering uncertainty over the storm's exact track, but a foot or more could fall from Rhode Island across eastern Massachusetts, New Hampshire, and Maine. Localized amounts of 18" – 24" are not out of the question beneath the most intense snow bands, where thundersnow is a distinct possibility.
[Mariners] Strong Nor'easter will pass near the 40N/70W Benchmark tomorrow. Expect N/NE wind gusts forecast upwards of 60 kts; waves building on the outer waters 25 to 30 feet; a concern for ALL MARINERS as hazardous wind and sea conditions will exist. Details: pic.twitter.com/wOamWev6cJ

— NWS Boston (@NWSBoston) March 12, 2018
Strong winds, but mostly minor coastal flooding
Winter Storm Skylar will not pass quite as close to the New England coast as the previous two "bomb" nor'easters of 2018, the January 4 storm (Grayson) and March 2 storm (Riley). The strongest winds will be farther offshore, with peak wind gusts over land expected to be less than hurricane force—about 60 mph over Cape Cod and Nantucket, Massachusetts. These winds will not be able to drive as large of a storm surge to the coast, and a peak storm surge of 2 – 3 feet is expected along the coast of eastern Massachusetts.
Helping the coastal flooding situation considerably is the fact that Skylar is hitting during some of the lowest tides of the month, thanks to the phase of the moon. The National Weather Service in Boston is warning for mostly minor coastal flooding for eastern Massachusetts, with some areas of moderate flooding with significant erosion along the ocean side of Cape Cod and on Nantucket Island. The coast of eastern Massachusetts is unusually vulnerable to storm damage due to the pounding from Grayson, which brought the highest storm tide ever recorded in Boston, and from Riley, which brought the third highest storm tide on record.
See weather.com for frequent updates on the forecast for Skylar, and why nor'easters can be so challenging to predict.

Figure 1. Snow forecast issued by weather.com early Monday, March 12, 2018, for the winter storm named Skylar. See the related article for the latest forecast.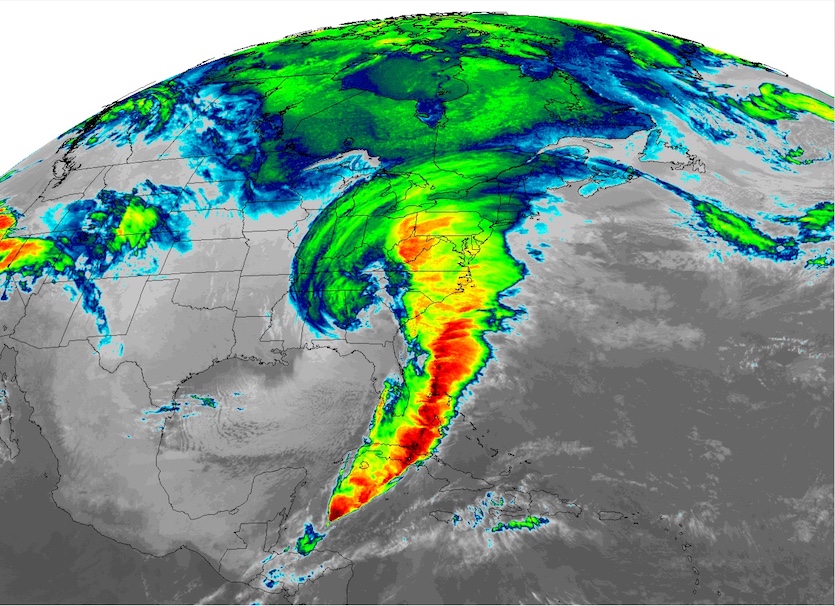 Figure 2. The intensely dynamic Storm of the Century as depicted in a Meteosat infrared satellite image at 7 am EST March 13, 1993. At this point, a powerful squall line (red and orange) had just plowed across Florida, while snowfall was rapidly increasing to the north. The Meteosat-3 satellite was on loan to the US from Europe after the failure of GOES-6 in 1989. Image credit: Eumetsat, via CIMSS/University of Wisconsin.
25 years ago this week: A look back at 1993's Storm of the Century
One can only imagine how today's world—drenched in social media and incessant hype—would handle an event like the mammoth midlatitude storm that swept across the eastern U.S. on March 11-13, 1993. This one earned the sobriquet "Storm of the Century" honestly. It produced fierce winds, epic snowfall (with significant accumulations from Florida to Maine), and all-time low surface pressures at many sites from Florida to Virginia. A vicious squall line tore across the eastern Gulf of Mexico (see Figure 2 above), pushing a storm surge of up to 12 feet into the west coast of Florida.
Overall, the storm was remarkably well forecast for its time. Meteorologist Steve Tracton, who worked the storm from the NOAA/NWS Environmental Modeling Center, dubbed it "The Super-Predictable Superstorm of 1993" in an insightful Capital Weather Gang post from 2009. "This was the first time the National Weather Service (NWS) was able to accurately forecast a storm of this magnitude 5 to 6 days in advance -- and do so with a high level of confidence," Tracton wrote.
For the Southeast, Northeast, and Ohio Valley, the 1993 Superstorm was the most impactful snowstorm in records going all the way back to 1900, based on NOAA's Regional Snowfall Index. As summarized by NOAA's National Centers for Environmental Prediction: "During the height of the storm, snowfall rates of 2–3 inches per hour occurred. New York's Catskill Mountains along with most of the central and southern Appalachians received at least 2 feet of snow. Wind-driven sleet also fell on parts of the East Coast, with central New Jersey reporting 2.5 inches of sleet on top of 12 inches of snow—creating somewhat of an 'ice-cream sandwich' effect."
Figure 3. Total snowfall from 1993's Storm of the Century, March 11-13, 1993. Image credit: NOAA/NCEI.
Adjusted for inflation, the 1993 Superstorm was almost twice as costly as any other winter storm in NOAA/NCEI records going back to 1980. In 2017 dollars, the storm's economic toll of $9.6 billion far outpaced the runnerup, a Southeast ice storm in February 1994 that cost $5.1 billion. The storm's death toll of 270 was also the largest for any winter storm in the NCEI database (1980-present). Some 10 million customers lost power, which may be the largest weather-related blackout in U.S. history.
Where were you during the Storm of the Century?
While the March 1993 superstorm was a life-or-death happening for many, and a colossal inconvenience for millions, it was also an eye-opening experience for many meteorologists and for others whose careers would take them into the field or into adjacent disciplines. Below are a few reflections from friends and colleagues. Do you have a Storm of the Century experience to share? If so, please add it to the comments field below!
—Lisa Gardiner, science educator at the University Corporation for Atmospheric Research and author of the new book Tales from an Uncertain World: What Other Assorted Disasters Can Teach Us About Climate Change (University of Iowa Press):
"I encountered the storm in the Gulf of Mexico somewhere north of Cuba. I was on the RV Westward, a 125-foot schooner with 20 or so other college students and about eight crew. We'd been rolling in the swells for a while, but hadn't encountered the storm. Then, I was on night watch when the captain came above deck and told us to all get our foul weather gear on and harness ourselves to the ship. It wasn't stormy. It wasn't even windy. But within an hour we sailed into the storm. It was incredible. The temperature dropped, the rain pelted, the wind was fierce. We were all in yellow rain suits in the pitch-black dark, harnessed into the rigging and unsure what happens next."
—Ricky Rood (University of Michigan), longtime WU contributor:
"I wrote a relatively novel paper about injection of tropospheric air into the stratosphere. I got to use the lines, 'ln March of 1993 one of several "Storms of the Century" occurred on the East Coast of the United States.' As well as, 'By the 16th the eastern United States is covered by the high pressure system following the blizzard, East Coast residents are observed worldwide on the evening news digging out of the snow, and the swans are flying north from Cape Anne.'"

—Emilie Lordich, assistant news director at the American Institute of Physics:
"I wrote a press release about a graduate student who studied the storm, and it earned me one of my first media pickups as a science writing intern."
—Steve Tracton, retired meteorologist from NOAA/NWS:
"The two things I recall the most are, first, the very first serious (and successful) use of ensemble prediction systems (EPS) at NCEP in the context of operational forecasts—and planting the seeds of accepting the potential value of EPS in operational applications. The seeds took more than a decade to begin flowering after hard-fought resistance to the ill-conceived single 'model of the day' paradigm (deterministic single "best" forecast, with no information on uncertainty). I still carry the scars thrown my way as an irrepressible proponent. Second, as mentioned in my CWG blog, the forecast overall was more predictable than most."
—Guy Walton, former Weather Channel meteorologist and author of the Guy on Climate website (http://www.guyonclimate.com/):
"This was the first (and last) time I ever heard thundersnow in Atlanta."
Jeff Masters contributed to this post.
Of the 10 biggest March snowstorms, 4 of them have occurred on March 13-14, including a 16 inch storm just last year. Our next snowstorm is expected on March 13-14. Depending on how it tracks, it could be another big one. History is apparently on its side! #mewx pic.twitter.com/wVvtY8KgQF

— NWS Gray (@NWSGray) March 11, 2018