Above: Residents of Boulder, Colorado, spent the morning shoveling and digging out on Tuesday, November 26, 2019. As of early afternoon, Boulder had officially picked up 22.3", making this the city's biggest November snowstorm since 1992. Image credit: Bob Henson.
The first phase of a major winterlike series of storms pushed across the central Rockies into the Plains on Tuesday, dumping more than two feet of snow in Colorado. The storm's peak accumulation as of early Tuesday afternoon was 33 inches in Drake, southwest of Fort Collins. Totals of 6-12" were widespread across the Denver metro area, tangling traffic and resulting in more than 400 cancelled flights on Tuesday. The Boulder area saw more than 20".
After trigging blizzard warnings in parts of Wyoming and Colorado, the storm ripped onto the Plains on Tuesday. Winter storm warnings were in effect for most of Nebraska, northwest Iowa, southeast Minnesota (including the Minneapolis area), and northwest Wisconsin. These areas will be hit from Tuesday afternoon into Wednesday, just as pre-Thanksgiving travel is kicking into full gear. Severe weather may develop Tuesday evening in the lower to mid-Mississippi Valley.
The second part of the Western storm sequence had meteorologists agape before it even moved ashore. A tight bundle of upper-level energy led to extremely rapid development of a surface low off the Oregon coast on Tuesday. As of 18Z Tuesday (1 pm EST), the surface low had deepened by 34 millibars in just 18 hours—almost twice the benchmark rate that defines a bomb cyclone (24 mb in 24 hrs). The low also showed signs of a developing "sting jet", a dangerous zone of powerful descending winds just south of a rapidly intensifying low.
Advanced Scatterometer (ASCAT) passes returned widespread #gale (yellow) and #storm (dark brown) force winds, w/highest #hurricane force retrievals to 75 kt southwest of the low center (brightest reds)! Animation overlays the satellite sensed winds atop visible imagery #MarineWx pic.twitter.com/HDVQgQgwor

— NWS OPC (@NWSOPC) November 26, 2019
By early afternoon, winds were gusting to 70 mph at Gold Beach, Oregon. The National Weather Service in Medford, OR, warned that winds on the south-central Oregon coast could exceed 100 mph on headlands and exposed areas Tuesday evening. "This is [an] unprecedented storm given the track and strength and will being very dangerous conditions to the area," the office said in a forecast discussion.
Based on output from multiple models, the record-low surface pressures for November in Medford, OR, and Eureka, CA (987.5 mb at both sites) are in serious jeopardy, and Medford's all-time record-low pressure of 978 mb could even be breached. Update: On Tuesday night, the pressure dipped to at least 973.4 mb in Crescent City, California. This value was an unofficial all-time record for the lowest sea-level pressure observed anywhere in the state of California, according to the National Weather Service office in Eureka.
As the energy pours into the western U.S., a sprawling upper low will take shape, complicating travel on and around Thanksgiving Day but dumping prodigious snows across the drought-stricken Southwest. Flagstaff, Arizona, is predicted to see 22-30", which could give the city its second heaviest three-day autumn snow on record—behind 38.0" in November 1902, but perhaps topping 27.2" from November 1906.
A Winter Storm Watch has been issued. Travel will be difficult to impossible from Thanksgiving Day through Friday. Initial snowfall estimates are 1 to 2+ feet of snow accumulation in the mountains, with significant accumulation as low as 4500 feet. #azwx pic.twitter.com/GbZOLqnthD

— NWS Flagstaff (@NWSFlagstaff) November 26, 2019
On the heels of its predecessor, the second phase of the storm will crank up an intense surface low in Colorado likely to produce a band of intense Plains/Midwest snowfall from eastern Wyoming to Minnesota, with blizzard conditions possible in some areas. Long-range models are still sorting out what happens to the storm system by late weekend, but there are increasing signs it will dive back east-southeast in an unusual track and bring a quick shot of wintry weather to parts of the Northeast on Sunday and/or Monday. See weather.com's weekend forecast article for updates.
On the south end of this potent storm system, severe weather may erupt over the Southern Plains and mid-Mississippi Valley from Friday into Saturday. Cloud cover and pre-frontal rain may keep the air too stable for widespread, intense severe weather. However, very strong upper-level winds could be in place to support all modes of severe weather, including tornadoes, If the surface air becomes warm and moist enough.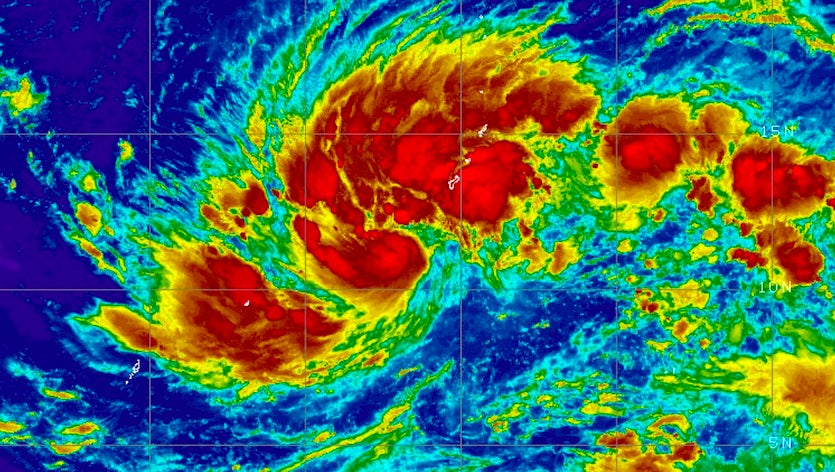 Figure 1. Tropical Storm Kammuri at 2030Z (3:30 pm EDT) Tuesday, November 26, 2019. Image credit: CIMSS/SSEC/UW-Madison.
Kammuri a potentially serious threat to the Philippines next week
Tropical Storm Kammuri deserves a close eye over the next few days as it works its way across the Northwest Pacific toward the Philippines. Kammuri passed well south of Guam early Wednesday with top sustained winds of around 60 mph, as estimated by the Joint Typhoon Warning Center. At 7 am local time Wednesday, winds gusted to 41 mph in heavy squalls passing over Guam International Airport.
Kammuri causes flooding but no major injuries or damage, 173 seek shelter. https://t.co/8KJNd40PkP pic.twitter.com/NhtpJIwL92

— Pacific News Center (@PNCGuam) November 26, 2019
The steering currents driving Kammuri westward are expected to slacken late this week, allowing the storm to angle northward at a slower pace for a couple of days. Unfortunately, this will be as Kammuri passes over exceptionally warm seas, with ocean heat content well above 100 kilojoules per square centimeter. Such high heat content supports rapid intensification, and the high-resolution HWRF model is consistently predicting that Kammuri will reach Category 4 strength and approach super typhoon status by Saturday. JTWC is predicting Kammuri will angle back westward by Saturday, sporting top (1-minute) sustained winds of 140 mph by Sunday and still intensifying at that point. The 0Z and 12Z Tuesday runs of the GFS and European track models are in agreement projecting that Kammuri will continue westward early next week, perhaps reaching the Philippines around Tuesday.
Keep in mind that the average track model skill is very low beyond 120 hours, and intensity skill is essentially zero in this range. However, the idea that Kammuri will continue west for days on end is plausible, given its low latitude and the strength of the steering ridge to its north. Drier air will be inflitrating Kammuri's circulation toward the weekend, but apart from that, there is no obvious factor that would lead to a major drop in strength. Destructive typhoons are a real concern for the Philippines even this late in the year: the catastrophic Super Typhoon Haiyan struck in November 2013. Haiyan brought top satellite-estimated winds of 202 mph, becoming the second strongest tropical cyclone in satellite-based records and the strongest landfalling storm ever recorded.
Jeff Masters publishes his recap of the 2019 hurricane season
Category 6 founder Jeff Masters has just released his perspective-packed overview of the 2019 hurricane season. You'll find it at his Eye of the Storm blog at ScientificAmerican.com.