Above: Natural-color satellite image of Tropical Depression 5 at 1655Z (12:55 pm EDT) Saturday, August 24, 2019. Image credit: tropicaltidbits.com.
It's late August, and the tropical Atlantic is heating up right on schedule. Tropical Depression 5, which formed on Saturday in the warm waters of the central tropical North Atlantic, is predicted to reach hurricane strength as it moves across the Leeward Islands and into the northeast Caribbean over the next few days. Another system, dubbed 98L, is likely to intensify into a tropical storm as it shoots north-northeastward parallel to the U.S. East Coast but well offshore. And a disturbance on the northwest Gulf coast is bringing heavy rains to Texas and Louisiana. Update (6:30 pm EDT Saturday): TD 5 has been upgraded to Tropical Storm Dorian by the National Hurricane Center, with top sustained winds of 40 mph as of 5 pm EDT Saturday. The general outlook below is still valid.
Before it was declared a tropical depression, TD 5 already had a weak but distinct low-level circulation, with plenty of spin evident on satellite. However, the system was almost devoid of showers and thunderstorms (convection). By midday Saturday, a modest amount of convection had clustered mostly west of the center, prompting the National Hurricane Center to begin advisories.
Track forecast for TD 5
As of 11 am EDT Saturday, TD 5 was centered about 800 miles east-southeast of Barbados, moving west at 12 mph. The depression is far enough south to make it very unlikely that it would miss the Lesser Antilles entirely. The NHC forecast takes TD 5 on a westward track that gradually angles north-northwest, reaching the Leeward Islands by Tuesday and the northeast Caribbean on Wednesday. There is strong model agreement on this general track.
What's more uncertain is how TD 5 might go on to affect the Greater Antilles. Small track shifts could make a big difference in where the system intercepts the east-west island chain. In the current NHC forecast, TD 5 would be a Category 1 hurricane just south of Puerto Rico by Thursday morning. Only a slightly jog west could bring it into central Hispaniola, or even keep it tracking through the northern Caribbean. A slight jog east could keep it east of Puerto Rico. These important track nuances may vary for several more days.
Figure 2 (updated). WU depiction of forecast track for Tropical Storm Dorian as of 5 pm EDT Saturday, August 24, 2019.
Intensity forecast for TD 5
TD 5 is a small system, and tropical cyclones often maintain their original size as they strengthen, so this one could remain compact if it evolves into a tropical storm and goes on to become a hurricane. Moreover, small tropical cyclones can both strengthen and weaken more quickly than large ones, which means we could see big changes over a short period with TD 5.
About half of the European model ensemble members from 00Z Friday, and all of the GFS members, develop TD 5 into a tropical storm, but only one of the 70-plus ensemble members from both models go on to make TD 5 a hurricane.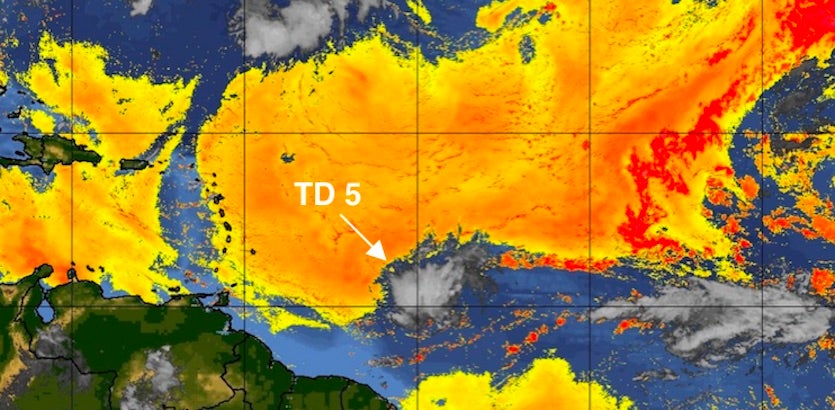 Figure 3. A vast pool of dry Saharan air was surrounding compact TD 5 on Saturday, August 24, 2019. Image credit: CIMSS/SSEC/UW-Madison.
The main short-term nemesis for TD 5 is a dry mid-level atmosphere, with relative humidity only around 40-45% for the next several days. If we had strong wind shear pushing this dry air into the storm, then there would be little chance for TD 5 to strengthen. In this case, though, the currently moderate wind shear (around 15 knots) is predicted to drop into the light range (5 – 10 knots) for several days, starting as soon as Saturday night. The low shear will give TD 5 a better chance to tuck moisture into its central core and wall off its core from the surrounding dry air. Sea surface temperatures ahead of TD 5 are quite warm (28-29°C, or 82-84°F), so the depression will have ample resources to strengthen once it solidifies an inner core.
The northeast Caribbean can be a difficult place for tropical cyclones to traverse, as dry air, wind shear, and sinking motion are often prevalent. Wind shear is already predicted to increase along TD 5's path in the northeast Caribbean, so whether TD 5 survives will hinge in large part on how strong the system has gotten by that point. Another big unknown is where TD 5 might intercept the Greater Antilles. Any interaction with land could greatly weaken the system, especially if it remains on the smaller side.
If TD 5 avoids land interaction with the Greater Antilles, either by moving between two islands or by staying south of the chain entirely, there could be subsequent downstream impacts, but any such scenario is at least a week away.
Figure 4. Infrared satellite image of Invest 98L at 1732Z (1:32 pm EDT) Saturday, August 24, 2019. Image credit: tropicaltidbits.com.
Waiting for 98L to develop off the East Coast
A disturbance festering in and around the swamps of South Florida from Friday night into Saturday had yet to congeal into a tropical cyclone, but such development still appears likely. 98L remained poorly organized at midday Saturday, with a cone of convection aligned from the Miami/Everglades area northeastward along a low-level convergence zone. Models largely agree that a better-defined center of low pressure will intensify along this band, well east of Florida, and strengthen as it accelerates northeast. In its 2 PM EDT tropical weather outlook, the National Hurricane Center gave 98L a 70% chance of becoming at least a tropical depression by Monday and a 90% chance by Thursday. An Air Force reconnaissance plane is on standby to investigate 98L if needed on Sunday.
Of the 00Z Friday ensemble runs, about 65% of European members and about 75% of GFS members develop 98L into a tropical storm. Only a few members (all from the Euro) go on to make 98L a hurricane. Both sets of ensembles are unanimous in keeping 98L off the East Coast, as strengthening southwest flow at upper levels will take it on a steady northeast course. There is some chance of a leftward jog later next week that could bring 98L into the Canadian Maritimes, possibly as a tropical storm.
The next two names on the Atlantic tropical cyclone list are Dorian and Erin.
Figure 5. Infrared satellite image of Invest 90L at 1725Z (1:25 pm EDT) Saturday, August 24, 2019. Image credit: tropicaltidbits.com.
Heavy rains on the northwest Gulf Coast from 90L
This week's burst of Atlantic activity expanded further on Saturday, as a disturbance in the northwest Gulf became Invest 90L. Located near the northeast Texas coast, 90L is very unlikely to become a tropical cyclone (NHC gave it a 10% chance in its 2 pm Saturday tropical weather outlook), but as it moves northward, it will haul a large slug of moisture onshore. A large, robust shield of convection extended over the northwest Gulf on Saturday, mostly south of the ill-defined center.
Figure 6. Three-day precipitation forecast from 8 am EDT Saturday, August 24, 2019, to 8 am Tuesday, August 27. Image credit: NOAA/NWS/WPC.
Widespread 2-5" rains with pockets of 5-8" or more are possible through the weekend near the Gulf coast of southeast Texas and southern Louisiana, where flash flood watches are in effect.