Above: GeoColor satellite image from 1630Z (11:30 am CDT) Friday, May 17, 2019, showing the strong jet across the Pacific feeding into an upper low in the western United States. The surface low wrapped up in the Northeast Pacific (center of image) is associated with a jet-stream impulse that will dive into the Southwest on Sunday and rip across the Plains on Monday. AImage credit: RAMMB/CIRA/CSU.
Upper-level energy streaming from a powerful, persistent trough in the western U.S. will trigger round after round of intense thunderstorms across the Great Plains and Midwest, starting Friday and continuing well into next week. The strength of the setup makes tornadoes a real concern, especially on Monday. In addition, "training" thunderstorms are likely to dump torrential rain and pose a flood threat along a few unlucky corridors.
The most extraordinary element in the mix is the powerhouse upper low centered in the Great Basin on Friday morning. An intense Pacific jet stream feeding into the low (see above) will keep the low "recharged" for days to come. The cold air and moisture with the upper low is already generating an unusual amount of lowland showers and thunderstorms and mountain snows in California, where wet season is fast waning.
Morning traffic cams along I-80. Looks like a Winter Wonderland in mid-May! Snow showers will continue throughout the day and into Friday morning. Then another system is primed to impact the #SierraNevada over the weekend. #CAwx pic.twitter.com/n8JIGkxlvH

— NWS Sacramento (@NWSSacramento) May 16, 2019
Across central California, winds at the jet-stream level (250 mb, or about 34,000 feet) are projected to be as strong as 175 mph on Monday. At that point, the base of the upper low across Arizona and New Mexico will be up to four standard deviations deeper than average, as measured by the height of the atmosphere's midpoint (500 mb).
In short, this is the kind of upper low you might expect in the West during the latter half of May only once every few years, and it's coinciding with the peak of severe weather season in the southern and central Plains.
Figure 1. An intense jet stream for late May will be punching into the southern Plains on Monday, likely triggering an outbreak of severe weather. Shown are the jet-stream-level winds (250 mb, or about 34,000 feet) as of 7 pm CDT Monday, May 20, 2019, as projected by the 12Z Friday run of the GFS model. Winds are in knots; multiply by 1.15 for miles per hour. Image credit: tropicaltidbits.com.
Several strong upper waves will rip eastward from the western low across the Plains and Midwest, each one spawning severe weather. Meanwhile, the low itself will remain entrenched across the West through at least the middle of next week, weakening only gradually.
Low-level moisture isn't at truly extreme levels for late May, but there will certainly be plenty of moist, unstable air streaming into the Plains from the Gulf of Mexico, with surface dew points in the 65°F to 70°F range. What's more unusual is the amount of saturated soil over the Plains and Midwest. Extreme Midwest rains last fall were followed by the wettest winter in U.S. records, plus widespread rainfall over the last several weeks in some vulnerable areas.
Figure 2. Parts of Kansas and Oklahoma in line for heavy rains over the next week racked up more than 300% of average precipitation in the two-week period ending at 7 am CDT Friday, May 17, 2019. Image credit: NOAA/NWS/AHPS.
Day by day
Friday: Severe storms will be most concentrated in Nebraska, extending northeastward from a surface low expected to be near North Platte by evening. The NWS/NOAA Storm Prediction Center is warning that a couple of strong tornadoes are possible, and very large hail can be expected as well. Southward along a dry line into Kansas, storms will be more scattered, even isolated, but they could be very intense wherever they pop up.
Further south into Texas, a "cap" of very warm air one to two miles high will likely keep a lid on most severe weather until after dark, when a strong upper impulse moves across. Models agree that an arcing line of intense overnight storms with large hail and high winds will develop in southwest Texas, perhaps holding together long enough to reach the Dallas-Fort Worth and Austin areas by late morning.
Figure 3. Severe weather outlooks issued Friday morning, May 17, 2019, by the NOAA/NWS Storm Prediction Center valid on Friday (left) and Saturday (right
Saturday: Severe storms will be widespread along the frontal zone from Iowa to Texas and Louisiana, but there remain questions about how the day will evolve. Models are suggesting that morning thunderstorms could develop from Oklahoma into Missouri, and any rain-cooled air from these storms may reduce instability later in the day along the lagging frontal zone. Still, it appears that Saturday afternoon will likely bring a renewed round of severe weather in eastern Oklahoma and eastern Kansas, eventually morphing into a squall line stretching from Iowa to Louisiana that should reach the Mississippi River overnight Saturday night. One or more corridors of persistent training storms may develop along the front from eastern Kansas to Wisconsin.
Sunday: Sunday should be the quietest of the next several days, although strong winds could occur with thunderstorms along the leading cold front as it pushes across Illinois into Michigan and Indiana. Late on Sunday night, the next big impulse from the upper low will begin moving into west Texas, and intense overnight storms could develop depending on how quickly low-level moisture returns to the area.
Monday: A major outbreak of severe weather, including significant tornadoes, looks quite possible as an especially potent upper-level impulse heads into the southern Plains. The strong winds and cold air aloft will lead to a widespread zone of favorable wind shear and high instability. The storms will likely be most intense and concentrated from southern Kansas to north and northwest Texas, especially across Oklahoma. Model agreement on this scenario is reflected in the fact that SPC has consistently highlighted the elevated risk on this day ever since last Tuesday. Because conditions will be favorable for supercells well ahead of the front/dry line, potentially tornadic storms could range across a broad area.
The other serious concern for Monday is a band of intense upward motion and torrential rain expected to develop with the upper impulse as it heads from Oklahoma across southeast Kansas into Missouri. GFS model output suggests that 3" – 6" totals could fall in a short period across already-saturated soils, and local amounts could be higher.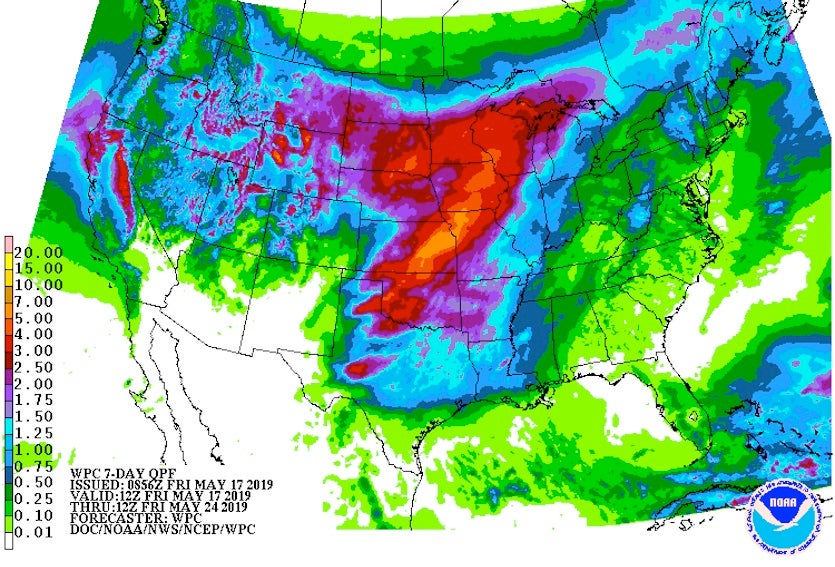 Figure 4. Projected precipitation totals for the 7-day period ending at 7 am CDT Friday, May 24, 2019. Image credit: NOAA/NWS/WPC.
Depending on how the western trough evolves, more severe weather may erupt later in the week across the Plains and Midwest, and more heavy rain may fall. Flood concerns are likely to mount as we approach Memorial Day weekend.
Two areas of interest in the Atlantic and Northeast Pacific
The National Hurricane Center has gotten out its "yellow crayon" to highlight two potential areas of tropical cyclone development over the next week.
Hurricane season in the Atlantic doesn't officially begin until June 1, but NHC issued a special tropical weather outlook at 1 pm EDT Friday to highlight an area well northeast of the Bahamas with some potential for development. NHC gives 30% odds that a tropical depression will form in this area by next Wednesday. Any tropical cyclone that does develop would be pulled away from the U.S. East Coast.
Calibrated ECMWF EPS up to a 50% chance for a sub-tropical/tropical cyclone to spin up over the western sub-tropical Atlantic over the next 10 days. pic.twitter.com/is4zA9sqJT

— Michael Ventrice (@MJVentrice) May 17, 2019
In the Eastern Pacific, a festering area of showers and thunderstorms (convection) south of Mexico and west of Central America could gain some organization early next week. In its Friday morning tropical weather discussion, NHC gave this area 30% odds of spawning at least a tropical depression by next Wednesday.
We'll be keeping an eye on both these areas over the coming days.