Human-caused climate change made more than a dozen of 2017's most extreme weather events more likely and more intense, including seven billion-dollar disasters, according to the Explaining Extreme Events of 2017 From a Climate Perspective report, released on Monday. The report added that marine heat waves, like the one in the Tasman Sea off Australia's southeast coast, were "virtually impossible" without the influence of human-caused climate change.
"These attribution studies are telling us that a warming Earth is continuing to send us new and more extreme weather events every year," said Bulletin of the American Meteorological Society (BAMS) editor-in-chief Jeff Rosenfield at a press conference on Monday at the annual meeting of the American Geophysical Union (AGU) in Washington, D.C. "The message of this science is that our civilization is increasingly out of sync with our changing climate. A decade ago, we were focused on continental-scale, months-long extremes. Now researchers are often going after more local risks like heat waves, fire danger, and floods on scales of a few days, for pinpointed areas of extreme impacts. In barely a decade, the research focus has evolved enough to address a wider scope of societal challenges."
NOAA research meteorologist Martin Hoerling added: "Scientific evidence supports increasing confidence that human activity is driving a variety of extreme events now. These are having large economic impacts across the United States and around the world."
The new studies reinforce the conclusions of the Fourth National Climate Assessment, which was written by researchers from over a dozen federal agencies. The report was released by the Trump Administration on the day after Thanksgiving, in a probable attempt to keep it from getting widespread notice. The report stated that the "impacts of global climate change are already being felt in the United States and are projected to intensify in the future."
BAMS has now put out seven annual issues analyzing extreme weather events of the prior year. Of the 146 studies presented in the reports, 70 percent found a strong connection between an event and climate change. However, not all extreme weather events have had attribution studies done on them, and the list of events studied has been dictated by what interested the researchers (and what they had the funding to do).
Climatesignals.org has compiled a more exhaustive list of climate attribution studies. They identified 216 studies published between December 1995 and August 2018 that found the fingerprint of human-caused climate change on a significant weather event or climate trend. Of these, 93 were in the United States. The earliest finding of a human-caused fingerprint was for the 1930s—a significant probability that global temperature was increasing due to human-caused climate change.
At least seven of the 29 billion-dollar weather disasters of 2017 catalogued by insurance broker Aon were linked to climate change in the new BAMS report: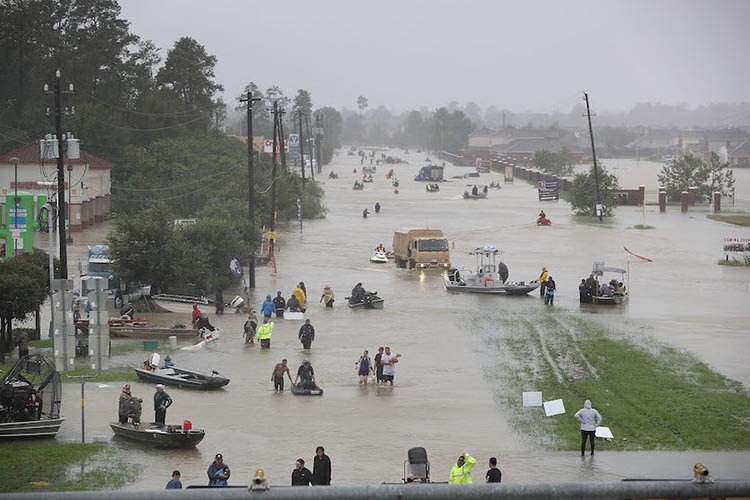 Hurricane Harvey hit Texas as a Category 4 hurricane with 130 mph winds on August 25, 2017, then stalled near Houston for two days, dumping over 50" of rain. The storm then drifted out to sea, and made another landfall near Beaumont, Texas, dumping catastrophic rains in excess of 60" at two locations near Port Arthur—an all-time U.S. rainfall record. Harvey caused $127 billion in damage and 89 deaths. The BAMS report called attention to three separate attribution studies, all of which found that Harvey's heavy rains were made more likely by climate change. Above: People walk down a flooded street as they evacuate their homes after the area was inundated with flooding from Hurricane Harvey on August 28, 2017 in Houston, Texas. Image credit: Joe Raedle/Getty Images.
An intense heat wave and exceptional drought affected vast swathes of Italy, particularly the southern half, through the first half of 2017, resulting in $2.3 billion in agricultural losses. Additional losses from other drought-stricken regions of Southern Europe during 2017 brought the total cost of the drought to $6.6 billion. Climate change has made the chances of heat waves in the Euro-Mediterranean region that are at least as hot as 2017's three times more likely than they were in 1950. The chance of such a heat wave recurring is now 10 percent in any given year. Above: pedestrians fill their bottles with water from a 'nasone' (big nose), a typical Roman fountain, in front of The Pantheon in central Rome on July 28, 2017. Image credit: Andreas Solaro/AFP/Getty Images.
Extreme rainfall atop normally dry terrain in Peru during February and March caused multiple rounds of major flooding. The death toll of 120 makes the floods Peru's deadliest since 2009 - 2010, when 158 people died in flooding between December and March. Damage was estimated at $3.1 billion (1.3% of Peru's GDP). Peru's president said that the total costs of reconstruction over a five-year period could hit $9 billion. Significant damage was done to Peru's infrastructure, with over 6000 miles of roads and 194 bridges destroyed. These floods were influenced by a natural cycle of warm coastal waters, but human-caused climate change on top of that made the floods at least 1.5 times more likely. Above: the Huachipa district, east of Lima, Peru, on March 19, 2017. Flash floods and landslides hit parts of Lima, where most of the water distribution systems collapsed and caused severe drinking water shortages. Photo credit: Ernesto Benavides/AFP/Getty Images.
Climate change has made chances of the extreme rain that killed 34 people and caused $3.6 billion in damage in southeastern China in June 2017 twice as likely. Above: an aerial view of a flooded street in Changsha, Hunan province, on July 2, 2017. Days of torrential rain in Hunan province raised the water level of the Xiangjiang River to exceed its record flood level. Image credit: STR/AFP/Getty Images.
Extreme drought caused extensive impacts to agriculture in North Dakota, South Dakota, and Montana in the summer and fall of 2017. Field crops including wheat were severely damaged, and the lack of feed for cattle forced ranchers to sell off livestock. Total damages were estimated at $2.5 billion. Climate change made the drought 1.5 times more likely, by shifting the balance between precipitation and evapotranspiration of soil moisture. Above: drought conditions over the Northern Plains on August 29, 2017. Image credit: U.S. Drought Monitor.
A record-breaking heat wave in central and eastern China brought drought-related damages of $2.5 billion. Heat waves like this one were once rare, but are now one-in-five-year events due to climate change. Above: This photo taken on July 24, 2017, shows boats sitting in the dried-up bottom of the Mihe river in Weifang in China's eastern Shandong province. Once used for leisure activities, the river has dried up due to drought over the past few years and is now used by locals for grazing horses, sheep, and cattle. Image credit: STR/AFP/Getty Images.
A multi-year drought that had gripped Eastern Africa since the second half of 2015 intensified in January through March of 2017. After the "long rains" of the main March - June rainy season were deficient in 2016, the important "short" rains of October - November 2016 essentially failed, causing crop failures and severe food shortages. Based on the levels of U.N. appeals for aid, insurance broker Aon Benfield estimated damages from the drought at $1.9 billion; $825 million of that total was in Somalia, and $945 million was in Ethiopia. During March, at least 136 people died of hunger in Somalia due to the drought, according to the International Business Times, and hundreds more died in a cholera outbreak during 2017. Extremely warm sea surface temperatures off the coast of Africa doubled the probability of 2017's East Africa drought, and this extreme ocean warmth could not have occurred in a pre-industrial climate, researchers found. In this image, we see a boy looking at dead goats in a dry land close to Dhahar in Puntland, northeastern Somalia, on December 15, 2016. Image credit: ABDIWAHAB/AFP/Getty Images.
Uh-oh, the lawyers may be getting involved
I attended the BAMS press conference on Monday in Washington D.C., and heard an interesting talk by Lindene Patton, an attorney with Earth and Water Law LLC. She told the audience that climate attribution studies are getting sufficiently confident in informing risk to the point where a line may have been crossed where lawyers will get involved. When a disaster strikes, and that disaster was more likely than not to occur due to climate change, we need to ask: did managers and builders who had a duty to protect people and property breach that duty by ignoring the new dangers? She called attention to engineering organizations like ASCE (American Society of Civil Engineers) and AlChE (American Institute of Chemical Engineers), which are now reviewing their standards due to climate change considerations.
Bob Henson contributed to this post.