Above: Flooding and storm surge related to Hurricane Florence inundate the town of Engelhard, N.C., on Saturday, Sept. 15, 2018. Engelhard is one of many communities on the west side of Pamlico Sound affected by some of the largest storm surge associated with Florence's slow-motion approach. Image credit: AP Photo/Steve Helber.
The Carolinas continue to be Ground Zero for the seemingly endless onslaught of torrential rain and flooding associated with former Hurricane Florence. Florence was a tropical depression on Sunday, moving slowly across South Carolina with top sustained winds of 35 mph as of 5 am Sunday, when the National Hurricane Center issued its final advisory on Florence (subsqeuent advisories will be issued by the NOAA/NWS Weather Prediction Center).
Even in its weakened state, Florence was continuing to haul rainbands across eastern North Carolina, including areas where it's been raining since late Thursday. By Monday, Florence's heaviest downpours will be shifting west and north into the Appalachians, bringing lesser amounts of rain but a continued flood risk over northern soils already saturated by months of moisture. Finally, Florence's remnant circulation will return to the Atlantic across New England by late Tuesday—no doubt prompting a hearty "good riddance" from weary Carolinians.
Figure 1. WU depiction of NWS/NEXRAD radar showing Florence's rainfall at 9:11 am EDT Sunday, September 16, 2018.
At least 10 deaths were reported from Florence as of Sunday morning, according to weather.com's impacts roundup. Evacuation orders were lifted from the Outer Banks, but getting anywhere around southern and eastern North Carolina remained a fraught challenge. The North Carolina Department of Transportation reported on Sunday that some 600 roads in the state had been impacted by flooding, and interstates 40 and 95 were both closed in spots as of Sunday morning. The state emergency management agency urged out-of-state motorists to simply avoid driving in North Carolina. Interstate 95 is also closed along a nine-mile stretch in South Carolina, posing a rare two-state closure of the primary route north and south along the U.S. East Coast.
Road conditions across most of NC are rapidly deteriorating, and flooding remains a concern for the next several days https://t.co/FQ6X8ET1fd #FlorenceNC #ncwx pic.twitter.com/zE7npKhmFG

— NCDOT (@NCDOT) September 16, 2018
The mammoth amounts of rain observed in southern North Carolina are virtually certain to eclipse anything measured in an East Coast tropical cyclone north of Florida. See Figure 3 for a map of estimated totals. Such totals are typically calculated through a blend of radar, rain-gauge, and satellite data. Automated rain gauges can run "hot" during big storms with high wind, though. Human-observed amounts are invaluable in a case like this, but there weren't a lot of observers scattered across the hardest-hit areas. As of Sunday morning, a trained CoCoRaHS volunteer 1.4 miles north of Swansboro, NC, had measured 33.90" of rain during Florence. The daily measurements at this site (all collected at 8:30 am) include:
0.01" Thurs. 9/13
14.25" Fri. 9/14
16.33" Sat. 9/15
3.31" Sun. 9/16
What's more, we know this is an underestimate, because the 10" rain gauge was reported as being full on both Fri and Sat AM (despite having been emptied at least once both days). Once this report is confirmed, it will be the most rainfall ever observed in a tropical cyclone north of the Gulf Coast states and outside of Hawaii.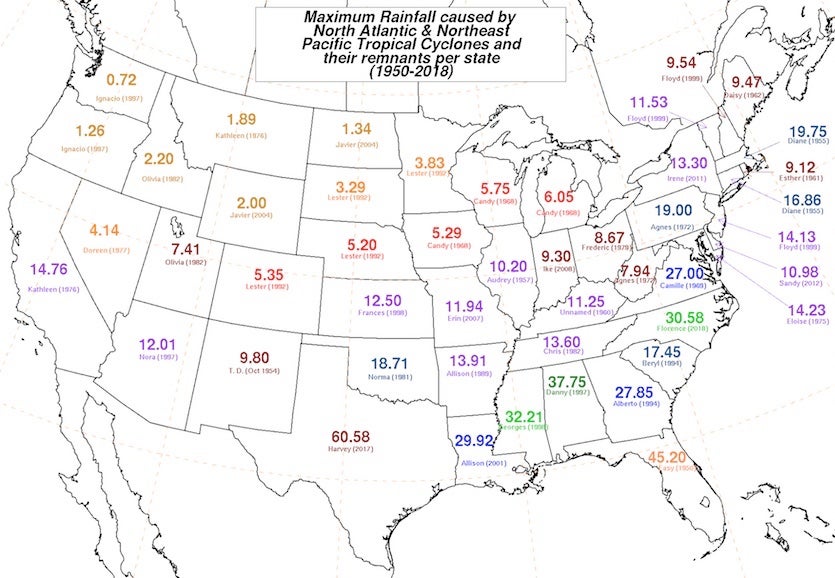 Figure 2. The highest rainfall totals observed in any tropical cyclone for each contiguous U.S. state. The current North Carolina record shown in this map as downloaded Sunday morning (30.58") was from the Florence observations near Swansboro, NC, including only the amounts observed on Friday and Saturday, September 14–15, 2018. Image credit: David Roth, NOAA/NWS/WPC.
Other astounding totals recorded through 5 am EDT Sunday, as compiled by the NOAA/NWS Weather Prediction Center, included:
25.87" Hoffmann (Remote Automated Weather Station, RAWS)
25.20" Newport/Morehead City (National Weather Service office)
23.66" 2 miles northeast of Emerald Isle (CoCoRaHS, through 7 am Saturday)
The highest total in South Carolina as of 5 am Sunday was 9.90" near Conway.
As of 9am, Wilmington has recorded 86.79 inches of rainfall so far in 2018... this SMASHES the previous yearly precip. record of 83.65 in. set in 1877... with over 3 months to go! Sadly, this is a record we would have been happy not to break this quickly. #ncwx #wxhistory

— NWS Wilmington NC (@NWSWilmingtonNC) September 16, 2018
Harvey of the East? It's a fitting analogue
Florence's rainfall pattern has ended up bearing many of the hallmarks of Hurricane Harvey. At first it appeared Florence would deliver a one-two punch similar to Harvey, with wind-driven chaos at landfall followed by massive rains. But as opposed to Harvey's Category 4 landfall in Texas, the first punch from Florence was less intense than expected, as the storm weakened to Category 1 before making landfall at 7:15 am Friday near Wrightsville Beach.
Florence's second punch is much more in line with Harvey's. Both hurricanes moved at a snail's pace amid weak steering currents while weakening to tropical storm strength just inland. Moreover, both Florence and Harvey were positioned near concave southwest-to-northeast-oriented coastlines, which allowed the eastern swaths of the circulations to bring massive amounts of moisture northward from across very warm bodies of water (with well-above-average sea surface temperatures in both cases) onto flood-vulnerable coastal plains. When all is said and done, the large swath of North Carolina with enormous rainfall amounts is going to bear more than a passing resemblance to Harvey's zone of incredible rainfall.
Figure 3. Estimated rainfall totals from Florence as of 4 am EDT Sunday, September 16, 2018, obtained largely from radar data. Storm totals already exceeded 30" in two corridors that included Wilmington and New Bern. Image credit: NOAA/NWS/WPC.
Figure 4. Storm-total rainfall from Hurricane Harvey, August 24 – 31, 2017. Harvey dumped over 40" (yellow colors) in Houston, with isolated amounts in excess of 50" (pink colors) south of Houston and northwest of Port Arthur. Image credit: NOAA.
Economic damage will fall well short of Harvey levels, given that Florence has not struck a city the size of Houston. Also, as shown in figures 3 and 4 above, Florence's shield of rainfall amounts over 20" and 30" will likely end up covering less territory than Harvey's. However, Florence is far from over. Unlike Harvey, Florence will now be moving across higher terrain, with a serious threat of flash flooding and mudslides/landslides over western North Carolina and southwest Virginia. Major flooding is also possible Sunday across populous central North Carolina, including Charlotte and the Research Triangle.
We've also yet to see the worst of the projected river flooding from Florence, which will take its own toll over the days to come. Some locations in southern North Carolina are projected to exceed levels recorded during the catastrophic floods triggered by Hurricane Floyd (1999) and Hurricane Matthew (2016).
There is a mandatory evacuation order for one mile on either side of the banks of Cape Fear River and Little River. Cumberland County has developed a map to use to see if you are in the affected area. https://t.co/97nj5qpnqm Check https://t.co/0PMxxOuueW for road conditions.

— NC Emergency Managem (@NCEmergency) September 16, 2018
The Northeast Cape Fear River near Chinquapin hit a record crest of 24.21 feet on Sunday morning, already topping its previous record from Floyd of 23.5'. The river was projected to crest at 28.2' early Monday and to remain above the record level from Floyd until at least Wednesday. At Lumberton, the Lumber River is expected to top its Matthew record of 24.39' on Sunday, peaking at 25.7' and remaining above the old record into Monday. Other rivers at risk of record or near-record flooding this week, as compiled by weather.com, include:

Neuse River at Kinston, NC
Northeast Cape Fear River at Burgaw, NC
Little River at Manchester, NC
Cape Fear River at Fayetteville, North Carolina
Waccamaw River near Conway, South Carolina
Major flooding is also forecast on the Little Pee Dee River at Galivants Ferry, South Carolina, the Neuse River near Goldsboro, North Carolina, the Yadkin River at Elkin, North Carolina, and the Dan River in southwestern Virginia.
Dr. Jeff Masters will be back later today with a report on Typhoon Mangkhut's destructive landfall in southern China.