Above: Shredded trees, derailed train cars and a sunken trailer are seen in the aftermath of Hurricane Michael in Panama City, Fla., Wednesday, Oct. 10, 2018. Image credit: AP Photo/Gerald Herbert.
Tropical Storm Michael was speeding northeastward at more than 20 mph across North Carolina on Thursday afternoon. As of late morning, the storm's top winds had dropped to 50 mph, mainly along the coast. Michael maintained hurricane strength for nine hours after landfall and tracked inland a remarkable 175 miles into central Georgia before being downgraded to a tropical storm at midnight EDT Wednesday. According to data at NOAA's historical hurricanes web site, nine other hurricanes since 1851 have tracked farther inland than that as a hurricane into Georgia. The only named hurricane (since 1950) to do so was Hurricane Kate of 1985.
Flooding on Flat Creek in Black Mountain, NC from Hurricane #Michael. @wxbrad @NWSGSP @spann @weatherchannel @abcnews pic.twitter.com/5aipexyCyj

— Hunter Ward (@Hvward) October 11, 2018
After delivering a catastrophic blow to the coast of the Florida Panhandle on Wednesday afternoon near Panama City, Michael will be a far less dangerous storm on Thursday. The chief threats will be flash flooding from heavy rains of 3 – 7" along the storm's path, downed trees and powerlines from the storm's winds, a few tornadoes, and storm surge flooding of 2 – 4' along the shores of eastern North Carolina. On Thursday night, Michael will make the transition to a powerful extratropical storm as it moves off the coast of North Carolina into the Atlantic Ocean, and ex-Michael is expected to intensify to near-hurricane strength with 70 mph winds as it rushes northeastward out to sea.
Late Thursday morning, Michael brought sustained winds of 45 mph, gusting to 54 mph, to coastal South Carolina at Folly Beach. North Myrtle Beach reported a wind gust of 55 mph, Myrtle Beach, 49 mph, and Charleston, 49 mph. Storm surge heights at noon EDT Thursday were mostly between 1 - 1.5' along the coast of North Carolina, as seen using our wundermap with the "Storm Surge" layer turned on or NOAA's Quicklook page for Michael.
Tornadoes are a distinct threat on Thursday afternoon east and northeast of Michael's track, especially across northeastern North Carolina and southeast Virginia. The NOAA/NWS Storm Prediction Center placed this region under an enhanced risk of severe weather early Thursday. After a hurricane makes landfall, tornadoes are most likely to occur ahead and to the right of the storm's center. The frictional effect of land on surface winds tends to angle those winds toward the storm's center, which leads to increased vertical wind shear and supports storm rotation. Tornado watches were in place on Thursday afternoon, and the atmosphere was becoming increasingly unstable as afternoon temperatures rise above 80°F. Any tornadoes that do develop will most likely be short-lived but fast-moving.
NOAA's Storm Prediction Center had logged six preliminary tornado reports for Wednesday over Florida and Georgia as of Thursday afternoon. Only one of these had damage reported with it.
LAWN OF WAVES. Unbelievable video of a yard of waves. It doesn't look real. I'm a bit afraid to see what the sunrise holds for these people. This was in St. George Island (via Mandi Jackson) #HurricaneMichael #Hurricane #Florida #StGeorgeIsland pic.twitter.com/8YJHkuePfB

— Josh Benson (@WFLAJosh) October 11, 2018
Catastrophic impacts from Michael in the Florida Panhandle
Michael is thus far responsible for 2 deaths, 900,000 customers without power, and catastrophic damage at the coast where the eye made landfall in the Florida Panhandle. Aerial views of Michael's damage where the right-front eyewall's 155 mph winds made landfall over Mexico Beach (population 1100) show a stunning level of destruction. A storm surge measured at over eight feet at nearby Apalachicola washed many beachside homes off their foundations, resulting in their complete destruction. Wind damage appears to be characteristic of a EF3 tornado over a wide area, with some areas that may be EF4 damage, depending upon the building codes. Damage will be in the billions. If there is one silver lining to Michael's destruction, it is that it was not over a more heavily populated area like Pensacola to the west or Tampa Bay to the east.
See weather.com's comprehensive coverage more detail on Michael's landfall and post-landfall impacts.
Watch closely and you'll see the beaches surrounding Saint Andrew Sound pass underneath the eye of #Michael pic.twitter.com/nx24eqKnAx

— Dan Hawblitzel (@dhawblitzel) October 10, 2018
Global onslaught: Four landfalls in five days
Along with Michael, this week is producing three other landfalling tropical cyclones, and two others that are expected to stay out to sea. Fortunately, none of these will be remotely as powerful or impactful as Michael.
—Tropical Storm Sergio is on final approach to the Baja Peninsula with top sustained winds of 65 mph as of 11 am EDT Thursday. With cooler waters ahead and wind shear increasing, Sergio is expected to reach the coast Friday morning as a weak tropical storm. Its broad moisture field will still dump rains of up to 10" and produce a flash-flood risk across the mountainous terrain of far northwest Mexico. Sergio's remnants will reach the Southern Plains by Saturday and interact with Gulf moisture, producing a swath of 1" - 2" rain in southern Oklahoma and north Texas.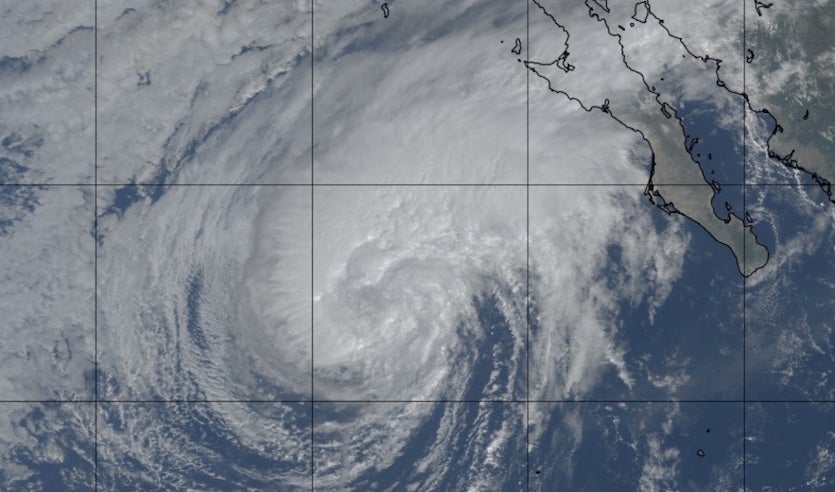 Figure 1. Natural-color image of Tropical Storm Sergio approaching Mexico's Baja Peninsula at 1620Z (12:20 pm EDT) Thursday, October 11, 2018. Image credit: tropicaltidbits.com.
—Tropical Cyclone Titli made landfall on Thursday along India's northeast coast as a Category 2-level storm. Rains of up to 12.40" have been reported in the Gajapati district of Odisha state, according to weather.com, but impacts through late Thursday appeared relatively modest.
—Cyclone Luban was heading westward through the Arabian Sea on Thursday morning at minimal-hurricane strength. The Joint Typhoon Warning Center predicts that Luban will weaken as it rolls toward the Arabian Peninsula, with a landfall at tropical-storm strength expected on the southeast coast of Yemen late Saturday or Sunday. Only a few tropical cyclones have been known to reach the Yemen coast. In 2015, Cyclone Chapala became the first hurricane-strength cyclone on record for Yemen.
Figure 2. Infrared image of Hurricane Leslie at 1635Z (12:35 pm EDT) Thursday, October 11, 2018. Image credit: tropicaltidbits.com.
—In the Atlantic, Hurricane Leslie is still adding days to its already long life. Leslie was first named as a subtropical storm on September 23. It's now as strong as it's been in two-plus weeks of existence, with sustained winds of 80 mph. Leslie is heading toward the far eastern subtropical Atlantic, where cool waters tend to prohibit much in the way of hurricane activity. There's still great uncertainty over whether Leslie will continue east-northeast toward Spain and Portugal, drift southeast toward Morocco, or take a U-turn and curve west back over the Atlantic. Even within a single model, there's big spread among ensemble members.
Whichever track it takes, Leslie is likely to weaken fairly sharply from this weekend into early next week. It could limp along as a weak tropical storm for days more, though. The longest-lasting Atlantic storm on record is the San Ciriaco hurricane (1899), which spent 27.75 days as a tropical cyclone. Because Leslie was declassified for 3.25 days early in its life before being revived as a tropical cyclone, it would need to persist until October 24 to challenge the San Ciriaco record.
—Tropical Storm Nadine peaked at 65-mph sustained winds in the eastern tropical Atlantic on Wednesday. Nadine's top winds were down to 60 mph at 11 am EDT Thursday. Dry air, cooler waters, and wind shear will team up to weaken Nadine further as it heads west-northwest over the next several days, posing no threat to land.
Western Caribbean development possible next week
Models are predicting that a broad area of low pressure will form over the west-central Caribbean Sea this weekend. This system is predicted to move slowly westward toward Central America early next week, and moderate wind shear and very warm ocean temperatures could allow some slow development before the system moves over Nicaragua and Honduras by Tuesday. In their 8 am EDT Thursday Tropical Weather Outlook, NHC gave this future low 2-day and 5-day odds of development of 0% and 50%, respectively.
Bob Henson co-wrote this post.