Above: Hurricane Bud (left) is hauling a broad shield of moisture northward toward northern Mexico and the Southwest U.S. This infrared satellite image was collected at 1832Z (2:32 pm EDT) Tuesday, June 12, 2018. Image credit: NASA/MSFC Earth Science Office.
Next week could bring widespread rains across the U.S. Southwest and Plains, with contributions from the remnants of Hurricane Bud (see below) and a pronounced surge of moisture from the Caribbean via the Gulf of Mexico. Some places could see more rain than they want or need, especially on the off chance that the Gulf system develops into a tropical cyclone. However, in many parts of the western and central U.S., the next 7 to 10 days have the potential to provide some moisture that's very much needed.
Figure 1. Average daily flow of the Gila River at Gila, New Mexico, measured by the U.S. Geological Survey in cubic feet per second. The red line shows the flow this year, while each of the faint gray lines shows a past year. Recordkeeping began at this site in late 1927. Image credit: Courtesy John Fleck, UNM Water Resources Program.
The belt from Arizona/Utah to Oklahoma/Kansas has been particularly moisture-starved. More than 9% of the contiguous U.S. has been experiencing extreme to exceptional drought (D3 and D4 on the U.S. Drought Monitor) since late May. That's the greatest extent since late 2015.
New Mexico has been especially hard hit by intense spring heat on the heels of a nearly snowless winter. Several rivers in northern NM have been setting records for the time of year, and at least one—the Gila River near Gila, NM—appears to have hit an all-time low for roughly 90 years of recordkeeping, according to John Fleck, director of the University of New Mexico Water Resources Program (see Figure 1 above). As Fleck puts it: "This is not simply a bad year. This is a far drier year than anything that river has seen in a very long time."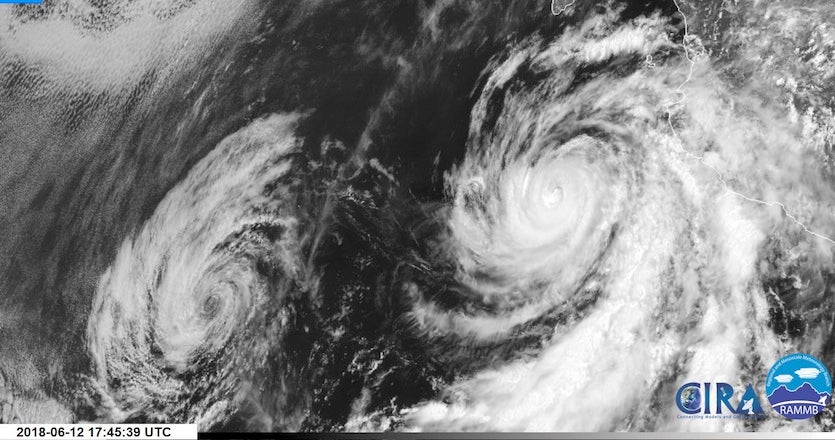 Figure 2. Visible satellite image of Hurricane Bud (right) and the remnant circulation of former Hurricane Aletta (left) at 1745Z (1:45 pm EDT) Tuesday, June 12, 2018. Image credit: CIRA/RAMBB/CSU, via Rich Johnson, The Weather Channel.
An unusual pair of Cat 4s in the Northeast Pacific
The East Pacific hurricane season got off to a rip-roaring start with two Category 4 hurricanes, Aletta and Bud. Aletta reached Category 4 status on Friday, June 8, while Bud managed the same feat on Tuesday morning, June 12, just four days after Aletta's show of strength and displaced by less than 300 miles. The chart below, prepared by Sam Lillo (University of Oklahoma), shows that Aletta and Bud developed in closer proximity than any other pair of East Pacific Cat 4s occurring within five days of each other.
Going back to 1949, here's the time and distance between some of the spatiotemporally closest category-4 hurricane formations in the East Pacific.#Aletta and #Bud is one of the closest pairs on record. pic.twitter.com/RL8GQLdIJX

— Sam Lillo (@splillo) June 12, 2018
It's also remarkably early to get two Category 4 storms in the East Pacific. The only comparable pair is 2015's Andrew (Cat 4 on Jun 1) and Blanca (Cat 4 on June 3), which kicked off the second-most-active East Pacific season on record. These Cat 4 locations were separated by close to 1000 miles, though.
Aletta's rise and fall occurred well out to sea, a few hundred miles southwest of Baja California. Aletta became a tropical storm on June 6 and a hurricane on June 7, quickly intensifying to major status (Category 3). Aletta's decline was just as fast, as the storm encountered much cooler waters on its west-northwest trek. Still a Cat 3 late on Friday night, June 8, Aletta was down to tropical storm strength by Saturday night.
Went to bed while #Aletta was a minimal hurricane

Woke up, and it's a cat 3

That escalated quicklypic.twitter.com/gVmwpkZkcm

— Greg Diamond (@gdimeweather) June 8, 2018
So far, Bud has followed a roughly similar script, reaching hurricane status Sunday afternoon and rapidly intensifying to Cat 3 strength by Monday morning, June 11. Despite only modestly warm sea surface temperatures of around 27°C (81°F), Bud powered to Cat 4 status early Tuesday morning, June 12, taking advantage of light wind shear (less than 10 knots) and a very moist atmosphere (mid-level relative humidity of 75-80%). Just six hours later, though, Bud was back to Cat 3 status. Drier air lurks on Bud's periphery, and the circulation is fast approaching cooler waters, so a rapid demise is predicted, a la Aletta.
Even as a weakening tropical cyclone, Bud will be hauling immense amounts of moisture toward North America. By Saturday morning, June 12, Bud is predicted by the National Hurricane Center (NHC) to be a tropical depression on the east coast of the Gulf of California. A slow-moving upper-level trough in the western U.S. will most likely keep the remnants of Bud moving northward into eastern Arizona on Sunday.
Record-early start to the Arizona monsoon?
Bud's moisture surge will sweep into Arizona on Friday. The amount of moisture in the atmosphere above a given point (precipitable water) could soar above 1.25" across most of southern Arizona, potentially hitting the highest amounts on record for so early in the year. The slug of moisture will stream northeast across Colorado and into the northern Great Plains, where it could fuel torrential thunderstorm rains early next week.
Moisture surges are common in Arizona as part of the North American Monsoon, which normally kicks in during late June or July as moist air from the Pacific and/or Gulf of Mexico sweeps in to replace scorching desert air. However, this surge will arrive unusually early in the year. The onset of the monsoon has been traditionally defined as the first three-day period with an average daily dew point above 54°F or 55°F. In 2008, the NWS/Phoenix office revised the local definition. "Monsoon season" now kicks off on June 15 each year (analogous to the Atlantic hurricane season officially starting on June 1), while the office tracks the monsoon onset by the first 0.01" in Phoenix to occur on or after June 15. By this yardstick, any measurable rain this Friday or Saturday would mark the earliest start to the local monsoon season on record.
Both Phoenix and Tucson have gone more than three months without any measurable rain, as noted by weather.com's Brian Donegan.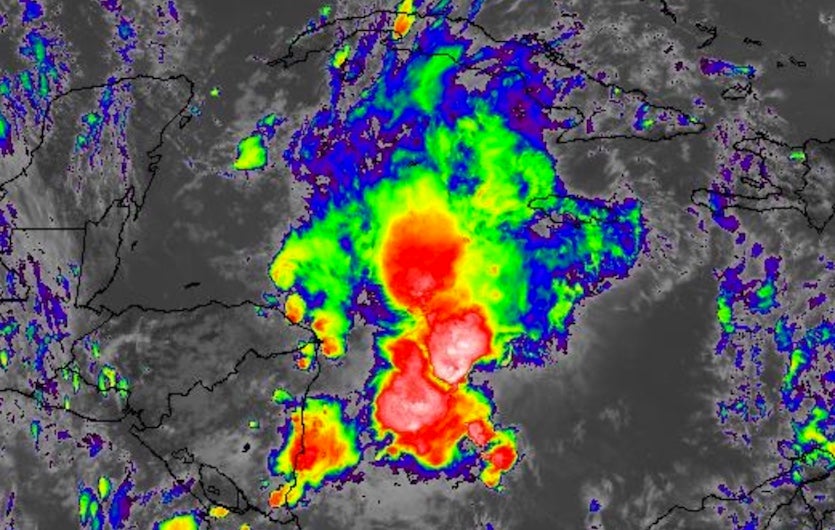 Figure 3. Infrared satellite image of extensive thunderstorms across the Caribbean Sea south of Cuba at 1830Z (2:30 pm EDT) Tuesday, June 12, 2018. Image credit: NASA/MSFC Earth Science Office.
Slight chance of tropical development in the Gulf of Mexico
A tropical wave now helping to kick off intense thunderstorms east of the Nicaraguan coast will continue moving west and northwest across the western Caribbean over the next couple of days. A weak surface trough is present beneath the showers and thunderstorms (convection), and an upper-level trough to its west is providing additional support for convection. However, strong vertical wind shear should prevent this system from taking on the vertical "stacking" needed to organize. As the wave moves into the western Gulf of Mexico late this week, it may enter a region of weaker wind shear, and sea surface temperatures will be more than warm enough for tropical development.
In its tropical weather outlook issued at 2 pm EDT Tuesday, NHC is calling for a 10% chance of a tropical depression by Thursday as the system moves toward the Yucatan Peninsula, with a 20% chance of development by Sunday in the southwestern Gulf/Bay of Campeche. Models provide little support for this scenario, though, as the 0Z runs of the GFS, European, and UKMET models (and the 12Z GFS) all failed to develop the system.
Figure 4. 7-day precipitation forecast for the period from 12Z (8 am Tuesday) June 12 through June 19, 2018. Image credit: NOAA/NWS/WPC.
Regardless of any tropical development, this wave is expected to push a surge of Caribbean moisture into Texas and northward into the Great Plains by the coming weekend. It's too soon to know exactly if or how this moisture will interact with the moisture from ex-Hurricane Bud, but the two surges will enhance the odds of significant rain over a large part of the Southwest and Great Plains.
The heaviest rains through early next week could fall on either end of the Plains—across the Texas coastal plain and from the Dakotas to Minnesota. Both regions have been suffering drought impacts, so as long as the rains aren't too intense, the wetness could be good news. One region to watch for potential flash flooding is the area north of Durango, Colorado, just burned by the raging 416 Fire, which had scorched more than 23,000 acres as of Tuesday.