We're now up to a total of four areas in the Atlantic that we're keeping an eye on. Where should I start? I guess the most logical place is the only named storm. Before I get there, below you'll find a satellite shot with all four systems marked. I know you guys have been waiting for this post judging by the emails that I've gotten, so here we go:
Current active systems of interest
Bertha is still hanging around the central Atlantic and at this point is becoming one of the longest-lived tropical storms on record. She is already the longest-lived July storm on record. The over longest? Hurricane Inga in 1969. The big question on how long Bertha last is how long it takes her to fully extratropically transition.
A note of interest, Bertha brought 4.76 inches of rain to Bermuda, which was right on with forecasts. There was a bit of a surprise to the intensity of her southern bands as a hurricane hunter found near hurricane force winds there. Fortunately, the Bermuda Weather Service was able to post a hurricane watch. The maximum recorded wind in Bermuda was a 79 knot gust, and the eyewall never actually cleared the west end of the island and left that area under the more severe southwest eyewall.
Currently Bertha is still packing winds of 60 mph, which may be generous, with a central pressure of 997 mb. After taking a swing to the southeast which was well forecast, Bertha has now turned to the east at 9 mph and should soon begin moving to the northeast.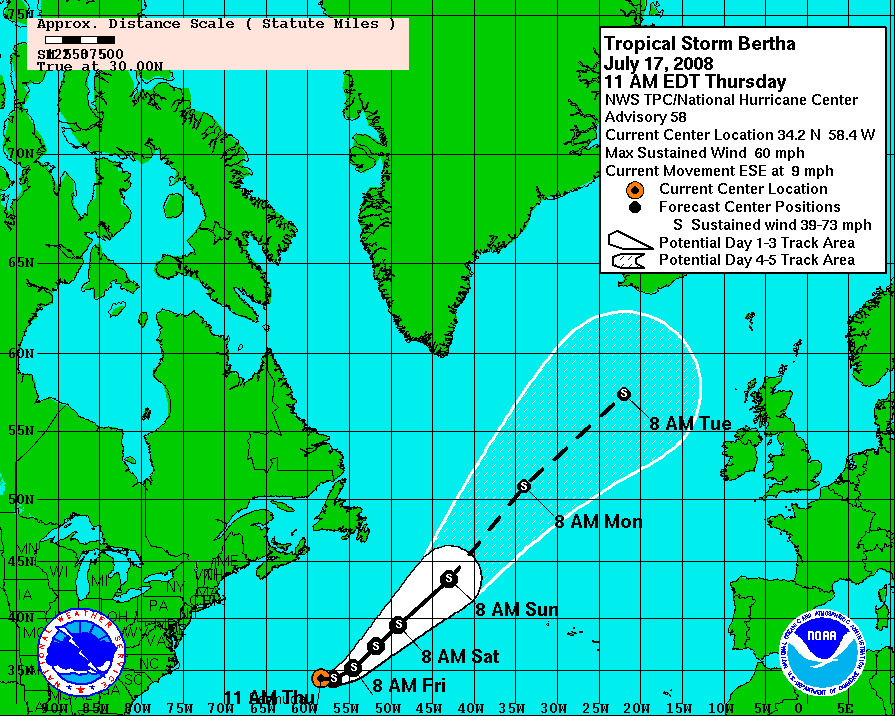 Bertha - Watches and Warnings
Bertha has been looking ragged for a long time, but there is still relatively healthy convection to one side of the storm. If not for this burst of convection, Bertha would be weakening much more quickly. Right now there are no clear signs of extratropical transition visible on satellite, but this will be something to watch in the new few days.
Bertha - Infrared satellite
The dynamical models have done a good job forecasting Bertha's movement. It is largely for this reason that confidence is high in their forecast over the next 48 hours. As Bertha moves toward the northeast, there is some question of how she will transition. Extratropical transition is not well grasped by any forecast model. Accordingly, confidence in the forecast beyond 48 hours is low, especially when it comes to intensity. I expect Bertha to be with us for at least the next few days.
Click for full size model imagery:
Bertha - Track Forecast
Bertha - Wind Speed Forecast
Alright, now moving on to our first area of interest, Invest 94L. This system showed a great deal of potential earlier in the week, but the circulation never developed. At this point the proximity of the convection to the land of South America combined with the 'dead zone' for tropical cyclone genesis that seems to exist over the eastern Caribbean will likely preclude development. The warm water is fairly shallow in this area and subsidence from storms over South America also tend to act to cap convection. We will continue to monitor the system, but at this point conditions are not favorable. While convection looks healthy at this time, I expect that it will soon quiet down again.
Invest 94L - Infrared satellite
Invest 94L should continue its march across the Caribbean and we will monitor it the entire way. There is also a hurricane hunter scheduled to investigate the storm today, but I doubt it will find much if it flies.
Click for full size model imagery:
Invest 94L - Track Forecast
In the western Caribbean there is another area of organized thunderstorms approaching the coast of Guatemala. This system looks like it is not going to have enough time to develop before reaching land, but it will bring heavy rains and gusty winds to portions of Central America.
Invest 95L - Infrared Satellite
Of more immediate interests to those of us in the states, the area of thunderstorms that was in the Gulf yesterday has moved across the Florida peninsula and is now floating off the Georgia coast. The convection is not all that impressive, but its proximity to land warrants close observation over the next couple of days.
Invest 96L - Infrared Satellite
The system is expected to slowly move northeast along the coast, following the warm waters of the Gulf Stream. This is another reason while we'll keep a close eye out. I'm still actually awaiting the latest model runs but they should populate to this page automatically... (fingers crossed)
Click for full size model imagery:
Invest 96L - Track Forecast
Cheers,
Bryan Woods
The views of the author are his/her own and do not necessarily represent the position of The Weather Company or its parent, IBM.