At least nine tornadoes touched down in south Louisiana and south Mississippi on Tuesday, causing widespread damage and dozens of injuries, but no deaths. The largest tornado was an EF3 with winds over 135 mph that tore through New Orleans East, injuring 25, with three of the injuries deemed serious (the tornado was preliminarily rated EF2 on Tuesday, but was upgraded to EF3 on Wednesday after an
NWS damage survey
.) The tornado cut a swath through a residential area and a stretch of motels and trailer parks, and damaged roofs at NASA's Michoud Assembly Facility. About 250 buildings were damaged along the tornado's 2.5 mile-long path, prompting mayor Mitch Landrieu to declare a state of emergency for New Orleans. Many of the homes damaged were also damaged during Hurricane Katrina in 2005, when a levee break flooded the area. According to
WWLTV.com
, some Katrina survivors had a miraculous escape when the tornado ripped through a mother and daughter's neighboring houses, and the falling rubble hit almost everything except the people trapped inside (thanks go to wunderground member Patrap for this link.) Two more injuries were reported from a tornado near Watson, Louisiana, which damaged approximately ten homes; an additional two injuries were reported from a tornado in Killian, Louisiana, where five homes were damaged.
Figure 1.
A man walks through the debris of what once was a motel on Chef Menture Ave. after a tornado touched down on February 7, 2017 in New Orleans East, Louisiana. According to the NWS, 25 people were injured in the aftermath of the tornado. (Sean Gardner/Getty Images)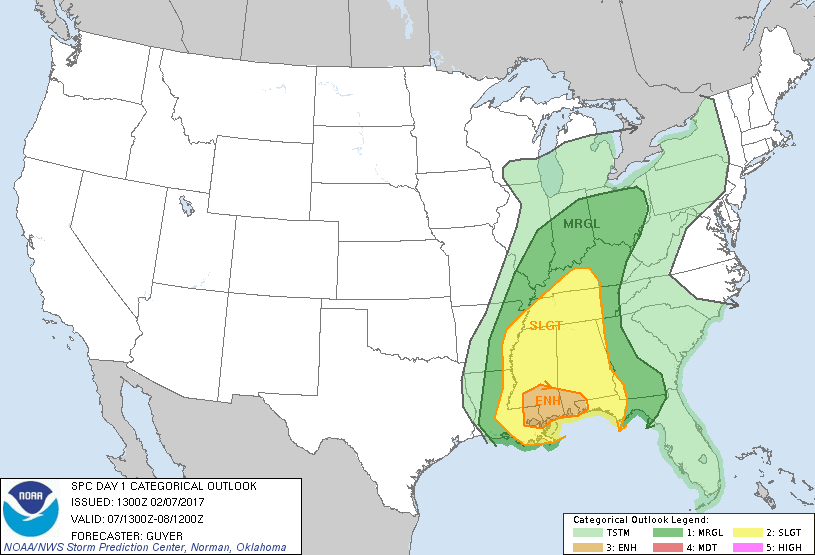 Figure 2.
Forecasts from 1 am EST Tuesday morning (top) from NOAA's Storm Prediction Center (SPC) showed only a "Slight" chance of severe weather over south Louisiana and south Mississippi, but by 8 am, SPC homed in on the potential for a more serious localized outbreak of severe weather, and upgraded their outlook to an "Enhanced" chance of severe weather (bottom.)
An unusually active start to tornado season
While it is not uncommon to get wintertime tornadoes along the Gulf Coast, the tornado activity so far in 2017 has been unusually high. The
preliminary tally of U.S. tornadoes
as of February 7 now stands at 151, which is more than double the 2005 - 2015 average of 67 we expect to see by this date. Most of this activity came in the
January 21 - 23, 2017
tornado outbreak. This outbreak spawned 79 twisters, including three EF3s, over the Southeast U.S., killing 20 people and causing at least $600 million in damage. Since 2005, the only year that has had more tornadoes than 2017 by this date was 2008, when approximately 260 tornadoes had been reported by February 7.
Video 1.
The EF3 tornado in New Orleans East on the morning of Tuesday, Feb. 7, 2017. Video by Aundra Woodfin, courtesy of NOLA.com.
Jeff Masters
The views of the author are his/her own and do not necessarily represent the position of The Weather Company or its parent, IBM.