The two areas of interest in the central Atlantic have both quieted down over the past 24 hours and now all eyes have turned to the Gulf. As we mentioned yesterday, there is a developing storm sitting just south of Louisiana. The circulation is still not very strong and convection is relatively unorganized, but its proximity to the coast is worrisome. Maximum sustained winds are at 50 mph and the pressure is still a relatively high 1002 mb.
Edouard - Infrared satellite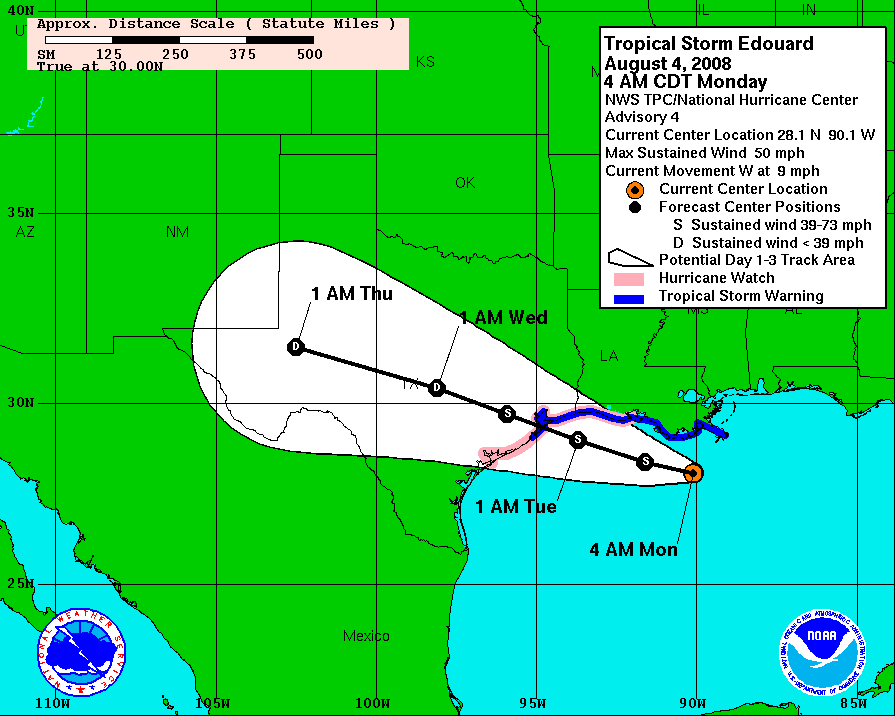 Edouard - Watches and Warnings
There is strong consensus among the models that Edouard is slowly continue to move westward and make landfall somewhere just to the southwest of the Galveston and Houston area early tomorrow morning. While the models do agree well on Edouard's track, they have no handle on his expected intensity.
Click for full size model imagery:
Edouard - Track Forecast
Edouard - Wind Speed Forecast
Edouard fortunately has not gotten his act together and there is no sign that a rapid strengthening is in the cards. However, interests in the upper Texas coast should consider Edouard to be a Category 1 hurricane at landfall. While Edouard is not a strong storm yet, I see nothing limiting Edouard other than time. Sheer is low and waters are warm. Convection has become better organized this morning as also seen on the radar, but overnight the storm has weakened too. I expect Edouard to come ashore as a strong tropical storm, but not to make hurricane strength. The bottom line is that Edouard's intensity is a big question, but take him seriously.
Radar loop
Cheers,
Bryan Woods
The views of the author are his/her own and do not necessarily represent the position of The Weather Company or its parent, IBM.
No reader comments have been posted for this blog entry.