Tropical Storm Bertha is once again up near hurricane strength, but is fortunately moving away from Bermuda. While her maximum sustained winds have increased to 70 mph, it is more important to note that her central pressure is also up to 995 mb, indicating a weaker storm.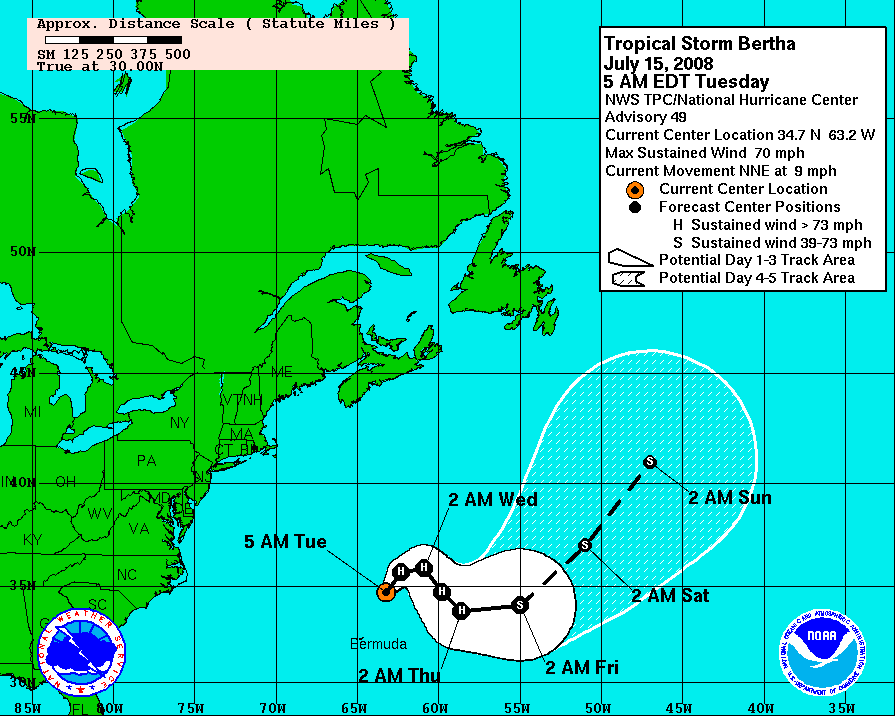 Bertha - Watches and Warnings
Bertha's
satellite signature
shows a very large circulation with one main band wrapping around most of the storm. Other than that, Bertha looks like a normal tropical system decaying over the North Atlantic.
Motion continuing to the north and then to the east is expected over the next few days with some more wobbles to be expected on top of the general progression to the east. Short term strengthening is possible, but Bertha will be transitioning to an extratropical system in the long term.
Click for full size model imagery:
Bertha - Track Forecast
Bertha - Wind Speed Forecast
The area of interest heading toward the Lesser Antilles has still yet to organize. Overall conditions remain favorable for Invest 94L but deeper convection is required. Right now the main burst of convection visible on the
satellite imagery
is located ahead of the easterly wave axis. If the convection can shift a bit to the east then we could see some development. However, in its current position this burst of convection will not lead to development.
The wave will continue to progress to the west over the medium term. The HWRF has backed off developing the system, but the GFDL is still agressive in its solution. All the models are in agreement on a track to the west-northwest across the northern Caribbean.
Click for full size model imagery:
Invest 94L - Track Forecast
Invest 94L - Intensity Forecast
Writing from cheery old London this week, Bryan Woods.
The views of the author are his/her own and do not necessarily represent the position of The Weather Company or its parent, IBM.