Things still remain busy in the tropics (at least for July). The area that was over the western Caribbean yesterday -- Invest 95L for those keeping track -- is now over Central America and no longer poses a significant threat of development. Now in the central Caribbean, Invest 94L is continuing to play games with us by first looking like it wants to develop and then fading away. Closer to home, Invest 96L is looking more organized and could develop in a tropical depression or storm by tomorrow. Bertha likewise has again reintensified and is again a hurricane.
Currently Bertha may just be reaching the peak of another intensification trend as she has reformed a nearly complete eyewall. Her convection looks healthy and satellite based intensity estimates now rank Bertha as a hurricane. In addition to strong convection, there is also healthy outflow exhausting from the storm and no signs of significant shear. While this reintensification may be interesting to watch for now, it is not likely to last.
Bertha - Infrared satellite
Currently Bertha is now packing winds of 75 mph, which is minimal hurricane force, with her central pressure is down to 989 mb. Bertha is now picking up steam to the northeast and is headed safely out to sea. She is expected to remain a hurricane overnight, but not much longer.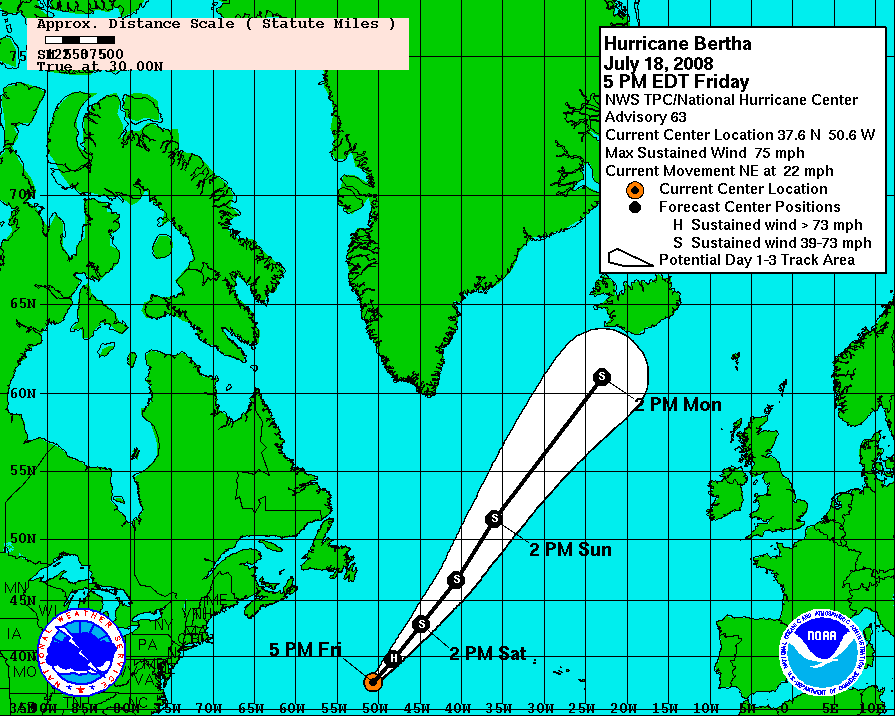 Bertha - Watches and Warnings
The dynamical models have done a good job forecasting Bertha's movement and development. However, now that we are facing extratropical transition, confidence is limited. Cyclone phase diagrams indicate that over the next two days Bertha will gradually transition to an extratropical storm. HWRF fields indicate that we should first see Bertha grow assymetric, and then transition to a cold core system.
Bertha - HWRF phase space
Model forecast tracks all shoot Bertha off to the northeast and continually weaken the storm. Bertha's transition should be complete by Sunday, by which time we may have our eyes turned to other areas.
Click for full size model imagery:
Bertha - Track Forecast
Bertha - Wind Speed Forecast
Another hurricane hunter visited Invest 94L today, but once again was unable to locate a closed circulation. Is anyone noticing a trend here? The eastern Caribbean is typically devoid of tropical development and this just goes to reinforce the rule of thumb. Now that the Invest is in the central Caribbean, climatology suggests that we could see additional development. The warm pool of the western Caribbean is an incredibly powerful fuel for nascent tropical cyclones -- just remember how Wilma went from a tropical storm to the strongest hurricane ever recorded in the Atlantic... in a mere 24 hours. With that said, Invest 94L is nowhere near ready to rapidly intensify; we would first need a closed circulation and we all know how that has gone.
Invest 94L - Infrared satellite
Invest 94L should continue its march across the Caribbean and we will monitor it the entire (painstaking) way. If this system does develop, there is no telling where it will go as both Central America and the Gulf of Mexico look like reasonable realms. Guidance forecast of systems that have yet to develop are rarely accurate as a fixed center of circulation does no exist to fix, and the strength of the system will dictate would it interacts with its environment.
Click for full size model imagery:
Invest 94L - Track Forecast
The area of disturbed weather off of the Georgia and South Carolina coasts has begun to look better organized. The convection is moderate in strength, but the curved structure of the storms suggest that the system is developing vorticity. The convective outflow looks healthy, and the proximity of the system to land is a natural cause for concern. A hurricane hunter is currently scheduled to investigate the system tomorrow.
Invest 96L - Infrared Satellite
The system is expected to stay very close to the coast and accordingly warrants careful attention. Local weather service offices should already be issuing statements on the storm, so check in with them. The water in this area is very warm as it is fed by the Gulf Stream. Development looks likely so check back soon.
Click for full size model imagery:
Invest 96L - Track Forecast
For those of you who miss him, Jeff Masters will return for you tomorrow and Sunday, but you'll be stuck with me again next week. ;-) Have a fun weekend!
Cheers,
Bryan Woods
The views of the author are his/her own and do not necessarily represent the position of The Weather Company or its parent, IBM.