Follow @Sean_Breslin
The cosmos has saved a special treat for the final eclipse of 2013.
On Sunday, Nov. 3, a "hybrid" solar eclipse will be visible from the eastern coast of North America to Europe all the way to parts of Africa and the Middle East, according to an EarthSky.com report. The eclipse will begin over North America at sunrise and will move east through sunset on Sunday evening.
(MORE: Is This the Coldest Place in the Universe?)
This eclipse is known as a hybrid because it will start as an annular eclipse before the Moon's orbit gets close enough to Earth to become a total eclipse, reports Universe Today. Of the nearly 12,000 solar eclipses that have occurred since 1999 BC, fewer than five percent are hybrid eclipses, the report also states.
You can see an animated image of the eclipse's shadow below.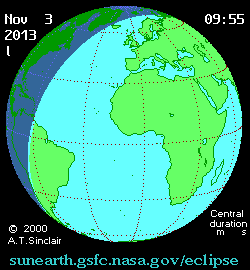 Credit: NASA/Goddard Space Flight Center
According to the Washington Post, Washington, D.C. residents can expect to see the eclipse begin at 6:38 a.m. and will last for about 30 minutes. Areas to the east can expect the eclipse to last a few more minutes, and they will see slightly more of the sun's area covered by the annular eclipse.
(MORE: Next Five Solar Eclipses in the U.S.)
Also, remember to turn back your clocks on Saturday night with Daylight Saving Time ending early Sunday morning, before the eclipse begins, to ensure you don't miss the celestial event.
This will be 2013's fifth eclipse overall and the second solar eclipse of the year, Universe Today says.
MORE: Solar Eclipses as Seen From Space
The Mir Space Station captured this eclipse in 1999. (NASA Photo)
---