Early November Snow Cover in North America the Highest in Over a Decade
Jonathan Erdman
Published: November 8, 2017
Snow cover in the United States and North America is the most expansive for any early November in over a decade, despite recent warmth over parts of the Northeast.
(MORE: Winter Storm Central)
As of Nov. 8, almost 26 percent of the contiguous U.S. had snow on the ground, according to an analysis from NOAA's National Operational Hydrologic Remote Sensing Center.
(MAP: Current U.S. Snow Cover)
This is the most expansive Nov. 8 snow cover in the Lower 48 in NOHRSC's 15-year analysis, topping Nov. 8, 2011's 21-percent coverage.
In fact, snow cover over North America is also at its most expansive for this time of year since the middle of the past decade, as Dr. Judah Cohen, director of seasonal forecasting at Atmospheric and Environmental Research (AER), a Verisk Business, brought to our attention.
The heaviest snow cover was found in the northern Rockies and the Canadian Rockies, but snow was also on the ground over a sizable swath of the High Plains, northern and central Plains, and dusted parts of the interior Northeast after a brief round of snow the previous day.
This included the season's first snow in the northern Texas Panhandle on Nov. 8.
(MORE: When Winter Weather Conditions Typically Arrive Where You Live)
This is all despite what has been an abnormally warm fall in much of the Great Lakes and Northeast – record warm in virtually all of New England.
It's a sharp contrast to one year ago, when hardly any snow cover could be found over the Lower 48 states. November 2016 was the nation's second-warmest November dating to 1895, and record warmest in North Dakota, Idaho and Washington, according to NOAA.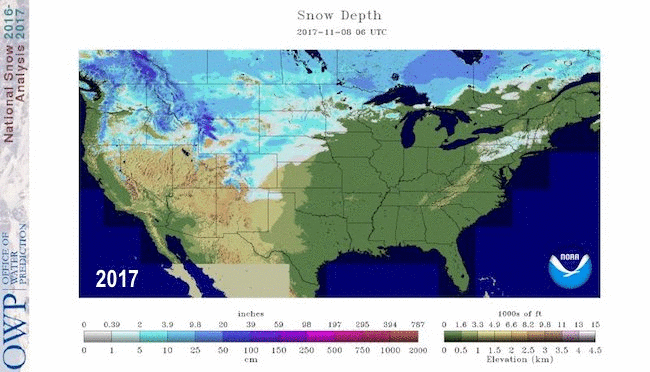 Snow cover on Nov. 8, 2017, compared to that same date in 2016, when scant snow cover was seen anywhere in the Lower 48 states.
November started with a pair of potent snow events in the Cascades and Rockies. Additionally, cold air spilled through gaps in the Cascades to produce snow at sea level in western Washington.
The second of these events on Nov. 6 was the third-earliest measurable snow event on record in Seattle, the earliest such event there in 42 years. This was more than a month earlier than the city's average first snow of the season.
(MORE: Is Winter Shrinking?)
What Impact Might This Have?
In general, fresh snow cover helps refrigerate cold air masses coming south from Canada. These polar air masses moderate, or warm slower, if they're passing over more area with snow on the ground.
In the short term, this expansive snow cover may be contributing to a weekend plunge of record cold into the Northeast.
"I do think that the extensive snow cover is an important factor for the record-breaking Arctic air predicted in the Northeast at the end of the week," said Dr. Cohen in an email to weather.com.
(FORECAST: Northeast Cold Snap Could Set Records)
Cohen said weather models tend to underestimate the influence of snow cover and tend to be slow to catch onto the intensity of Arctic outbreaks.
Winter outlooks issued in mid-October by The Weather Company and NOAA each anticipate a colder-than-average December-through-February in at least parts of the Northwest and northern Plains.
(MORE: Five Extreme Weather Patterns to Look For in Winter)
December 2017 - February 2018 temperature outlook issued Oct. 20 by The Weather Company. The red contour in the South corresponds to higher probabilities of above-average temperatures. The darker blue areas in the Northwest and Upper Midwest have the highest odds of below-average temperatures. The light blue and orange contours show where temperatures may be slightly below or slightly above average, respectively.
This is consistent with La Niña winters generally being colder than average in the Northwest and parts of the northern Plains.
La Niña winters are also generally wetter than average in the Pacific Northwest and the northern Rockies.
This early snow cover seems consistent with what you might expect in most late autumn periods headed into a La Niña winter, with 2016 being an exception.
Regardless, this is great news for ski resorts either already open, or those looking to build a solid base of snow by the Thanksgiving holiday weekend.
Jonathan Erdman is a senior meteorologist at weather.com and has been an incurable weather geek since a tornado narrowly missed his childhood home in Wisconsin at age 7. Follow him on Facebook and Twitter.
The Weather Company's primary journalistic mission is to report on breaking weather news, the environment and the importance of science to our lives. This story does not necessarily represent the position of our parent company, IBM.
Recent Stories
| | |
| --- | --- |
| | June 18, 2018 |
| | June 18, 2018 |
| | June 18, 2018 |
| | June 18, 2018 |
| | June 18, 2018 |