2010: THE YEAR IN AMERICAN WEATHER
By: wxgeek723 , 10:25 PM GMT on December 31, 2010
After a long lull in my blog (one that is likely to resume once this blog's time comes to pass), I decided it was the appropriate time to make a small return just in time for the conclusion of 2010. Looking back, 2010 has been a very epic year for the atmosphere, in just this country alone. At first I began contemplating a Top 10 weather events. Then, I remembered an entry in TWC's old weather blog back from 2006 (when they were still somewhat decent, lol). It inspired me to write this, a collection of images showing interesting or significant events. They are in chronological order arranged by event type. I do owe a lot of it to Wikipedia, which isn't the most trustworthy site but nonethless has great images.

HURRICANES AND TROPICAL CYLONES
Yes, I know tropical cyclones worldwide do not affect the US, but I figured I'd highlight some strong or impressive storms through the year.




Edzani, a strong South Indian cyclone from January reclassified as a category 5 in post analysis.




This is the image of a quirky system in the South Atlantic which was dubbed Tropical Storm Anita. Anita was an extremely rare tropical storm force cyclone in the region. Several possible storms have been documented since 1991, but only this and a cyclone in 2004 have gained significant recognition.




Ului, the first official category 5 of the year. It impacted Australia in mid March.




Celia, a strong East Pacific hurricane. Celia was only the second Category 5 June hurricane of record in the EP.




Alex, one of the strongest Atlantic hurricanes on record in June, and the first of hurricane intensity since Allison in 1995.




The East Coast has been very fortunate when it comes to hurricanes in recent years. Earl was no exception, however he did cause a bit of a scare when he threatened to end that luck streak.




In the middle, you can see the huge blob known as Igor. Igor is rumored to be the largest Atlantic hurricane on record, overtaking Ike in 2008, which itself was a record held by Katrina only 3 years earlier. To the right is Julia, the furthest east a category 4 has ever developed. On the left lies Karl, a storm of record southern latitude in the Bay of Campeche. Storms this season set unusual records indeed.




Megi was another strong category 5 in the West Pacific. The Pacific Basins have seen unusually low activity this year, partially blamed on the La Nina. The Southern Hemisphere also seems to be taking its time with starting up the 2010-2011 season.




Tomas was a slow moving storm dumping quite a bit of rain on some places.




Finally for the TC section, Omeka. Omeka wasn't intense by any means, and it did not affect any land areas. However its formation just last week is plain bizarre, and it also looked like a hurricane when it was just a developing invest. Even here it looks very well-organized.


SEVERE WEATHER




It took a while for 2010 to start up its tornado machine but once it did, it was furious. This is damage from the outbreak of April 22-25.




SPC Convective Outlook for April 24 highlights a High Risk for tornadoes in Alabama and Mississipi.




Yes, we're still on the 4/22-4/25 outbreak. Radar images of the supercell that wiped Yazoo City, MS off the map with an EF4 tornado. To the left is base reflectivity, and to the right is storm relative velocity.




An EF2 tornado is captured in Kansas on May 10. The same outbreak cause two EF4 tornadoes that ripped through the area surrounding Cleveland, Oklahoma.




EF4 tornado in Bowdle, South Dakota during the May 22-25 outbreak.




Another twister in Abingdon, Illinois on June 5. This same outbreak produced an EF4 that shredded Ottawa County, Ohio.




NWS radar image of double derechos carving through the southern Great Lakes.




The largest hailstone on record by diameter and weight found in Vivian, South Dakota on July 23, one of my favorite days of the year, lol. The diameter was 8 inches and the stone weighed in at 1.93 lb.




Radar of the severe thunderstorm that induced an EF1 tornado that struck the Bronx on July 25. It was the first tornado confirmation in NYC since August 8, 2007.




Satellite image of the incredible storm system that brought the lowest pressure of non-tropical origin in the continental US in recorded meteorological history. It produced a significant severe weather outbreak, strange for the Midwest in late October. On the backside, the High Plains received about a foot of snow.




Storm Prediction Center Storm reports for October 26. You can see much of the storms impact was focused on Indiana, Illinois, and Ohio. Media in Chicago dubbed the strong storm "Chiclone" combining Chicago and cyclone.




Finally, as I speak an unusually late severe weather outbreak is occurring, one of the largest on New Year's Day. The system has already claimed 3 lives in Arkansas.

Moving away from severe storms...

WINTER WEATHER




As the year began, a strong anticyclone brought very cold weather very far south. It was responsible for several freeze incidents in Florida.




This image shows snow on a normally busy street in Raleigh, North Carolina. An upper level low moved through the center portion of the US on January 29-30, causing some widespread minor snow totals.




NEXRAD image of the first of two nor'easters comprising "Snowmaggedon" in the Mid Atlantic on February 5-10. This storm was in its early beginnings here on February 5.




Satellite image of the storm system on February 5.




NWS interpolated snow totals show extreme amounts along the Mason-Dixon line on February 7. Note the sharp decrease in snow totals as one travels up I-95 past Philadelphia, with Philly receiving nearly 30 inches and New York getting scratch.




A Pittsburgh neighborhood after two feet of snow accumulated during the first storm.




Satellite image of yet another Eastern snowstorm forming on February 9.




Blizzard conditions in Philadelphia on February 10 just a few days after receiving its second greatest one storm total (28.5") in weather history there.




Interpolated snow totals for February 9-10, 2010. This storm wasn't very special when compared to general Northeast snowstorms, but was much more significant due to its occurrence alongside a historic blizzard a few days earlier and the combined impact the two had on the region.

The storm also pushed Philadelphia, Atlantic City, Washington DC, Baltimore, and Wilmington, DE to new seasonal snowfall records, surpassing 1995-1996 (1966-1967 in Atlantic City). Pittsburgh and New York City joined in the party as well by the end of the winter.




Snow along the road in Dallas, which accumulated a record 14.5" on February 11. The same storm produced an unusual snowstorm across the Southeast US.




Yet another strong nor'easter blasting new areas with heavy snow on February 26.




Snowfall in Dutchess County, New York. The storm brought up to 50" in parts of upstate NY with 20 in NYC. The cities hit hard earlier this winter were largely spared, with Baltimore and DC getting very little and only 5" in Philadelphia.




A classic lake-effect snowstorm halted Interstate 90 in Buffalo in early December with up to 3 feet of snow.




Snow pouring into the Metrodome in Minneapolis on December 12 which collapsed after a significant blizzard slammed the Upper Midwest on December 10-11.




Satellite image of the strong nor'easter responsible for the fourth Northeast blizzard this calendar year on December 27. The storm reportedly dropped to 961 MB, a pressure rivaling the Superstorm of 1993.




Two feet of snow pile up on this street in Jersey City, New Jersey. The entire eastern half of NJ in the corridor of the Garden State Parkway was slammed by two feet or more of snow, with 32 inches accumulating in Rahway, a NYC suburb. Aside from Baltimore and DC, who missed out, places from North Carolina northward to Maine saw up to a foot of snow. Personally, I'm hoping 2011 is much calmer with these epic storms. We Easterners have had enough history, lol.

I'll mention the onslaught that brought up to 15 feet of snow in the Sierra Nevadas in the next section.

FLOODS




Continuous, extreme heavy rain led to historic flooding in the Nashville, TN area April 29-May 7. These floods were considered 1,000 year floods. The same weather system sparked a moderate tornado outbreak.




Heavy rainfall on June 10-11 in Arkansas turned Albert Pike Recreational Area into a river causing many fatalities and injuries at the campsite.




Heavy rains in Milwaukee turns this festival into a waterway on July 21-22.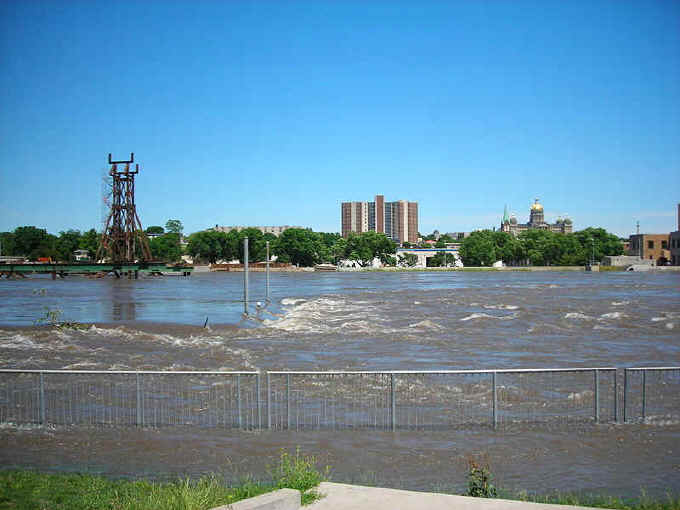 A river overflowing its banks during the Ames, Iowa flood on August 9.




This neighborhood in Minnesota was submerged following an event there and in Wisconsin in late September.




The road continues as a mudslide here in Silverado Canyon, California on December 22. The Pineapple Express slammed the west coast with an "atmospheric river".




Steve Hand of Modjeska, California trying to save as much of his home as possible on December 23. Thanks to thejournal.ie for the last 2 images!

HEAT, DROUGHT, AND WILDFIRES




Wunderground map of temperature departure during the Northeast heat wave of early July. Washington DC, Baltimore, Philadelphia, New York City, and Boston all topped 100F on either the 6th or 7th of July. A few of these cities recorded their warmest summer on record, just after their snowiest winter on record.




The Crown Fire ate away at Californian woodlands during the summer months.




Finally, a drought in the South has been persisting since the Fall, and unfortunately shows no signs of letting up soon. Hopefully winter rains will ease the anxiety there as we head into this New Year of 2011.

Feel free to discuss your own memories of interesting events that you experienced in 2010. If you have an event that I neglected to cover or did not spend much time on, please mention it in the comments section. Hopefully 2011 will be much tamer than this year.

Have a great New Year!
The views of the author are his/her own and do not necessarily represent the position of The Weather Company or its parent, IBM.
Reader Comments
South Jersey Weather Blog
Previous Entries for 2017
Recommended Links