April 1st. Update:
Well Happy April Fools Everyone! I believe the joke is on Fox News today. I want to thank them personally for giving Obama the boost he needed in the polls!:) New poll numbers show him closing the gap in PA. Hillarys lead is down to 5 or 6 points. And the race between him and McCain has narrowed again with most polls showing McCain with a 2 to 5 point lead. Again, thanks Fox News keep it up!
As for the weather. Looks like we will watch the march of Severe weather across the South this week. The first system will affect Eastern Texas across Louisiana, Miss. and Alabama today as a cold front drapes across the area. Then we watch the evolution of our second system develop across Northern Texas tomorrow as a new Upper Trough comes out of the Rockies and dives into the South. This Upper Trough and strong cold front will march right across the Southern States this week ending up across Florida by the weekend. We could see a possibility of Severe storms across Florida Friday through Saturday.
March 29th. Update:
Well another day. Looks like Spring is locked in here in North Florida, no turning back now! We will be headed for summer in about 3 weeks!..LOL You can see the pattern beginning to change as our first trough of Low Pressure will be moving WEST into South Florida later this week. The shift into our summer tropical season has begun. This pattern, with strong High pressure to the North, will bring breezy to windy conditions across the Florida Peninsula this week with occasional coastal showers developing and pushing westward. Temps will remain slightly above normal.
March 25th. Update:
Not much to say about the weather across Florida and the Southeast the rest of the week, this will be perfect Spring Weather. The last night of the cold air tonite and then the moderate trend begins with above normal temperatures by Thursday. A cold front will get hung up just to the North of Florida this weekend with a slight chance of showers across the Southeast but mainly dry and warm weather across Florida. Enjoy!!
Latest polling numbers from
Rasmussen
show the race between Obama/McCain and Hillary/McCain. McCain continues to lead Obama by 9 points, this seems to have stabilized over the last 5 days, thus the McCain bump from the Rev. Wright story seems to have ended. This is good news for Obama. The latest Gallup Poll only shows a 1 point lead by McCain over Obama. The Hillary/McCain race seems to have tightened a bit during the last 5 days with McCain having a 5 point lead now over Hillary, again a Rev. Wright bump. But as you can see, the polls ebb and flow, and these small leads are insignificant in March, and shows how close this race really is. The latest PA poll shows Hillary now with a 10 point lead, this is a decrease from her 13 point lead two weeks ago. This goes to show you those talking heads on Fox News dont know what they are talking about..LOL I was listening the other night and they said that Obama may lose PA by 20 points!! Dont they wish!!..LOL My prediction is that Obama will lose by about 10 points just like he did in Ohio. Out of the big 4 states for the general election. PA is a virtual tie against both Obama and Clinton. In OH, McCain leads Obama by 6 and Clinton by 1. In Fl, its very close with most polls showing McCain with a 3 to 4 point lead over both candidates. MI is a virtual tie. So in other words again, its close for March!!..LOL Oh and more sad news for Fox News, as I also heard the other night that Obama was in trouble in NC. Well the
latest polls
show Obama with a 21 point lead!!..LOL
Spring Drought Outlook: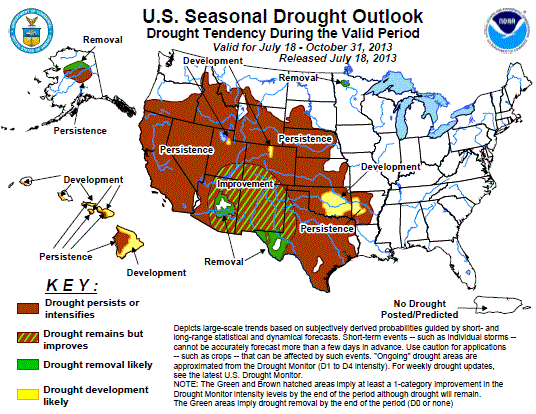 Long range outlook has the drier conditions in Southern Florida moving back North as we move into June.
March 20th. Update:
Nice quiet weather will dominate the Deep South and Florida over the next 7 days. The only bump in the road will come from a weak area of Low Pressure that will track across Central and South Florida during the day on Saturday. This will spawn some showers over this area later on Friday into Saturday, but overall precip. should be on the light side. Other then that the next 7 days looks very nice, with Sunny skies and temperatures which will start out alittle below normal this weekend and early next week to alittle above normal by the end of next week. Enjoy the Spring weather!!
March 17th Update:
I guess its time for a quick update..LOL Too much work getting in the way of blogging!!..LOL Well we will watch the progressive of Severe weather march across the South again this week, starting in Texas tonite and moving towards the East Coast by late on Wednesday. The greatest threat will be over Eastern and Central Texas, Louisiana tonite and tomorrow. As for Florida, the greatest threat will be over the Panhandle early Wednesday. The threat will weaken as this system moves into North and Central Florida Wednesday night. Could be another shot of rain for Florida over the weekend.
March 11th. Update:
Pretty quiet weather week, hey we need one! A few weak disturbances will touch off some showers and a few T-storms across the Deep South and Florida the next few days. These disturbance are fairly weak and are nothing like what we saw the last few weeks across the region. A more potent system will move across the Southern Plains on Friday, this may touch off some Severe weather across the Tenn and Miss. Valley and across the Southeast Friday thru Sunday. Florida will get into the act on Saturday will showers and T-storms as a cold front moves thru. Right now its too early to tell whether we will get an Severe weather out of this system. Temperatures will continue to be on the mild side through the week across Florida and rise to above normal levels by the end of the week. Spring is here!!
Today is the Mississippi Primary for the Democrats. And I LOVE MISSISSIPPI!!:) Obama holds a sizable lead in most polls and should easily win tonite. Then its off to Pennsylvania where we should see a hard fought battle for the next 6 weeks. Hillary has been polling about 15 points ahead of Obama in PA. So basically, unless we revote in MI and FL, neither candidate will get to the magic number before the convention. The latest
Rasmussen poll
shows McCain V. Obama/Clinton in a deadlock. Stay tuned!!
Drought Index:
The views of the author are his/her own and do not necessarily represent the position of The Weather Company or its parent, IBM.