Colossal Saturn became so not for DC for NE.
A forecast challenge snowstorm...

With the storm finally leaving the area after the unexpected snow dump I got here, everything is slowly coming back to normal. Many roads unpaved yet and other jobs left to do still from this storm.


First off..my latest snowmap



This storm was indeed full of surprises, initially thinking it was "supposed" to be a Mid-Atlantic crippling snowstorm which ended up being a bust for them. But that is as far as it went because here we got what they did not get; heavy snow, coastal flooding and gusty winds.

Initialy when the storm was moving in from the Canadian Border into Montana and North Dakota models trended the storm towards the southeast, moving south and around the Great Lakes, bringing up to 9" to Chicago. By this time over a foot was recorded in ND and over 2' in Montana. At the point where the storm was located by the Great lakes the GFS began trending the storm a little northward, the EURO did not agree with it and that's when everything became difficult to forecast.

As consistent as it was, EURO kept the storm heading out to sea from the Mid-Atlantic. Winter storm watches and advisories were posted for the entire DC area, snowfalls ranging from 4-8" across the city and over 15" in the high slopes of the Appalachians.

In many states such as South Dakota, Minnesota, Indiana, Iowa, Illinois, Michigan, Wisconsin and Ohio snowfall reports of 9 to 15" were submitted.

The big and unexpected news came out of the Baltimore/Washington DC NWS Office announcing that the significant snowfall forecasts they had up for DC area were not going to be met.

The early thinking was that the storm itself was going to generate it's cold air layer aloft making the snow fall to the warm ground as wet heavy snow and accumulate fast...the ground never cooled enough instead it was warmer than needed.
This happened when they noticed that the only shot they had to get snow and heavy was not going to happen, warmer than expected temperatures were expected now, this brought down significantly they snowfall for the entire urban area from over half a foot to only few inches. Still keeping a 1'+ for the Appalachians.

Then the attention turns to what the GFS/NAM are saying for the East Coast, the issuance of alerts was delayed so much because nome of the most reliable models came to agree, so decided to go with the consensus.

Snow was possible from New Jersey into Maine, then shrunk from Northern NJ into southern New Hampshire. Winter storm watches were issued for eastern Mass and southern New Hampshire calling from 4-8".

Yesterday evening the entire southern New England was filled with advisories and warnings. A significant threat besides snow was going to be coastal flooding which did happen, especially along the coast of Massachusetts.


Gusty wind also whipped the area two days ago



Scituate, MA today after some significant flooding moved in flooding streets, yards, house basements and some houses too.



Today, the storm located roughly 530 miles east of NY was still able to bring moisture into land, a trough from the Great Lakes aided the precipitation chances after merging with the main circulation of Saturn.




Another threat was also the beach erosion... this is highly inevitable.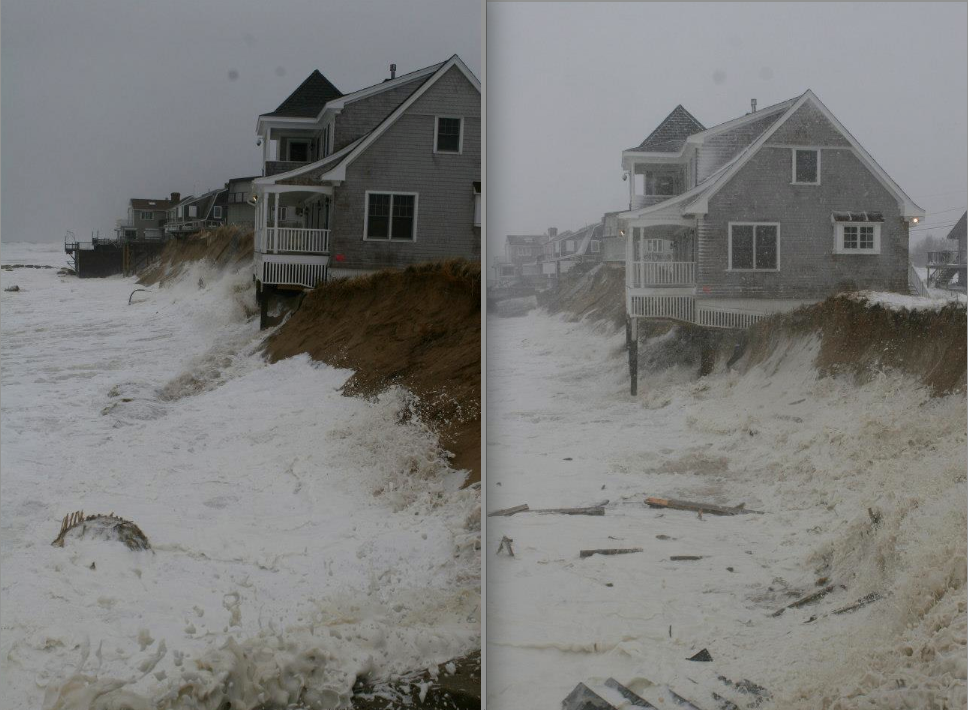 NOTE: Seriously you guys, think of all the potential odds that could play against you wherever you want to build your house at in the future...there are some obvious no-no locations as you can see.



Notice how large the entire circulation of Saturn is...ironic, Saturn!!!

In regards to the Mid-Atlantic snowfalls,
areas in PA reported 12" (high terrains).
Virginia 20" in Fisherville, 17" in Haywood.
West Virginia reports 24" in Franklin, 1" in Augusta.
Maryland 12.5" in Frostburg, 12" in Oakland and 5.8" in Manchester.

You can get more reports info from the WPC site here..


Pictures...

It seemed that the snow coming from the Atlantic was never going to end



Today, 2 snowplows came by few hours ago bumped lots of salt, some streets clean..for now


Chicago 200+ snow plows in action


last night



Milwaukee, WI



Big DC bust




Route 15..Merritt Parkway



__
Not such a big bust for us here in NE...
Winter storm warnings were unexpectedly extended as the unexpected snow increased this morning



Some very significant snowfall amounts



Cool links...

yesterday night ion 1-95 while going to Stamford, CT



In Stamford, Yes, those are Christmas lights!



For the NE snowfall reports follow here, pretty cool site

My earlier forecast for Saturn, it was a major mistake for the Mid-Atlantic. Apologies to all.

The art of forecasting, playing a major role while doing this forecasting.

If you want to see some pictures/info related to the last significant NE snowstorm, Blizzard Nemo

I hope you like my entry, plus it and comment if you wish to..


MaxWeather
The views of the author are his/her own and do not necessarily represent the position of The Weather Company or its parent, IBM.
Reader Comments
Comments will take a few seconds to appear.
Max's conference
Recent Posts
Local Weather
54 °F

Clear
Previous Entries for 2017
Personal Weather Stations
Cranbury

Norwalk, CT

Elevation:
86 ft
Temperature:
55.0 °F
Dew Point:
39.2 °F
Humidity:
55%
Wind:
Calm
Wind Gust:
9.0 mph

Updated: 1:40 PM EDT on March 29, 2017
Eagle Ridge

Marietta, GA

Elevation:
1170 ft
Temperature:
77.4 °F
Dew Point:
59.6 °F
Humidity:
54%
Wind:
Calm
Wind Gust:
8.0 mph

Updated: 1:40 PM EDT on March 29, 2017