Hurricane Season 2012 Recap
Finally, after waiting for so long for the last NHC Tropical Cyclone Report for Sandy, here is how the so destructive 2012 Hurricane Season stands, only based on the storm intensities.

Destructive? 2 outstanding storms fits this category pretty well. One of then was the feared "I" storm Isaac, a bad storm for the Greater Antilles and devastating one for New Orleans as it became an 80 mph hurricane prior to landfall, over $2.3 Billion in damages reported.
The most destructive storm in many years was Sandy. The many areas initially impacted by Isaac was also the target for Sandy's rage. Hurricane Sandy hit Jamaica as a hurricane and Cuba as a Major Hurricane. Nearly 70 people perished, most of them from Haiti although Sandy was far from Hispaniola. Over 2 billion in damages reported in Cuba as a result. Then Sandy impacts the northeast with such annihilating force that brings the storm to rank as the second most expensive storm for the United States. The death toll rises another 70 to a total of about 150 casualties.

So, here are the final stats. Hurricane Ernesto was operationally as an 80 mph category 1 hurricane bumped to 100 mph category 2 in the TCR. Sandy was also upgraded to a 115 mph major hurricane. Other storms had some changes in intensity like Debby, Chris and Leslie..



Figure 1: The Final stats for 2012



Figure 2: Pressure and Wind Intensities

The second image may be rather difficult to understand. The top red part shows the wind speeds in mph, the bottom blue part shows the pressures associated to the storm. In the middle are the names.
The back shades of the top red part indicate when the Hurricane intensity starts at, green for 75 mph and red for 115 mph. While for the bottom blue part the black shade indicates pressured near 950 mb and the white for pressures near 1000 mb.



Please don't hesitate to comment... Click on any of the pictures above for larger view.


NHC Final storm track map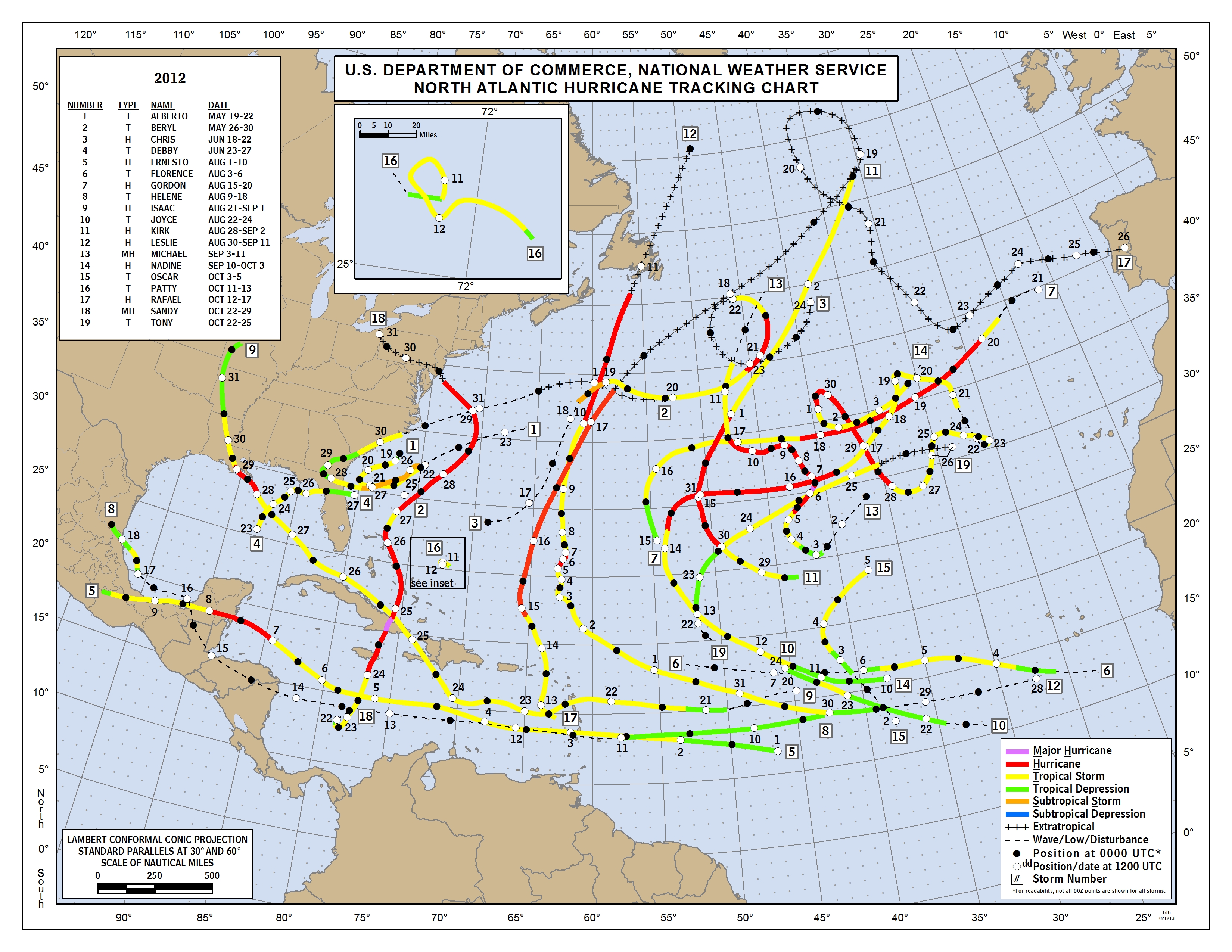 The views of the author are his/her own and do not necessarily represent the position of The Weather Company or its parent, IBM.
Reader Comments
Max's conference
Previous Entries for 2017