Saturday springing Spring
Last days of March, what a month of great weather from snow to thunderstorms...

Spring has arrived! Gotta say Phil did not do so good this year with that shadow, perhaps he went to sleep late the night before the big roll for the next day.

NYC Forecast
March 31 - April 5, 2013

Easter is around the corner but wet for us… warm day nonetheless but the big day s the one after it, Monday could be the best day so far this year as far as temperatures; balmy 60F!

Rest of Today
Very comfortable day, great for walking around town, going out to eat, or have fun in the backyard... can't be any better.
Reaching upper 50s from coastal Conn northwards including the counties of Sussex NJ up to Wayne, PA and upper NY state, even warmer for the southern half of the CWA entering into the low 60s. NYC, Long Island, central and south Jersey down to Philly.
Not too cold for the night hours, decreasing to upper 40s all across, Upper NY state down to mid 40s as we make the transition into April.


EASTER SUNDAY...wonderful day, but humid with some showers at night.

Somewhat fresh morning to look for the Easter Bunny, wear some jackets if going out.
Down to low 40s from NYC southward. Upper 30s along coastal CT and Long Island and mif 30s in the interior NY/CT states also Northern New Jersey and PA.
Again, expect tomorrow to be excellent, a great spring day with temperatures near 60s for many in the area, only interior places to remain in the upper 50s.
Things turn ugly tomorrow just after noon when clouds roll in for the NYC metro area from the west. And some showers in the early evening hours until the end of the day. Expecting the rain to end by midnight. Remaining in the low 40s across most of the area with lower temperatures in the far interior places.

I expect more northern places to slide into the 60s.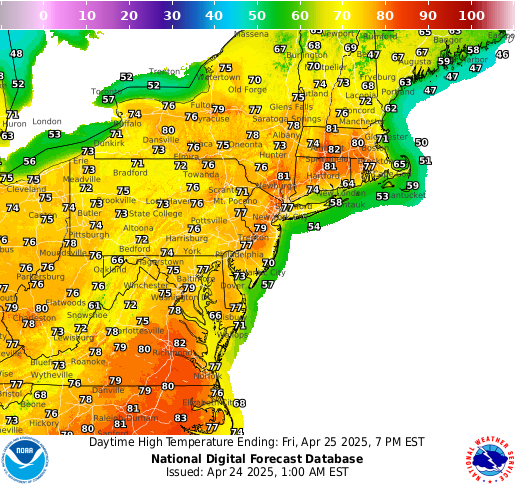 HAPPY APRIL
Monday April Fools...best of this year so far! Sunny and warm! No joke! Big cool down afterwards... noo!
Clearing morning, but still very humid (above 80% all throughout), expected to gradually decrease to low 40%s.
Monday, yes ugly Monday, but the best day so far to head out, a preview of late spring entering summer. Enjoy the day because that's going to leave, sadly.
All above 60Fs from Philly to NYC...From cities like Philadelphia, Trenton, Middletown, Elizabeth and NYC. Low 60Fs for Coastal Connecticut (from New Haven westwards) and Long Island. Upper 50s across northern NJ and NE PA. Mid 50s for interior Hudson Valley.
Only light breeze expected through this day.

COLD? big kick back to winter-like weather overnight Monday-Tuesday. 35F from Philly to NYC and Long Island! Coastal CT, low 30s for all CT, northern NJ and interior NY. Upper 20s for NE PA!
Also winds pick up a bit, nearly 10 mph making a relative temperature much cooler. Expect some child chills much below freezing
What a big unpleasing surprise this warmth brings... :(

Tuesday through Wednesday
Cold weather returns! Back to the AM 30s for the south and upper 20s for the north and PM highs in the mid to upper 40s for the south and low to mid 40s for the northern half of the CWA... so depressing I know but these will be nice sunny days, no precipitation expected. Winds remain low.

Thursday
A little warmer, reaching mid 50s south of NYC and low 50s north of NYC. Lows in the low 40s to mid 30s from south to north. Colder places across the interior.

Friday pushing into warmer temperatures upper 50s all across the area...
Too far out for details at this time...more updated in the blog comments below as we progress.
-

My CWA



Geographical map
Some geography for you to lean about if you are not familiar with New York City, if you are then you'll know better when I discuss including towns not marked in the map.

The outlook... choosing my area this time



___________________________


HURRICANE SEASON

The hurricane season is 62 days away, we have to start thinking about this guys! Especially if you live in ground zero.

NOTE: The listing deadline is August 1st, you still have a lot of time to think about your numbers or change them. Just let me know.

Thanks to all listed. I hope this Atlantic hurricane Season could be one of the many I plan to forecast with your help of course.
The list will be updated again on my new blog next Saturday April 6, 2013.

THE BIG LIST…look for yourself...thanks to those 69 listed!
click picture-link for larger view, this picture is pretty big!




How to win?…. simple
Since some of you gave me a range of numbers and some others gave me exact numbers, this is how it's going to work..

Exact numbers… nail at least one of the three categories (meaning either named storms, hurricanes or major hurricanes)
Range of numbers…at least two of the three categories (meaning either named storms, hurricanes or major hurricanes)

If you don't win, don't worry..I'll leave your row as it is…

_____________________________________

Spring Outlook

NOAA's Climate Prediction Center issued their spring outlook last week. I came up with my version including the temperatures, precipitation and the danger of flooding across many states due to the high impact from this winter.




Here in NYC, the merciless winter left…that's it! Warmth is slowly coming, forget about the cold 30s and 40s we used to get up to in the afternoons. In this month we will begin to see the trees blossom.

_____________________________________

PLEASE PEOPLE OF THE EARTH SIGN THE PETITION FOR AGREEING ON PROTECTING OUR BELOVED PLANET FROM CLIMATE CHANGE

Please do! Very thankful to those 8620+ (including me) who have...
We can make it to 1,000,000,000!!!, don't do it for you but for your now/future kids!

____________________________________

SKYWARN CLASSES UP FOR NYC
New York City's NWS Office (Upton [Long Island], NY) announced the first skywarn classes for those interested. More classes to be added, expecting one here in SW CT which I will be attending.




Currently, there are three locations, all of them in Long Island. None in CT nor NJ.
They said ion Facebook that they eventually hope to plan to add more classes in deferent locations across the region.

The locations and time…Look at the numbers labeled to the marks on the map

Location 1… Brooklyn, NY at 6:30 PM on April 24 in the NYC Office of Emergency Management
Location 2… Bethpage, NY at 7 PM on May 21 in Nassau County OEM
Location 3…Upton, NY at 7 PM on May 29 in the Bookhaven National Laboratory. That's also the NYC NWS office location

for more information go to Skywarn NYC NWS site, you can register there to take the one closer to your location

_____________________________________

Main headlines in Dr. Master's Blog this week

-El Nino and La Nina and its atmospheric effects in the hurricane season.
-Pipeline Protesters.
-Hurricane Forecasts and other related information
-Government investments to improve weather forecasting and tracking
-Global Warming, the petition to conserve a planet underground climate change
-Cold blast across the southeast, Virgil last snows and season forecasts.

SPECIAL NOTES:
1. A special thanks to TomTaylor for his precise explanation of certain atmospheric waves, check out his blog. It helped me lots.
These waves are not much known by their name, location or structure to some as he stated in the first paragraph.
Equatorial Rossby waves

2. Please lets behave in the blog, don't make provocative comments leading to self destruction!

3. Be watchful…some time from this week on the WMO (World Meteorological Organization) will announce in a conference with representatives across the world which names are going to be retired from last year's hurricane season. Again I'm expecting a replacement for Sandy and possibly to Isaac.

_____________


I'll have a new blog next Saturday with more updates.
Let Spring spring. Enjoy these times!

Hopefully to those celebrating Good Friday had an awesome time, weather cooperating.
May you all have a great Easter. Hunt the Bunny or eggs.
Stay clean.





MaxWeather
NYC Forecaster
Tropical Awareness



The views of the author are his/her own and do not necessarily represent the position of The Weather Company or its parent, IBM.
Reader Comments
Max's conference
Previous Entries for 2017