Hurricane Season 2012 Recap
By: trHUrrIXC5MMX, 6:20 PM GMT on February 24, 2013
Finally, after waiting for so long for the last NHC Tropical Cyclone Report for Sandy, here is how the so destructive 2012 Hurricane Season stands, only based on the storm intensities.

Destructive? 2 outstanding storms fits this category pretty well. One of then was the feared "I" storm Isaac, a bad storm for the Greater Antilles and devastating one for New Orleans as it became an 80 mph hurricane prior to landfall, over $2.3 Billion in damages reported.
The most destructive storm in many years was Sandy. The many areas initially impacted by Isaac was also the target for Sandy's rage. Hurricane Sandy hit Jamaica as a hurricane and Cuba as a Major Hurricane. Nearly 70 people perished, most of them from Haiti although Sandy was far from Hispaniola. Over 2 billion in damages reported in Cuba as a result. Then Sandy impacts the northeast with such annihilating force that brings the storm to rank as the second most expensive storm for the United States. The death toll rises another 70 to a total of about 150 casualties.

So, here are the final stats. Hurricane Ernesto was operationally as an 80 mph category 1 hurricane bumped to 100 mph category 2 in the TCR. Sandy was also upgraded to a 115 mph major hurricane. Other storms had some changes in intensity like Debby, Chris and Leslie..



Figure 1: The Final stats for 2012



Figure 2: Pressure and Wind Intensities

The second image may be rather difficult to understand. The top red part shows the wind speeds in mph, the bottom blue part shows the pressures associated to the storm. In the middle are the names.
The back shades of the top red part indicate when the Hurricane intensity starts at, green for 75 mph and red for 115 mph. While for the bottom blue part the black shade indicates pressured near 950 mb and the white for pressures near 1000 mb.



Please don't hesitate to comment... Click on any of the pictures above for larger view.


NHC Final storm track map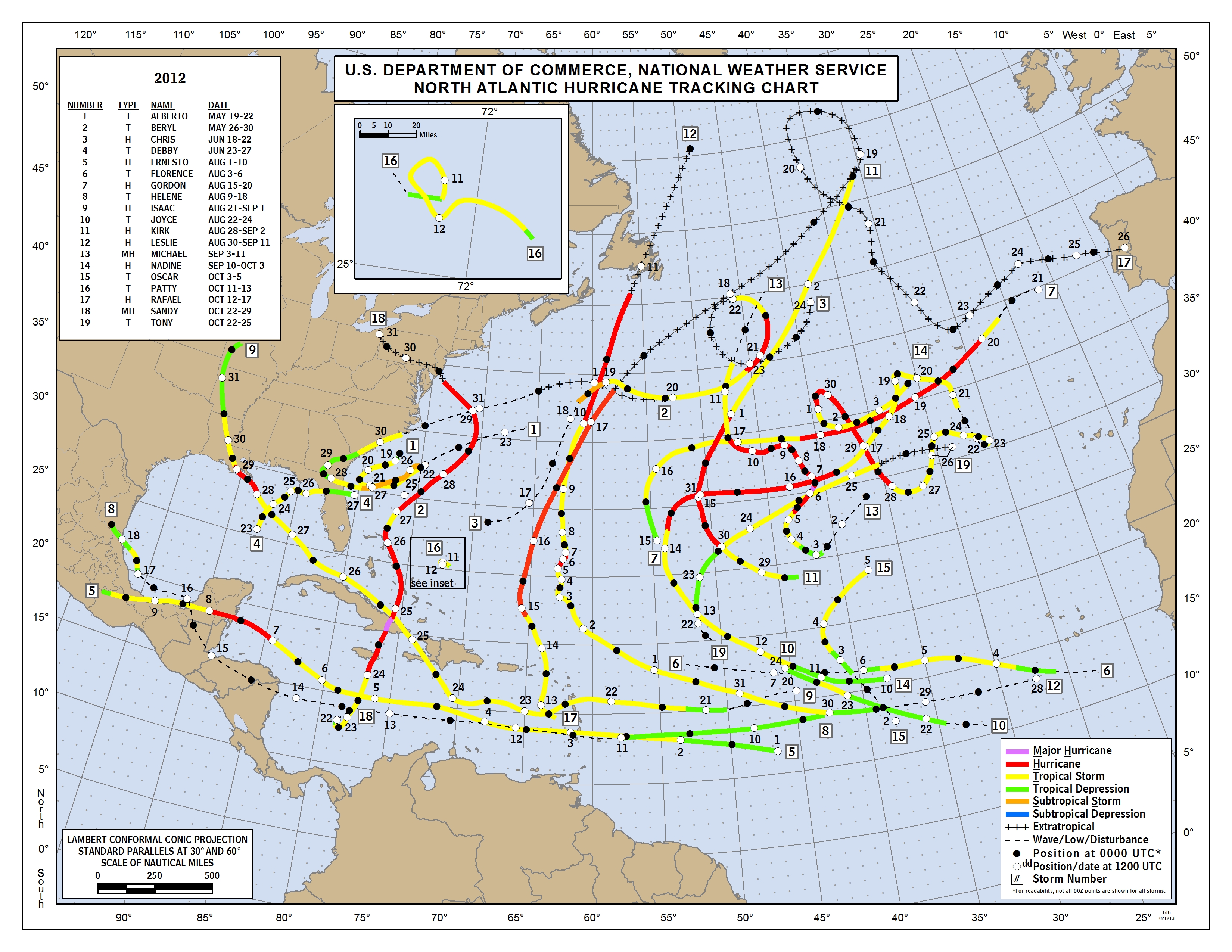 Updated: 2:41 AM GMT on March 01, 2013
My 2013 Weather Plan
By: trHUrrIXC5MMX, 6:43 AM GMT on February 16, 2013
I have been working this past month on Hurricane Sandy Video and on some new graphics and information for this upcoming hurricane season.
I know it's too early for the hurricane season, in fact, it's about 3 months from now for the 2013 Eastern Pacific Season to start.

I know that many of you are anxious for the Spring Tornado Season which could be more of interest than hurricanes which I would certainly understand and respect. Personally, I lean more towards snow storms, rain storms, wind temperature and hurricanes than tornadoes as my favorite weather topics. Again, I respect your choices if otherwise.

The upcoming tornado season could be very busy, unlike last year, this year's spring season may be dangerous and possibly destructive, especially for those of you in the "tornado ally" please listed to your local weather offices and most importantly obey the warnings, if given, of tornado threats even if nothing happens. The choice is ultimately yours.

As regarding to the hurricane season, same thing when warnings come around, even for tropical storms. It is important to think about where to go in advance of a storm or hurricane. People seem to think that just because tropical cyclones are not hurricanes (in some cases not even tropical storms) no attention or preparation should be made, however, that is a very wrong and possibly irrevocable statement. Never underestimate the power of nature. Winds are not the only threat if you live near rivers, flat lands, steep slopes or coastal areas. Too many people pay attention to the storm's intensity, "oh is it a hurricane, category 1?...naa, no big deal". (No big deal?)

Counter examples of above....
...Hurricane Humberto 2007 - very unexpected deepening to hurricane so close to landfall.
...Tropical Storm Allison - Slow mover, very heavy rains led to widespread flooding yet only being a "tropical storm" killing over 40 people and damages up to $9 billion.
...Hurricane Ike 2008 - Although it was a strong hurricane "what people normally looks for to act" was taken action for, however, the gigantic waves crashing along the Galveston, TX area and all Gulf of Mexico deceived many, and widespread washouts/coastal flooding occurred. Ike's size was largely ignored. Ike became the 3rd US costliest Hurricane ever.
...Hurricane Sandy - Devastating storm for New York, Philadelphia and the rest of Northeast and Great Lakes area. Very dangerous waves flooded the entire NYC Subway system, in other places there were extensive washouts, wind damage, extremely high number of people left without power, heavy rains and surprisingly heavy snows as well for the Appalachians something not so common in hurricanes. Sandy was a monster storm, larger than Ike and worst than Ike which consequently took it's place for the Second most devastating costliest storm on record for the USA.

That's why it's important to watch the news, my key phrase for you is: Tropical Awareness.

All this message comes up to my new graphics I have been diligently working on for many months,since right after Sandy. They are more understandable, clearer information, and always updated.

Figure 1: Broad Atlantic View..


I'll be focusing more in the Atlantic basin than in the Eastern Pacific unless there is a storm that bears attention, most of them head out to sea and die harmlessly along the way.

Figure 2: Broad Atlantic View, The Nomina


Just like the first map, I would be using this one (taking away the central name box) for the broad atlantic view.
Also note that those are the names to be used for this upcoming Hurricane Season of 2013.

Figure 3: Alert map


I'll use this map only in storms posing a threat to the lower-48.
This is just a sample of course.

Figure 4: HURRICANE ALERT


To be used only for hurricanes that could be very devastating (cat 3-4 or 5) to any land areas, not only the USA). Examples could be Irene, Ike, Dean, Gustav or Sandy) I'll take into consideration the structure of the storm to decide whether to use it or not. This graph is only for those special occasions.

All of the above (except for the 2nd image) are scenarios only for the sake of display. To be used in real life if necessary.

Well I hope everyone waiting for the tornado season would have a great time... In my case fun comes in few months.

One last thing..I don't plan to flood the blog putting this up every 10 minutes...only once or twice a day everyday... if necessary.

"Due to the current public monitoring (Mods) in the site I'll be more formal in posts on the blog to you guys. I'm 20 years old for goodness sake. "

Please leave a feedback.
NOTE: "nomina" is the Latin word for names. Common word for me.

Tropical Awareness

May you all have a great day!
Updated: 6:09 PM GMT on February 16, 2013
BLIZZARD NEMO...The Statistics of the Historic Storm
By: trHUrrIXC5MMX, 9:29 PM GMT on February 13, 2013
I have been tracking and keeping information of winter storms since the season of 2008-2009 up to today. For 5 years I have seen all kinds of storms also the ingredients that make them be so, the timing, temperature, location, projections, strength, path and snowfall forecasts. Also been under from Winter Weather Advisories to Blizzard Warning, such was the cause with the February 2013 Historic Blizzard



Figure 1: Radar of Nemo at around mid-night of Feb 7-8, 2013.

Below you'll find the statistical reports I have made and kept track for since 2008. In statistics the more data input you have the more concise and closer-to-exact output you'll get. I think 5 years of data are good for a 60-70% of the real average and information that NOAA's CDC for my location has.



Picture 2: Outstanding winter storms wince 2008. All are 7"+ snowstorms.

-"Nemo" occupied the 20% of the whole graph as I measured 21"
-The 2010 Post-Christmas Blizzard takes 16%.
-The 2011 January 27th winter storm occupies the 17% of all snowfall.
-The 2011 Jan 11/12 Winter Storm (Which was a blizzard for Boston, MA) takes 15%.
-The small remaining storms at right occupy the remaining 32%.

NOTE: All of the storms above (which could have impacted from Philadelphia, NYC and Boston) were all nor'easters. The strongest ones are those located to the left of the graph.

Current Trends...



Figure 3: Graph displaying past 5-year seasonal total
snowfalls measured at my area. Notice that the vertical green line is where we here stand at right snow.