I am a Failed Father
Oh, the guilt....more on that later.

I have three children, the oldest a 7-year-old girl. She is a naturally inquisitive young girl with an amazing memory and astounds me nearly everyday. I try to be a practical parent, neither lying to my children nor telling them the whole truth. Rather, I would prefer to direct them more to a journey to find the truth, where they ask themselves what the best answer to a question is before setting up an experiment to test their assumptions.

One example of this came after my daughter watched the original Toy Story. I could see her staring off into space after having watched the movie, contemplating some major question in her small little mind. After a minute or two, she turned to me and asked, "Do my toys move when I am not looking?"

I looked at her and said, "I don't know since I have never been able to see them when I am not watching them. What do you think?"

"I think they do move."

Here was my chance. "Well, maybe you can think of an experiment to test your guess."

She thought for a long moment. "Yes. Maybe we can put a camera in the closet and then watch to see if they move when we close the door."

Yes, that is when I didn't feel like a failed father.

Flash to near current day...

For the last few months, she has taken a great interest in the solar system and space in general. I have tried to cultivate that curiosity with questions of my own. If she has a question about the solar system, I try to lead her down a path, being right or wrong, then let her find her own truth. I was amazed one day when I showed her an artist rendition of Voyager 1 flying through the solar system, much like this one: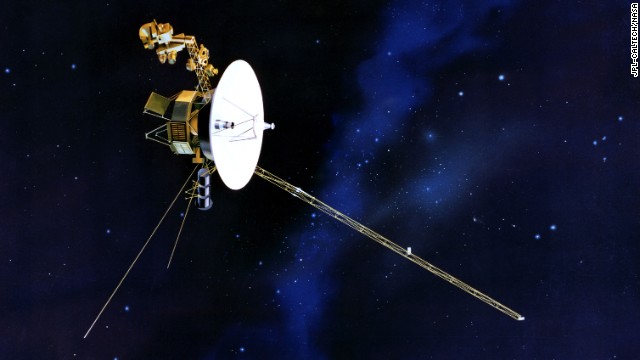 These artist renditions are often very realistic and you wouldn't be alone in assuming this was an actual picture of the spacecraft hurtling through the darkness of the solar system.

Instead, she looked at the picture and said, "But, dad, if the spacecraft is alone in space, who took that picture?"

I have felt obliged to guide that curiosity down a scientific path since I, myself, am a scientist.

Flash to this week...

My father (where I received my natural scientific curiosity) was talking to my daughter about the lunar eclipse that was set to peak at 12:46 A.M. Monday night/Tuesday morning Pacific Time. She was very excited about looking at eclipse images online and turned to me and asked, "can I watch the eclipse tonight?"

I had immediate mental images of sitting in our front yard in the middle of the night, imagining with her as the moon slipped into the Earth's shadow. Even though it was a school night, I immediately said "yes, I will wake you up when the eclipse is nearing its peak."

There I was, Monday night, sitting on my couch, keeping an eye on the clock so I wouldn't miss this very important moment. I don't know what happened, but the next thing I remembered was that I woke up on that same couch and was panicked when I looked at the clock to read...2:14. Damn!

I rushed outside to see just a silver of the moon cut out and the moon had returned to its normal silver color. I had missed the blood red moon, I had missed the lunar eclipse. Mostly importantly, my daughter will be disappointed when she woke up in the morning.

When she did wake up, I felt like a failed father when I had to tell her that we both missed the eclipse. She looked up at me and said with a sad voice, "now I have to wait until October to see another eclipse."

Could it be? Another chance at redemption this year? How could she know this and I did not?

After poking around the grand ole internet, I found this:





Sweet redemption will have to wait until October. To be continued...
The views of the author are his/her own and do not necessarily represent the position of The Weather Company or its parent, IBM.
Reader Comments
Comments will take a few seconds to appear.
Wunderground Meteorologist Shaun Tanner
Recent Posts
Local Weather
58 °F

Partly Cloudy
Previous Entries for 2017
Recommended Links