Live Blog: Historic Nor'easter Set For Northeast
Friday 11:05 PM

Manchester, CT and Coventry, CT are now up to 18.5 inches of snow.

Storm observer in Staffordville, CT reported 6" of snow in 1 hour and 16" on the ground.

Friday 10:13 PM

Over 300,000 customers without power currently in New England.

Lockport, NY and Smithfield, RI join the ranks of towns to record 14 inches of snow.

Friday 10:00 PM

Take a look at this IR satellite image. What does it look like?

Friday 9:56 PM

Pressure starting to slowly bottom out in Long Island.




Friday 9:44 PM

A 3.3 foot storm surge currently at Chatham, MA on the eastern edge of Cape Cod.




Still seeing storms surges 2-3 feet in the Long Island sound, but we are approaching high tide for some areas.

Friday 9:30 PM

Another interesting snow time-lapse. Watch the snow REALLY pile up in the last couple seconds of the video.

Friday 9:06 PM

Nantucket, MA gusted to 69 mph this past hour.



Friday 8:55 PM

There are about 45,000 customers without power in MA at this time.

Friday 8:41 PM

We are keeping a running tally of the snowfall reports on here. Scroll down to "Snow Totals"

North Banford, CT has already reported 13 inches of snow.

Some loud thundersnow in Middle Island, NY

Friday 7:14 PM

Buoy southwest of Montauk Point gusting to 51 mph


Friday 6:47 PM

Take a look at this radar animation of the past few hours as storm approaches coast. Impressive!


Dangerous driving near Heathcote, NY




Friday 6:21 PM

Wind gust of 59 mph reported southeast of Nantucket, another southwest of Fort Independence, MA.

Temps getting colder in New England. 10s and 20s noted in VT/NH/ME

Watch this time lapse to see Weston, MA become a Winter wonderland.

Friday 6:10 PM

Times Square at this hour: Snow starting to blanket the ground. Here is a webcam.




Very heavy mix of rain/snow moving into Long Island right now.

Friday 5:16 PM

Take a look at these radar returns just off the southern New England coast. Menacing.




Friday 5:12 PM

12.1 inches of snow has fallen in Youngstown, NY.

Friday 5:05 PM

Southern New England is expected to see snowfall rates of 2-3 inches per hour this evening.

Friday 5:00 PM

Bay Shore buoy south of Long Island winds gusting to 52 mph.




Friday 4:46 PM

Kings Point, NY is showing a storm surge of 3.6 feet at this hour. It is at low tide.




Friday 4:16 PM

The peak wind gusts we've seen so far is 48 mph at Islip, NY.

Friday 3:56 PM

Governor LePage of Maine Declares Limited State Emergency.

8.5 inches of snow has fallen just northeast of Milton, VT

Friday 3:31 PM

Toms River, NJ has issued a voluntary evacuation notice for the barrier islands.

Friday 3:09 PM

What a difference a day makes ! York Beach, ME: Thursday



FRIDAY




Friday 2:54 PM

Gov. Patrick in MA has signed an executive order banning all traffic in state after 4 p.m.

Here is the most recent Euro snowfall forecast. Bullseye of snow still from Long Island thru Boston.




Friday 2:22 PM

Massachusetts has declared a State of Emergency

Rhode Island has declared a State of Emergency.

Seeing storm surges of 1-2 feet currently in the Long Island Sound area.
Friday 2:16 PM

Temps are in the 30s near the coast, 20s slightly farther inland. Let WunderMap tell the story.

Friday 12:22 PM

7 inches of snow already reported at Scarborough, ME




This is what is looks like in Hawthorne, NJ right now.




Little bit of snow starting to accumulate on the ground in Edison, NJ




Friday 12:12 PM

Sustained winds to 30 mph right now along the NJ Coast.

Friday 12:04 PM

Governor Malloy in Connecticute: By 1PM we expect all flights in and out of Bradley Airport to be canceled.

Friday 11:41 AM

Gov. Malloy in CT to declare State of Emergency. Roads subject to closure.

Tremendous amount of rain falling over DE and off the Mid-Atlantic coast.

Friday 11:27 AM

Sustained winds of 34 mph at buoy south of Islip, NY.




Friday 11:21 AM

Looks like snow beginning to accumulate west of Boston.




Friday 10:36 AM

Rain-Snow mix reported in Lower Manhattan

Current look at Manhattan.




Friday 10:31 AM

With temps currently hovering in the mid-30s in NYC and Long Island, we expect the precip to turn to snow soon.

Take a look at the current snow field. Snow is falling from western PA thru ME already.

Friday 10:17 AM

Rain/snow line currently just north of NYC. wxug.us/1195r Use webcams to tell where it is rain/snowing



Friday 3:47 AM

Light snow already falling in Saranac Lake, NY.

Friday 3:16 AM
Snow already making its way into Upstate New York. This radar is a good look at the two storms on their way to combination.

Latest run of the Euro has back off some on snow for NYC. Still a 1.5 feet of snow possible. See the latest.




Friday 12:39 AM

Most recent model snowfall prediction for entire Nor'easter:




Thursday 11:47 PM

Water temperatures along the East Coast are plenty warm enough to allow for rapid strengthening of storm Friday.

Live 24 hour streaming on the Nor'easter now available on Weather Underground.

Thursday 7:02 PM




Hurricane force wind warnings extended from eastern Long Island along entire MA coast.

Southern stream Nor'easter bringing moderate and heavy rain to the Carolinas.

Thursday 6:35 PM

Impressive wind field shows in the models Saturday morning. Take a look.



Meanwhile, this is what it looks like in Chicago.



Thursday 6:16 PM

Coastal Flood Advisories in Long Island Sound warn of water levels 2-4 feet about tide levels.

Thursday 5:51 PM
Massachusetts Bay Transportation Authority Service Suspended on All Lines Effective 3:30 PM on Friday, Feb. 8th. Visit MBTA.com/Winter

Thursday 5:44 PM

RT @GovChristie: We're mobilizing & preparing for a major statewide storm w/ 1,400 plows & 650 salt-spreader trucks.


RT @BostonGlobe: BREAKING: Logan Airport to shut operations early Friday afternoon through Saturday afternoon.

Thursday 5:38 PM

Nearly 54 million people are under winter weather advisories in the Northeast, 23 million are under a blizzard warning.

Meanwhile, in Midwest, up to 7 inches of snow has fallen on parts of WI/MI, with more to come.

Thursday 5:30 PM

@NWSBoston: Here's a review of the top 10 snow storms to impact Southern New England: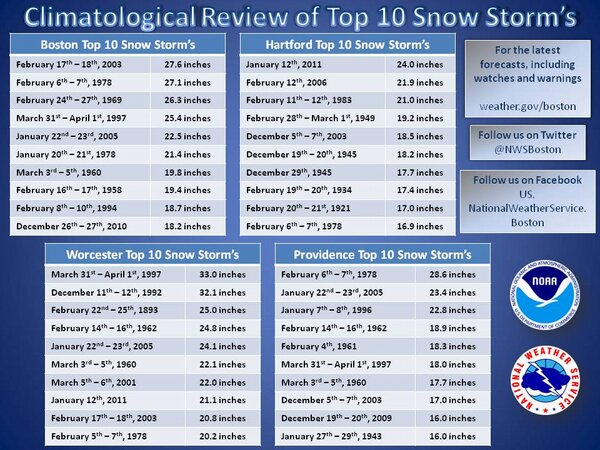 Thursday 5:10 PM

Governor Cuomo will activiate the State Emergency Operations Center at 12 PM Friday to monitor.

NWS Boston confirms snowfall amounts: Storm snowfall totals up to around 2 to 3 feet possible. Drifts to 5 feet.

Thursday 4:13 PM

New York State Governor's office was warned of likely road closures Friday and Saturday due to unsafe driving conditions.

Thursday 4:03 PM

Blizzard Warnings now posted for all of New York City and Long Island.

Watches for southern New England are now updated. Blizzard warning for most of southern new England.





The low pressure system currently over Florida will race northeastward and combine with the other storm over Illinois as it races to the east. Thus, the Midwest storm will bring the cold air to the part, while the Florida storm will bring the moisture. These ingredients will be enough to produce potentially record-setting snowfall for parts of the Northeast.

The Blizzard Watch currently posted for Boston, MA warns up 18 to 24 inches of snowfall for the city. For some perspective, the city has only received over 24 inches of snow during 4 storms in its recorded history. Thus, if Boston receives 24 inches of snow on Friday and Saturday, then this storm will be a top 5 snowiest storm in Boston's history.

In addition, a Hurricane Force Wind Watch is posted for the Cape Cod area and warns up winds up to hurricane force (74 mph) along with seas to 18 feet. With these winds and large waves, it would be hard to imagine significant coastal erosion and flooding as far south as New Jersey.
The views of the author are his/her own and do not necessarily represent the position of The Weather Company or its parent, IBM.
Wunderground Meteorologist Shaun Tanner
Recent Posts
Local Weather
51 °F

Clear
Previous Entries for 2017
Recommended Links