Severe Thunderstorms, Tornadoes Hit Southeast On Christmas
The same storm that brought several of feet of snow to California Sunday crashed into the Plains today, bringing historic snow to Oklahoma and Texas AND a rare Christmas tornado outbreak to the Southeast.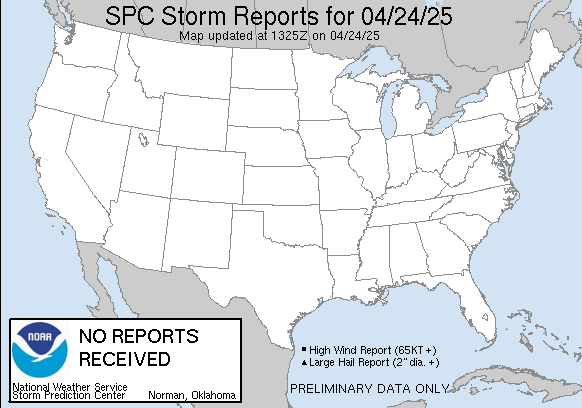 The Storm Prediction Center has tallied 31 tornado reports (red dots above), along with over 60 reports of wind damage due to strong, damaging winds.

Before I tell you the next stat, it is important to note that tornado counts can and are adjusted after NWS survey teams go out and look at the damage. Nonetheless, the preliminary tornado count of 19 would set a Christmas Day record for number of tornadoes formed. Here are the other notable Christmas Day outbreaks courtesy of the National Weather Service in Washington D.C.:

--Dec. 24-25, 1964: 14 tornadoes (three of them F3), Alabama, Florida, Georgia, North Carolina, South Carolina, Tennessee, West Virginia. Two deaths in Georgia; about 30 people injured.

--Dec. 25, 1969: 12 tornadoes (two F3) in Florida, Georgia, Louisiana One death in Louisiana, 17 injuries.

--Dec. 25-26, 1973: 7 tornadoes, two of them F2, in Alabama, Florida, Georgia. Two injuries.

--Dec. 24, 1975: 3 tornadoes (one F3) in Texas and Florida. No injuries or deaths.

--Dec. 24-25, 1977: 3 tornadoes (1 F3) in Mississippi and Florida. Seven injuries.

--Dec. 24-26, 1982: 29 tornadoes (one F4, two F3), in Oklahoma, Missouri, Arkansas, Tennessee, Mississippi. Three deaths in Arkansas and Missouri; 32 injuries.

--Dec. 24, 1988; 1 tornado (F4) in Tennessee. One death; seven injuries.

--Dec. 24, 1997: 3 tornadoes (one F2) in Alabama. Five injured.

--Dec. 25, 2006: 6 tornadoes (four F2) in Georgia and Florida. 14 injured.

--Dec. 24, 2009: 22 tornadoes (three F2) in Texas, Louisiana and Mississippi. Four injured.

Other statistics:

The last time a number of tornadoes impacted the Gulf Coast area around Christmas Day was in 2009, when 22 tornadoes occurred during the morning of December 24th.

In over 60 years there have been two EF4-rated tornadoes on Christmas Eve, one in 1982 in Arkansas, the other in 1988 in Tennessee.

The strongest of Tuesday's tornadoes appears to be a strong tornado that drove right through the heart of Mobile, Alabama. Below is a video of that fierce tornado most likely at its peak.



A couple notes from this video. First, the tornado is absolutely huge, several miles across. Second, the speed at which the tornado is moving is amazing as it appears to be moving faster than 50 mph.

The good news from all of this severe activity is that there appears to be no related fatalities. This is outstanding news and a tribute to the preparations residents took before the storm, as well the precautions taken when the NWS issued Tornado Warnings.




Above is the WunderMap TimeLord image at the time of the Mobile tornado. It is interesting that the tornado formed on the southern edge of a line of thunderstorms that developed well ahead of the main squall line. Most of the strongest tornadoes form in supercell thunderstorms ahead of the main squall line, but this meant that residents of Mobile had to endure a second period of intense thunderstorms several hours after the initial tornado rolled through. This second line of thunderstorms sent rescue workers and NWS survey teams running for cover until the severe weather was finally over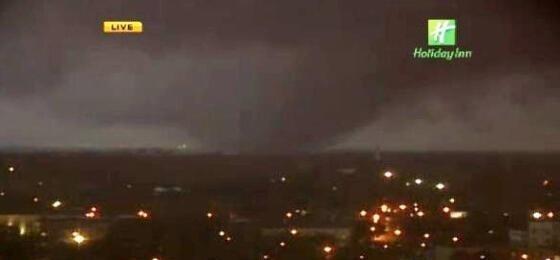 Screen grab of Mobile tornado via Fox 10 out of Mobile.




This is a graph of weather conditions at the Mobile State Docks in Alabama. Of specific note is the drastic temperature change just before 9 p.m., marking the passage of the cold front and the end of the severe weather threat.




This is a radial velocity image from a supercell that moved north of Montgomery, Alabama. Without going too much into it, this image basically tells you where air is moving toward the radar, and where it is moving away. You can see that there is rotation noted in this supercell, but it is still to be determined whether this thunderstorms did actually produce a tornado.

The views of the author are his/her own and do not necessarily represent the position of The Weather Company or its parent, IBM.
Reader Comments
Wunderground Meteorologist Shaun Tanner
Previous Entries for 2017
Recommended Links