Live Blog: Tornadoes Moving Through Eastern U.S.
By: shauntanner, 8:54 PM GMT on April 26, 2014
For the latest updates on severe weather through the Plains and Southeast, please follow Weather Underground on Twitter.

This is the live blog we will continually update through the duration of any severe weather in the country through the weekend. Our goal is to bring you the most current information information available.

Newest updates are listed first and all updates are timestamped.

Tuesday

4:02 PM ET: Radar in Mobile, Alabama has taken a direct hit from a lightning strike and will be down indefinitely.

10:20 PM ET: Large swath of the country under a severe risk today.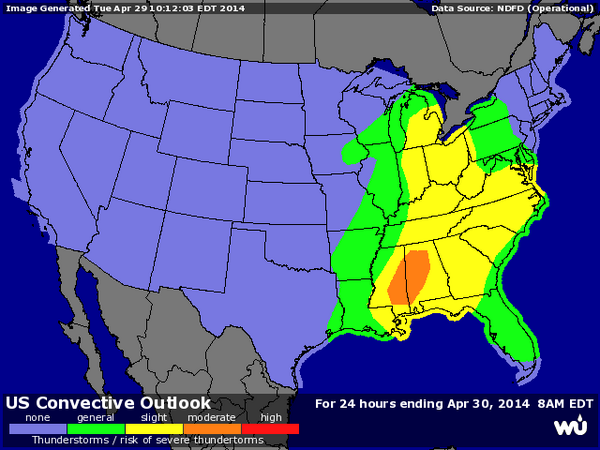 2:23 AM ET: Bessemer P.D. are asking people to stay out of area near UAB West

1:40 AM ET: 1:39 AM ET: Very large tornado with debris just east of Sardis City, AL.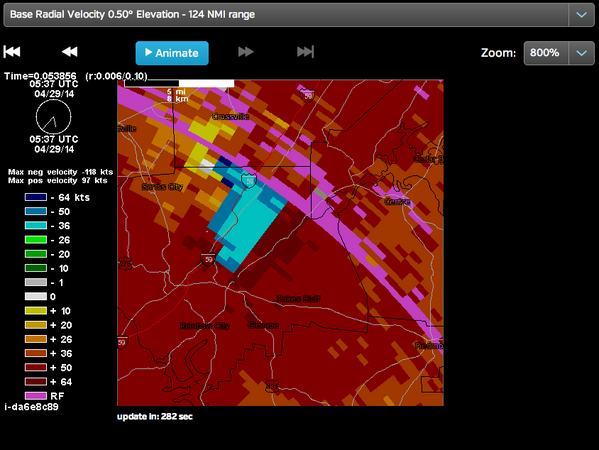 1:23 AM ET: @wsfa12news: According to WBRC, a fatality has been confirmed in Tuscaloosa by authorities.

12:53 AM ET: Fire dept in Oneonta, #AL reporting structural damage and possible injuries.

12:48 AM ET: Two #Tornado Warnings remain in Alabama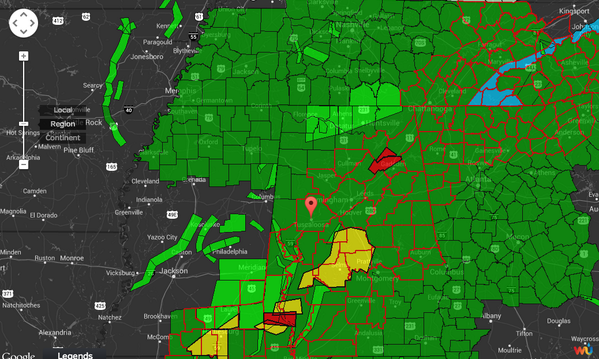 12:43 AM ET: #Tornado heading toward Birmingham area seems to have weakened. Warning being allowed to expire. Stay safe!

12:15 AM ET: This is worst case scenario for Birmingham, AL. Strong #tornado heading for city. Tornado emergency issued for town.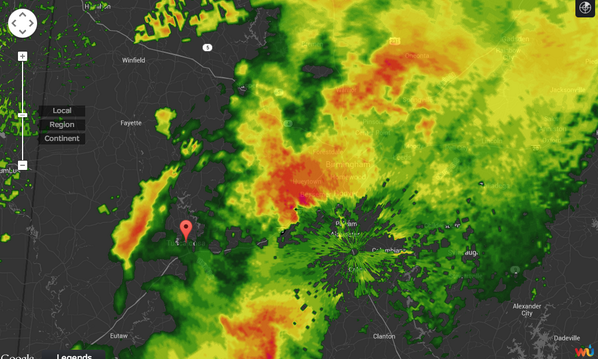 Monday


11:44 PM ET: Metro Birmingham, AL is under a Tornado Warning due to a confirmed tornado.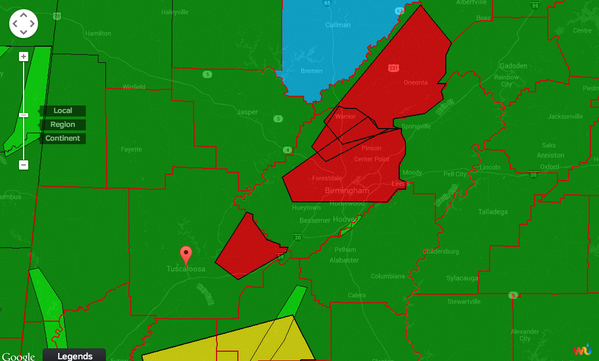 11:10 PM ET: 11:09 PM ET: Very clear rotation just south of Tuscaloosa, AL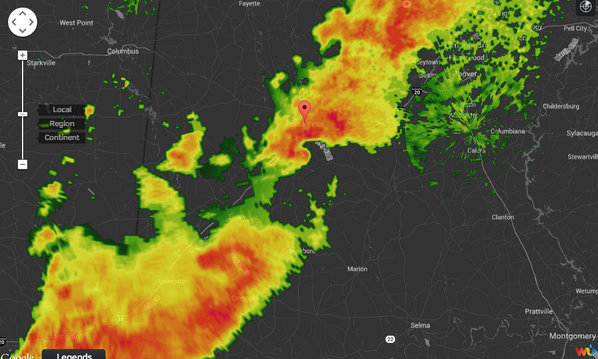 9:26 PM ET: Tornado on the ground just north of the AL/TN border. Very dangerous.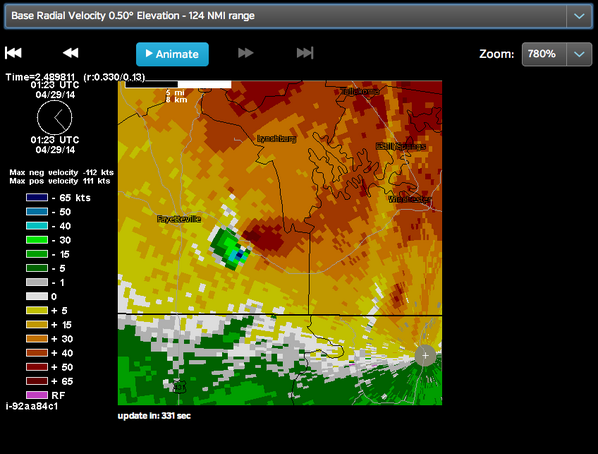 8:54 PM ET: Very tight couplet noticed just north of Carbon Hill, AL.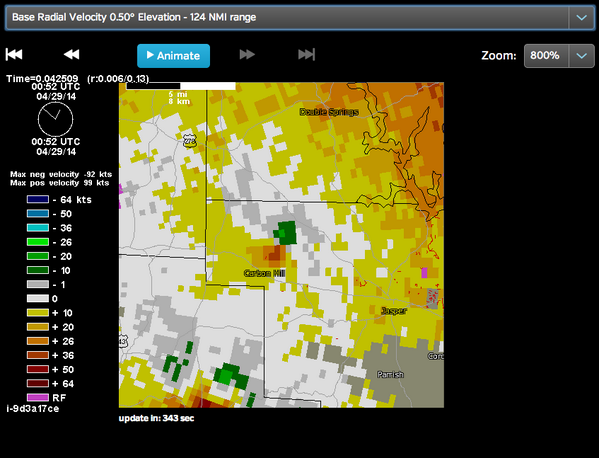 8:31 PM ET: @NWSMemphis: Preliminary damage survey of Tupelo tornado is possible EF-2, more assessment needed. #mswx http://t.co/WkOW4rFFKw

8:25 PM ET: Severe threat doesn't end when the sun sets. In fact, it becomes even more dangerous. Stay tuned.

7:58 PM ET: Report of 3 fatalities in Limestone County, AL

7:48 PM ET: Confirmed #tornado heading right for NWS radar site at Brandon, #MS.

7:38 PM ET: Confirmed tornado heading right for Richland, MS, south of Jackson.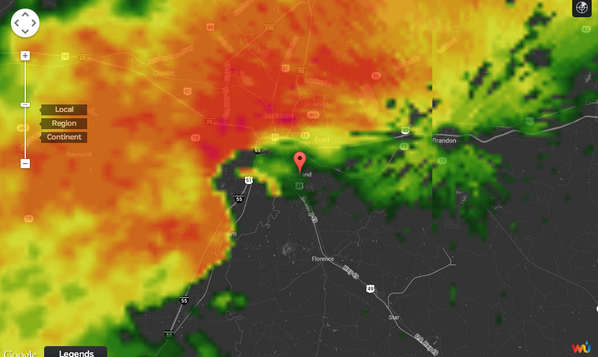 7:31 PM ET: Very dangerous looking rotation very close to Jackson, MS. Very dangerous situation!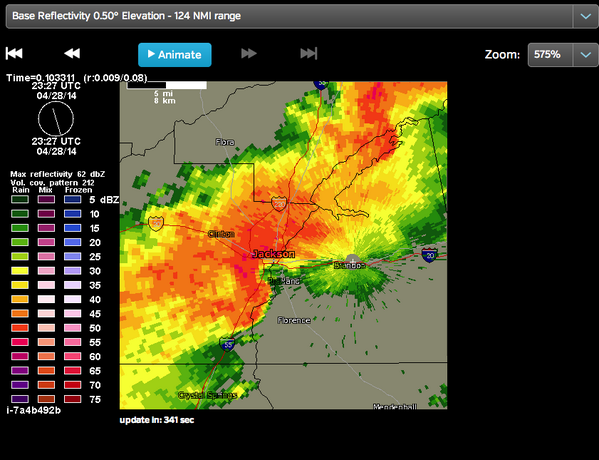 7:27 PM ET: Dangerous hook echo just south of Caledonia, MS.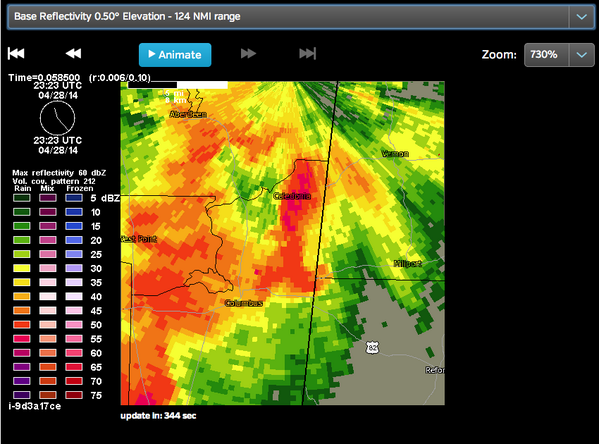 7:17 PM ET: #Severe thunderstorms have moved into GA. Tornado Warning for storm near Corinth, GA.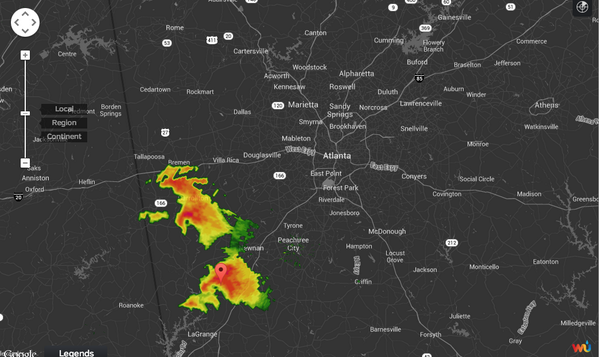 7:11 PM ET: Confirmed #tornado southwest of Jackson, MS.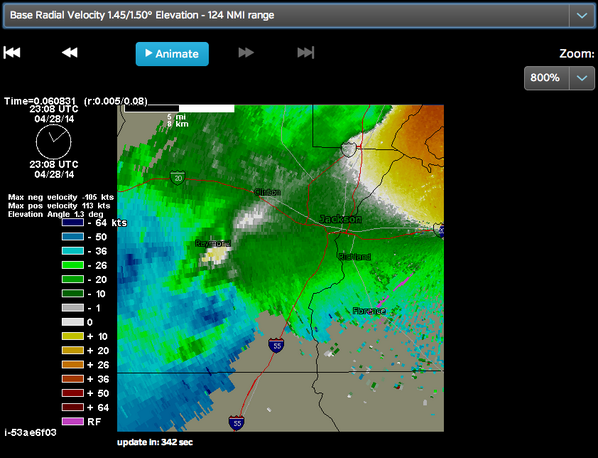 6:58 PM ET: Confirmed #tornado just west of #Jackson, #MS. Metro area now under a Tornado Warning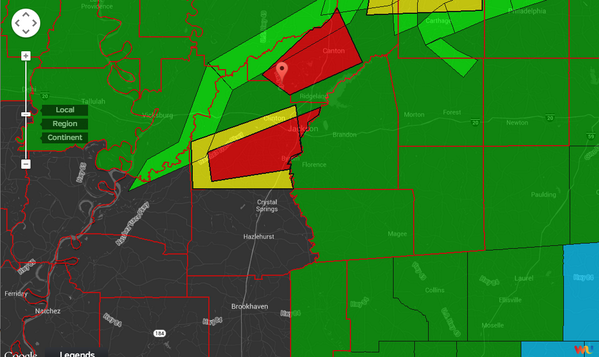 6:54 PM ET: Multiple reports of a #tornado on the ground near Pocahontas, AL.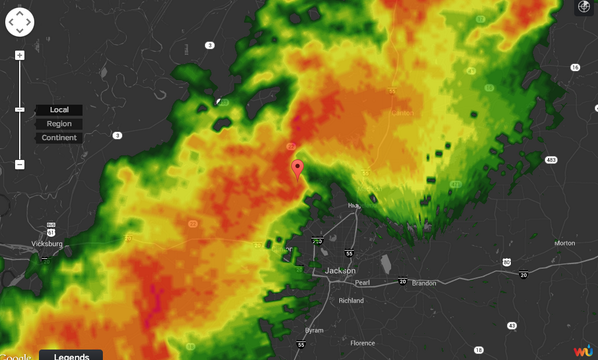 6:41 PM ET: Another extremely large and dangerous tornado just northwest of Jackson, MS. Take cover!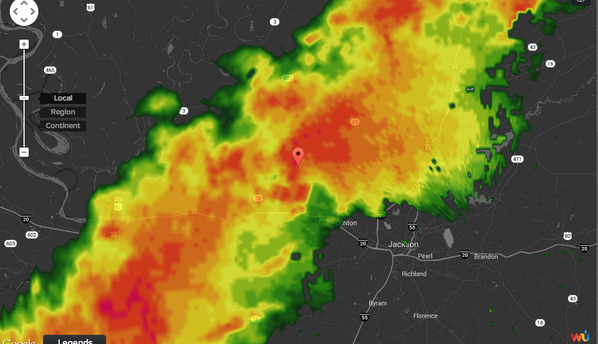 6:29 PM ET: Tornado emergency for Marion County, Alabama for tornado

6:16 PM ET: Possible #tornado just west of Jackson, MS.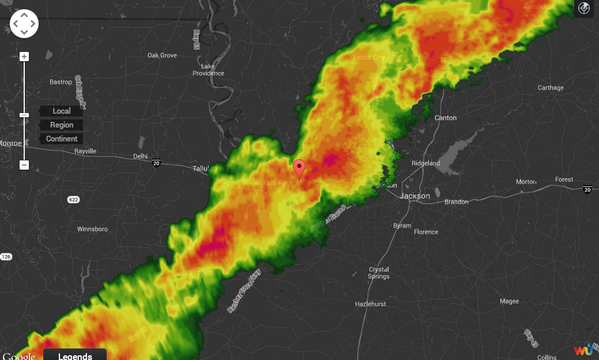 5:54 PM ET: Confirmed tornado just west of Huntsville, next Coxey, AL. Looks very dangerous.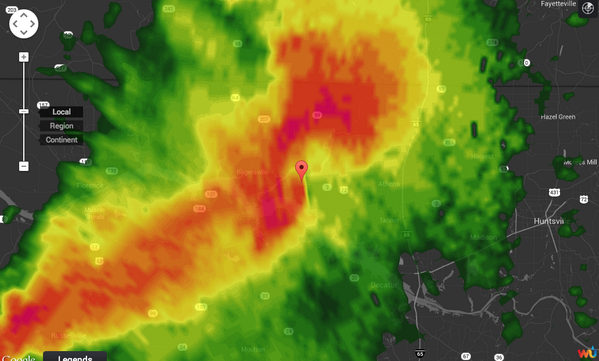 5:32 PM ET: Very dangerous situation for Louisville, #MS. Reports of debris being lofted into the sky. Storm is just south of city.

5:25 PM ET: MSU storm spotters report Winston County tornado may now be 3/4 mile wide. #mswx

5:21 PM ET: NWS reporting a likely violent #tornado in Winston County #MS. Very dangerous situation.

4:59 PM ET: Very large, wedge tornado confirmed near Zama, MS.

4:54 PM ET: Radar signature on thunderstorms northeast of Philadelphia, MS is looking very dangerous.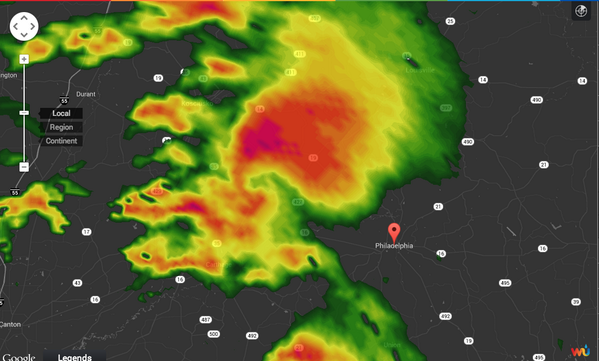 4:14 PM ET: Very worried about these three separate #tornado warned thunderstorms in MS.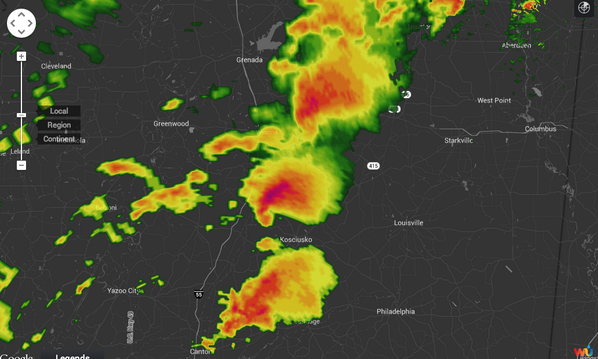 3:56 PM ET: Radar has a very well-defined debris signature.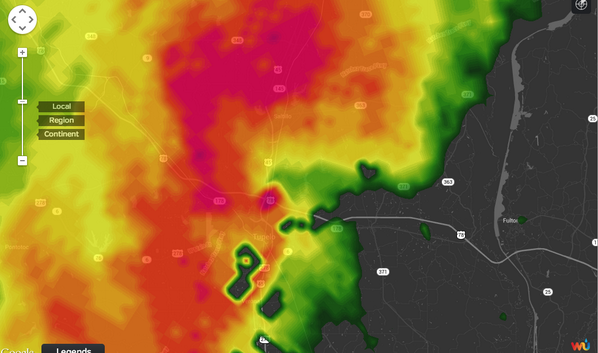 3:46 PM ET: #Tornado Emergency has been issued for Tupelo, #MS.

3:39 PM ET: Very strong rotation moving into Tupelo, MS.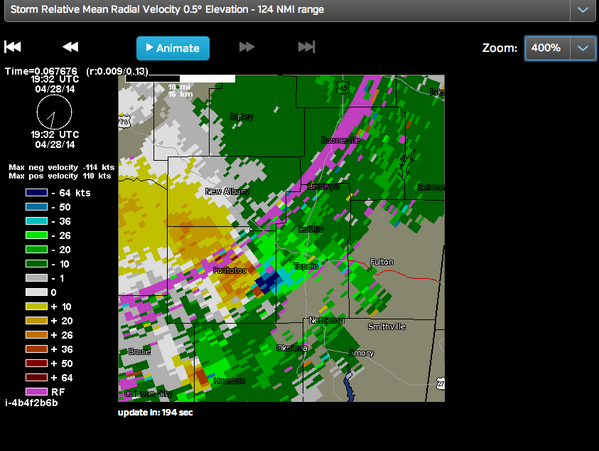 3:36 PM ET: 5 distinct #Tornado warnings in #MS right now. Stay aware and take cover if you are in a warning!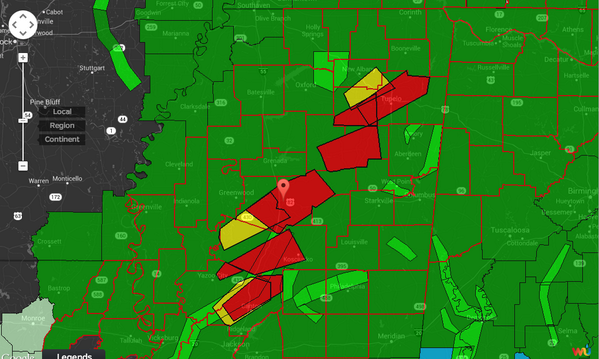 3:26 PM ET: SPC has upgraded the severe risk to HIGH for central MS and northwest AL. Very dangerous situation.




3:23 PM ET: Confirmed #tornado near Yazoo City. Here is the rotation: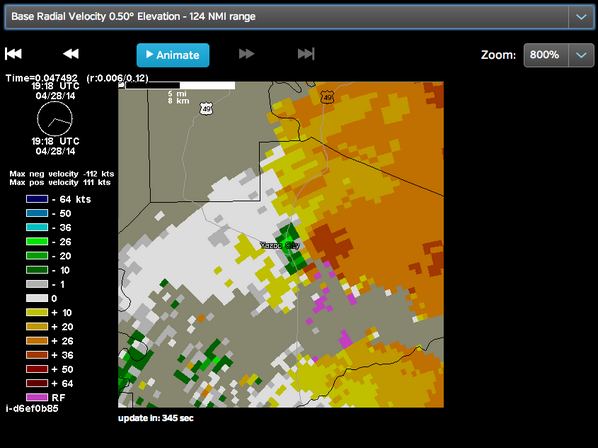 2:58 PM ET: Rotation tightening on thunderstorm near Yazoo City, MS. Take cover in the area.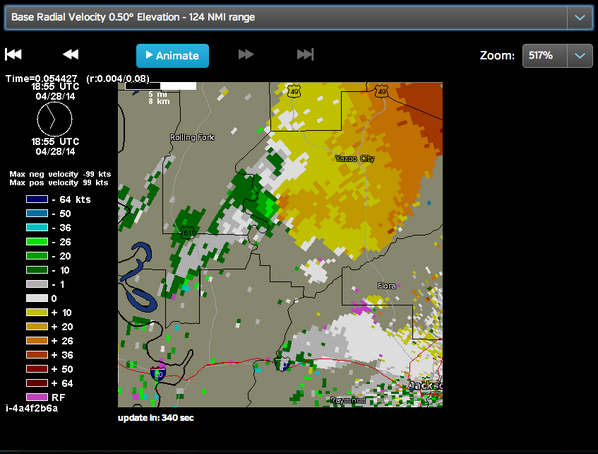 2:23 PM ET: Tornado Watches also posted from St. Louis, MO thru west of Des Moines, IA.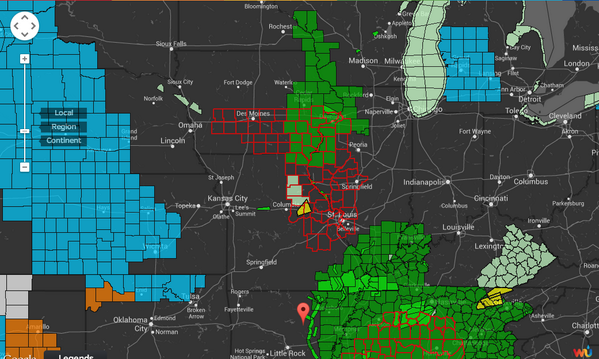 2:20 PM ET: Gov. Bryant has declared a State of Emergency ahead of severe weather.

2:12 PM ET: Worried about #thunderstorm SW of Grenada, MS. Tornado could form at any time.

1:52 PM ET: The new #Tornado Watches are listed as Particularly Dangerous Situation (PDS).

1:42 PM ET: New #Tornado Watches posted from eastern LA thru southern TN.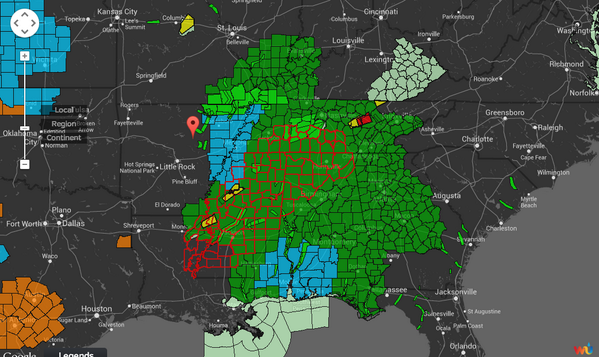 11:10 AM ET: From the SPC discussion for today: Numerous tornadoes are expected…possible upgrade to high risk later today.

11:08 AM ET: According to the Arkansas Dept of Emergency Management, the death toll in AR has been revised from 16 to 14.


10:19 AM ET: At least 17 killed in tornado outbreak in Arkansas/Oklahoma.

8:43 AM ET: Tornado Watches remain from east TX thru western KY and AR. Stay aware!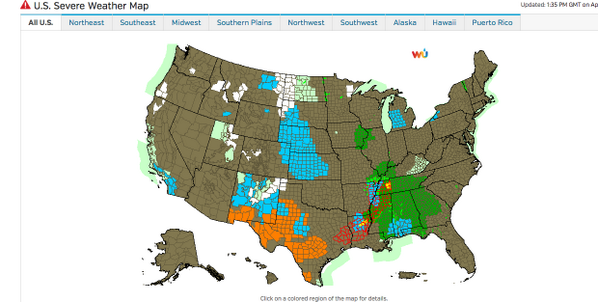 12:11 AM ET: Arkansas Dept of Emergency Management now confirming 8 dead due to #tornadoes.

Sunday

11:47 PM ET: Drone video of devastating damage to Mayflower, AR. Amazing shots.

11:45 PM ET: Severe threat remains Monday as moderate risk shifts to the east of the Mississippi Valley.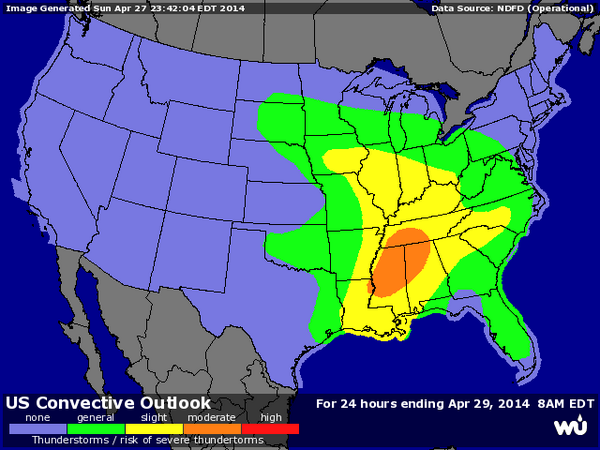 9:53 PM ET: Tornado emergency for Denmark, Bailey, and Newport AR. Take cover now!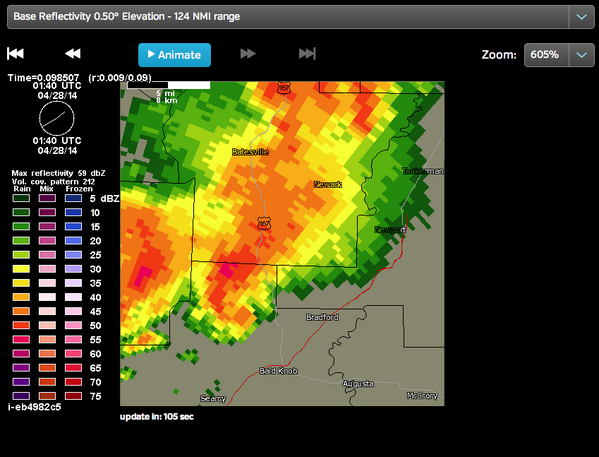 9:19 PM ET: Gathering more information. Bad damage from #tornado in Mayflower, El Paso, Vilonia.

9:00 PM ET: Tornado on the ground just north of Vilonia, AR. Current Tornado Warnings.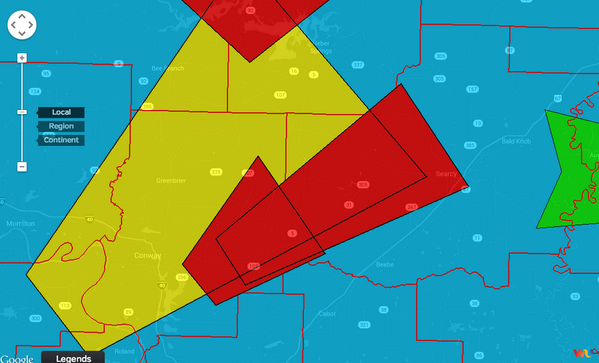 8:47 PM ET: Vilonia, AR is next up for strong tornado. Take cover now!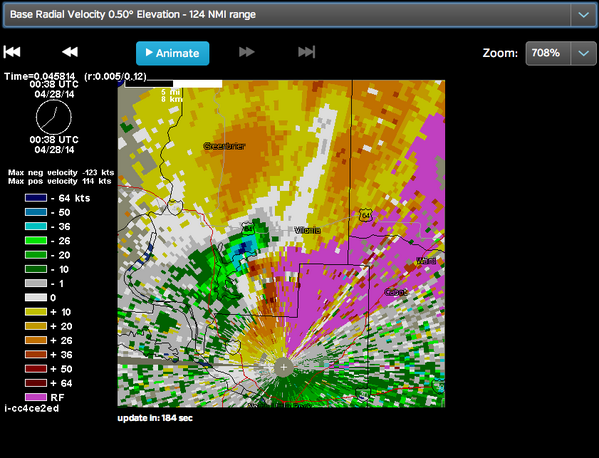 8:25 PM ET: Large, confirmed tornado crossing over the Arkansas River into Mayflower, AR.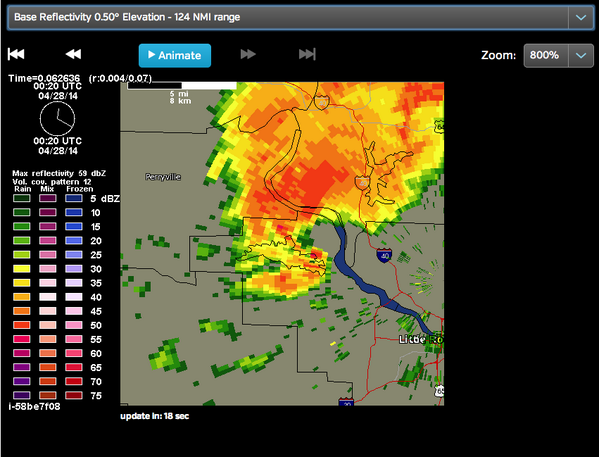 8:15 PM ET: A tornado emergency has been issued for #tornado west of Little Rock, AR.

8:06 PM ET: Severe thunderstorm west of Little Rock, AR seems to be strengthening.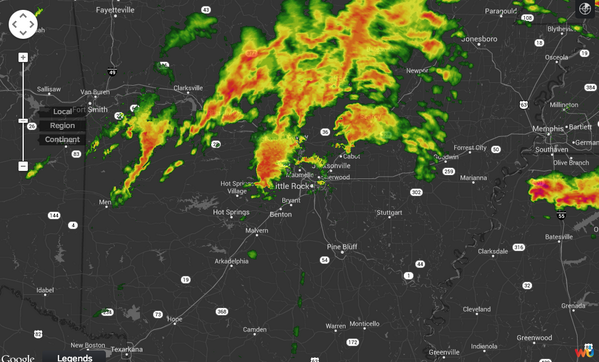 7:49 PM ET: AP is reporting 2 dead from an earlier tornado in Quapaw, OK.

7:44 PM ET: Severe thunderstorms making their way into KansasCity once again.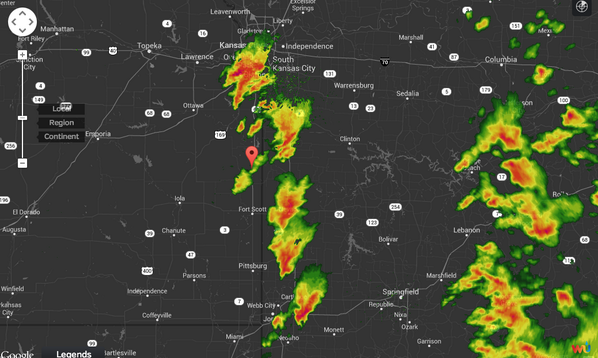 7:16 PM ET: Southeast side of Kansas City could be set for another round of severe weather in next 60-90 minutes.


6:15 PM ET: Tornado sirens are sounding in Russelville, AR.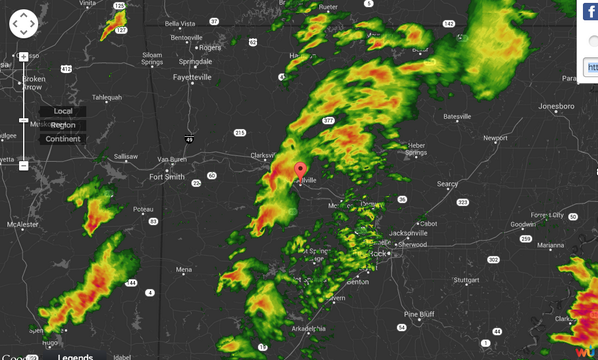 6:12 PM ET: 5:08 PM CT: Expect a major increase in #severe thunderstorm activity over next few hours for AR, MO

5:48 PM ET: The confirmed tornado was near Mount Vernon, IA.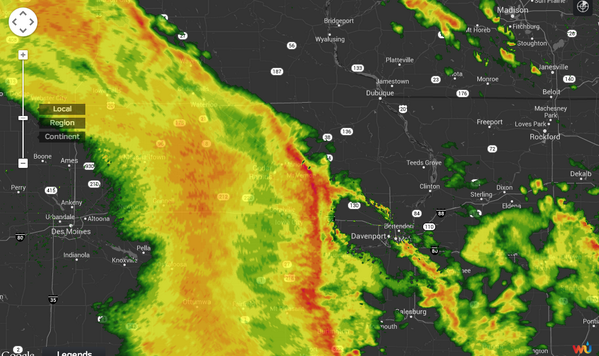 5:32 PM ET: Thunderstorms starting to fire up in eastern OK. These will continue to move to the northeast and into Arkansas.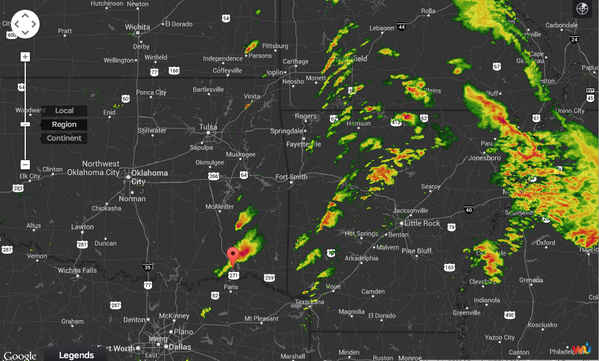 4:48 PM ET: Dangerous wx likely for many areas, biggest concern for violent tornadoes central and southern AR

4:15 PM ET: Little, Rock, AR is included in the high risk area.

4:11 PM ET: Just in: SPC has upgraded risk threat to HIGH for parts of southern AR. Moderate risk remains.




4:04 PM ET: Few Tornado Warnings so far, ingredients expected to come together and make for a dangerous evening.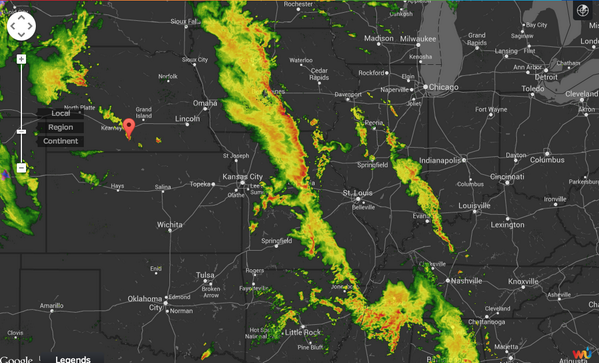 3:06 PM ET: Tornado Watches now stretches from central IA thru northern LA.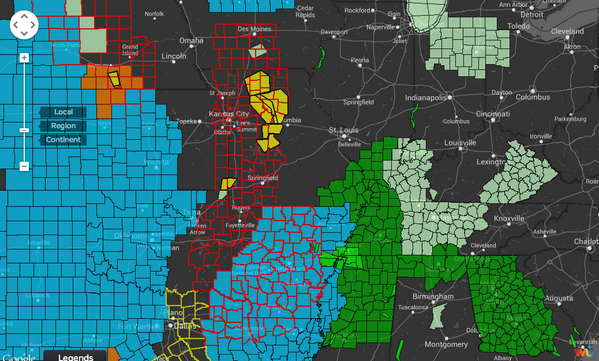 2:20 PM ET: 54 mph wind gust reported at Whiteman AFB in MO due to thunderstorms.





2:06 PM ET: Impressive line of thunderstorms, with a Tornado Warning, moving east of Kansas City.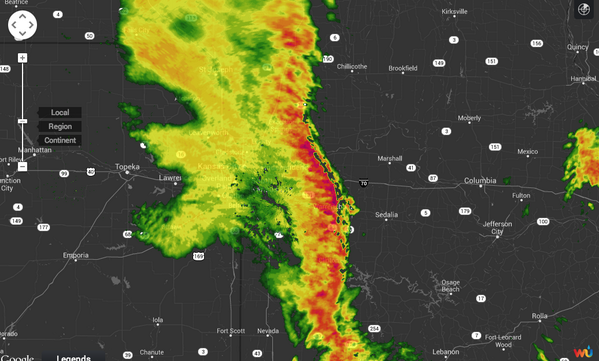 2:01 PM ET: Tornado Warning for Carroll, Lafayette and Ray Counties in MO until 1:15 PM CDT wxug.us/a88p

12:40 PM ET: 10-12 degree temp gradient on thunderstorm line moving thru Kansas City.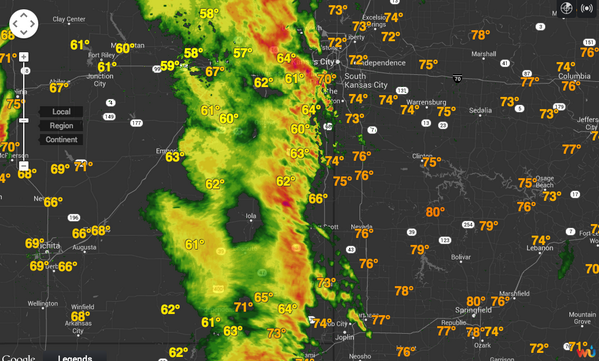 12:28 PM ET: Tornado Watches now posted from central IA thru western MO.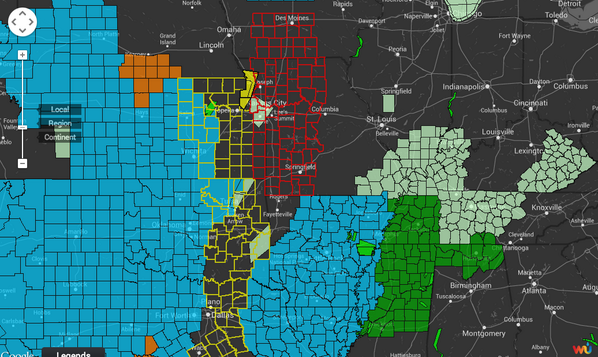 1:06 AM ET: Heading into Sunday, remember a moderate risk of #severe weather for #AR and adjacent areas.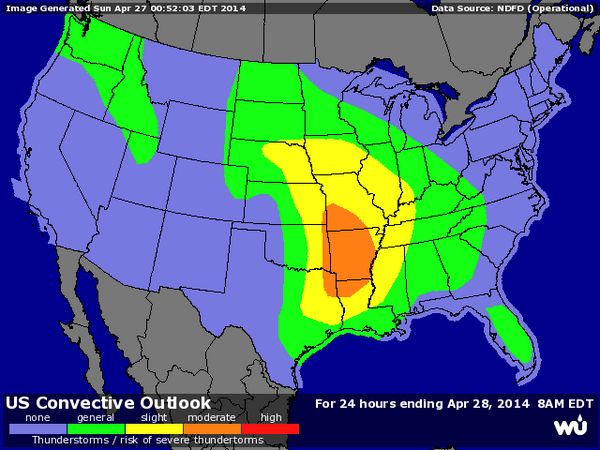 Saturday

8:50 PM ET: Sun down in Plains, severe thunderstorms in TX become harder to see and dangerous.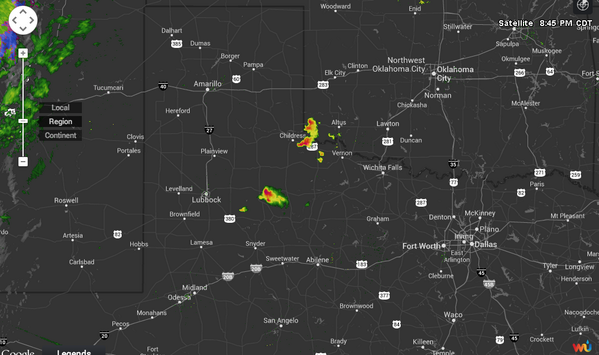 8:30 PM ET: Dew point gradient in north Texas right now. Panhandle dew points single digits.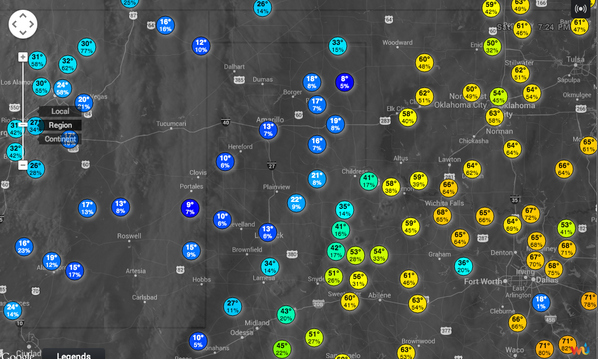 8:20 PM ET: With #thunderstorms just now developing, it may be a long and potentially dangerous night for many in the Plains. WunderMap Radar

7:52 PM ET: Thunderstorms beginning to develop in central Texas. These could turn severe quickly.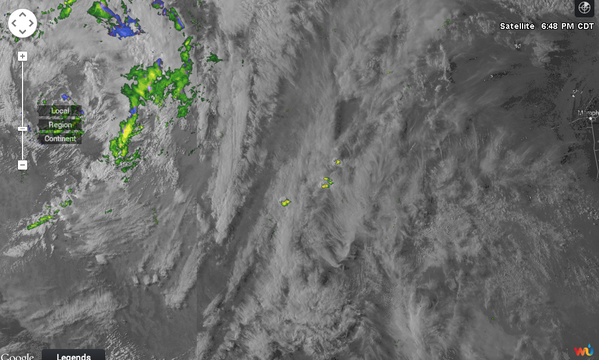 4:47 PM ET: Here are some useful links to monitor as severe weather ramps up over the next few days:

Severe Weather Map will show you where there are watches and warnings posted. Tornado Watches will appear as red outlined boxes, while Tornado Warnings will be red filled in polygons.




National Radar Map shows you where any thunderstorms are currently, and how they look on radar. The strong thunderstorms will appear as red areas within a radar image. This often indicates the thunderstorms is producing heavy rain and large hail.




4:42 PM ET: The Storm Prediction Center has continued a slight risk of severe weather Saturday from north-central Texas through southeast South Dakota. As per the SPC discussion, the main threat of this initial severe weather push will be large hail and damaging wind gusts. The threat of tornadoes will also be real.



Figure 1. Storm Prediction Center severe weather risk for Saturday.

Since Friday, the Storm Prediction Center has increase the coverage of a moderate risk of severe weather for Sunday. The moderate risk now includes northern Louisiana through southwest Missouri. A slight risk of severe weather surrounds the moderate risk, from Iowa through central Louisiana.



Figure 2. Storm Prediction Center severe weather sisk for Sunday.
Updated: 8:02 PM GMT on April 29, 2014
Weekend Severe Weather Outbreak Possible
By: shauntanner, 8:07 PM GMT on April 25, 2014
As always, we will be keeping our Twitter account up-to-date through this potential outbreak. Please follow us for the latest.

On Twitter, you can get automated Twitter alerts for all watches and warnings. Please see our Twitter page for more information.

So far this year, the United States has been relatively lucky with regard to tornadic development. According to Dr. Masters most recent blog, there have been no tornadoes EF-3 or stronger through April 24 and also no deaths have been attributed to tornadoes so far in 2014.

The most significant outbreak of the season may be set for this weekend as a strong storm (currently bringing unseasonably heavy rain and high elevation snow to California) moves through the Plains and into the Mississippi Valley. As a prelude to a more dangerous day on Sunday, the Storm Prediction Center has issued a slight risk of severe weather for the Plains on Saturday (Figure 1). Severe weather could mean severe thunderstorms that could produce very heavy rain, large hail, damaging wind, and tornadoes.



Figure 1. Storm Prediction Center image showing where there is a slight risk of severe weather on Saturday.

While a tornadoes will always be a risk during a severe weather outbreak, large hail looks to be of primary concern on Saturday from Nebraska through central Texas. The trigger of Gulf of Mexico moisture will be confined to Texas early Saturday, will advect northward throughout the day and allow for greater potential for thunderstorm development.

The bigger threat arrives Sunday and the Storm Prediction Center has issued a moderate risk of severe weather for southwestern Arkansas and adjacent areas. A slight risk of severe weather surrounds the moderate risk from eastern Nebraska and southern Iowa through eastern Texas and northern Louisiana (Figure 2).



Figure 2. Storm Prediction Center risk map for Sunday showing a moderate risk of severe weather for parts of the south.

Some of the initial words from the SPC about the threat on Sunday are "outbreak of severe storms possible on Sunday across parts of the Central States with large hail...damaging winds...and tornadoes." This is a good indication that the SPC is anticipating a significant threat of severe weather. Residents throughout the Lower Mississippi Valley should monitor local weather conditions throughout the day and be prepared to protect life and property.
Updated: 4:50 PM GMT on April 26, 2014
I am a Failed Father
By: shauntanner, 10:30 PM GMT on April 17, 2014
Oh, the guilt....more on that later.

I have three children, the oldest a 7-year-old girl. She is a naturally inquisitive young girl with an amazing memory and astounds me nearly everyday. I try to be a practical parent, neither lying to my children nor telling them the whole truth. Rather, I would prefer to direct them more to a journey to find the truth, where they ask themselves what the best answer to a question is before setting up an experiment to test their assumptions.

One example of this came after my daughter watched the original Toy Story. I could see her staring off into space after having watched the movie, contemplating some major question in her small little mind. After a minute or two, she turned to me and asked, "Do my toys move when I am not looking?"

I looked at her and said, "I don't know since I have never been able to see them when I am not watching them. What do you think?"

"I think they do move."

Here was my chance. "Well, maybe you can think of an experiment to test your guess."

She thought for a long moment. "Yes. Maybe we can put a camera in the closet and then watch to see if they move when we close the door."

Yes, that is when I didn't feel like a failed father.

Flash to near current day...

For the last few months, she has taken a great interest in the solar system and space in general. I have tried to cultivate that curiosity with questions of my own. If she has a question about the solar system, I try to lead her down a path, being right or wrong, then let her find her own truth. I was amazed one day when I showed her an artist rendition of Voyager 1 flying through the solar system, much like this one: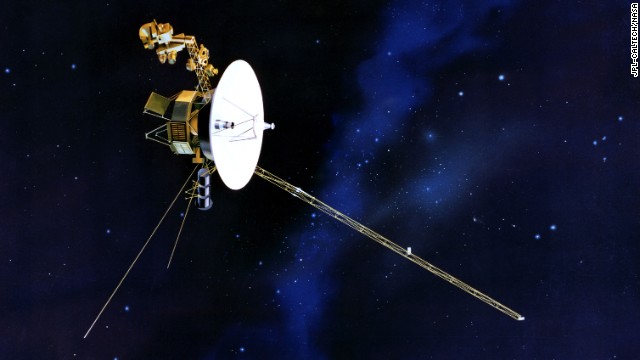 These artist renditions are often very realistic and you wouldn't be alone in assuming this was an actual picture of the spacecraft hurtling through the darkness of the solar system.

Instead, she looked at the picture and said, "But, dad, if the spacecraft is alone in space, who took that picture?"

I have felt obliged to guide that curiosity down a scientific path since I, myself, am a scientist.

Flash to this week...

My father (where I received my natural scientific curiosity) was talking to my daughter about the lunar eclipse that was set to peak at 12:46 A.M. Monday night/Tuesday morning Pacific Time. She was very excited about looking at eclipse images online and turned to me and asked, "can I watch the eclipse tonight?"

I had immediate mental images of sitting in our front yard in the middle of the night, imagining with her as the moon slipped into the Earth's shadow. Even though it was a school night, I immediately said "yes, I will wake you up when the eclipse is nearing its peak."

There I was, Monday night, sitting on my couch, keeping an eye on the clock so I wouldn't miss this very important moment. I don't know what happened, but the next thing I remembered was that I woke up on that same couch and was panicked when I looked at the clock to read...2:14. Damn!

I rushed outside to see just a silver of the moon cut out and the moon had returned to its normal silver color. I had missed the blood red moon, I had missed the lunar eclipse. Mostly importantly, my daughter will be disappointed when she woke up in the morning.

When she did wake up, I felt like a failed father when I had to tell her that we both missed the eclipse. She looked up at me and said with a sad voice, "now I have to wait until October to see another eclipse."

Could it be? Another chance at redemption this year? How could she know this and I did not?

After poking around the grand ole internet, I found this:





Sweet redemption will have to wait until October. To be continued...
The views of the author are his/her own and do not necessarily represent the position of The Weather Company or its parent, IBM.
Wunderground Meteorologist Shaun Tanner
Recent Posts
Local Weather
63 °F

Scattered Clouds
Previous Entries for 2017
Recommended Links