The Best Of The Daily Downpour 2010 Today at 4:30 pm ET, 1:30 pm PT
By: shauntanner, 6:24 PM GMT on December 23, 2010
Listen to the Weather Underground Broadcast Network here!

Tune into the Weather Underground Broadcast Network today at 4:30 pm ET, 1:30 pm PT for the Best of The Daily Downpour 2010.

If this is your first time tuning into the Daily Downpour, this will be a good time to listen to a show that has thousands of listeners.

Over the past year, The Daily Downpour has covered many weather events, but spectacular and benign. It has also broadcast information about various weather news that has occurred throughout the year in regards to the atmosphere and climate.

So tune into The Best of The Daily Downpour 2010 and be prepared to laugh and be entertained.

You can also listen to The Best of The Daily Downpour 2010 and any Weather Underground Broadcast Network show on iTunes, WunderRadio, and the broadcast homepage.

Listen to the Weather Underground Broadcast Network here!

Ski Season is Upon us. How will it shape up?
By: shauntanner, 8:59 PM GMT on December 09, 2010
The United States has some of the best ski resorts in the world. Most of us are lucky enough to be at least close to a quality ski resort where we can have some fun on the slopes, or I you are like me, spend most of your time crash into a helpless heap on the side of a snowy mountain.

But, there is only one thing that these ski resorts need to have a spectacular season. SNOW! The arrival of early season snow can often lead to a spectacular season not only for the skiers but also for the resort. There are a number of factors that can bring about early season snow such as a persistent weather pattern, jet stream placement, or just plain luck. Being a California resident, I have always stated that if the Sierra Nevada ski resorts are opening by or before Thanksgiving, then it has a good chance to be an excellent ski season. And, as you can see looking at the conditions for the current ski conditions for the California ski resorts, many of the resorts already have robust snow bases up to 83 inches (Squaw Valley USA). It is important to note that this base figure is often measured from the bottom of the mountain and does not reflect potentially higher amounts at the top of the mountain. For instance, the base at the top of the mountain at Squaw Valley USA is 93 inches. California ski resorts are not the only resorts to be blessed with early season snow. Colorado ski resorts are also reporting bases or a few feet. So, it seems as the western ski resorts are off to a good start. But, why?

The answer to the question is easy. The snow fairy.

The sub-answer is a little more complex. I am sure many in the climate change debate will point to this excess of snow and wonder aloud that this proves climate change does not exist. Well, this simply does not make sense. Not only does one season make or break the climate change theory, but an excess of precipitation, both rain and snow, can actually be used to prove the climate change theory correct.

When in doubt, blame El Nino and the Southern Oscillation. In the current case, the best guess for the excess snow is El Nino's counterpart, La Nina. In case you don't know, the Southern Oscillation is the constant, well, oscillation between warmer than normal water temperatures off the South American coast (El Nino) and colder than normal temperatures in the eastern Pacific Ocean (La Nina). Each phase of the Southern Oscillations affect worldwide weather patterns (called teleconnections) in different ways. I must admit, however, that this current La Nina is a bit perplexing. There are generally two things you look at in regard to below average and above average. First, is precipitation. Below is a map of La Nina precipitation probabilities for the United States from October through December.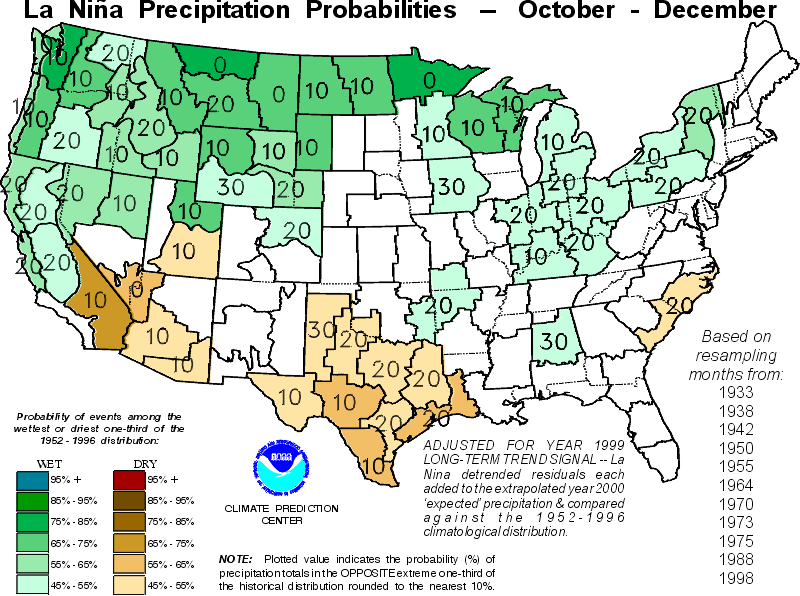 As you can see, there is an above average chance of precipitation through the Northwest and Northern Rockies, which goes a long way to explaining why the Sierra Nevadas and Colorado Rockies have received higher than average snowfall. What perplexes me, however is the corresponding La Nina temperature map.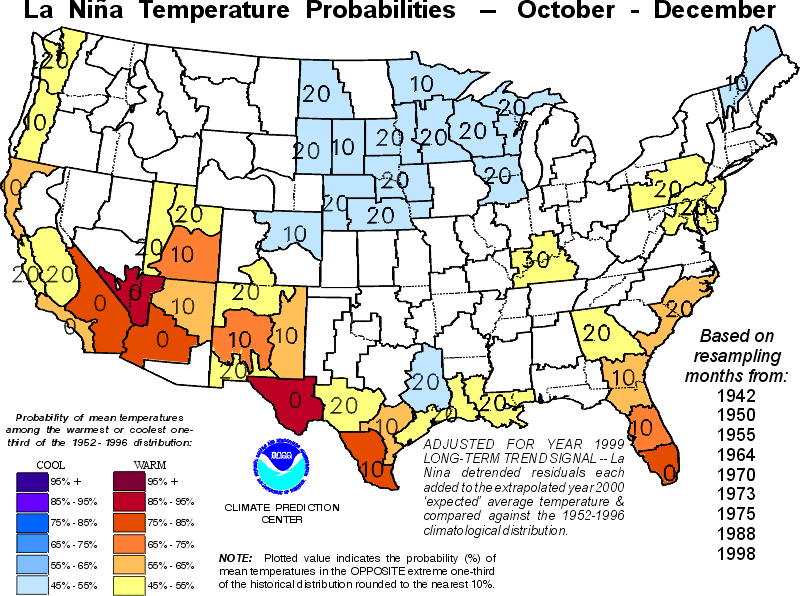 In this map, Colorado makes sense that is might be slightly below average in temperature during La Nina years, but the West Coast does not make sense. That is because, so far this year we on the West Coast have had a below average season with regard to temperatures. Yet, the map above states that during a La Nina year, we have a slight chance of being above average. It is a slight chance, but a chance nonetheless.

Let me give you one more example of the excess in early season snow this year. In Colorado there is a ski resort called Copper Mountain. Last year at this time, they had 17 trails open and roughly 10% of its terrain was in play. This was due to the fact that only 47 inches of snow had fallen up until this time last year. This year, however, they have received a whopping 105 inches of snow so far and have 98 trails and 54% of their terrain open. Oh what a difference a year makes..
Updated: 2:54 PM GMT on December 17, 2010
The Daily Downpour is Live Today at 4:30 p.m. ET, 1:30 p.m. PT
By: shauntanner, 5:50 PM GMT on December 07, 2010
Listen to the Weather Underground Broadcast Network here!

Warm up with The Daily Downpour, hosted by Weather Underground Meteorologist Shaun and Tim, at 4:30 p.m. ET, 1:30 PT.
Listen here! The holiday season is upon us and we will let you in on the most up-to-date weather news for this holiday season. Climate change has claimed another victim. Find out who, or what, today on The Daily Downpour. Then Shaun and Tim will get you caught up on everything else in the world of meteorology. They will also be taking your phone calls at 415-983-2634.


Listen here!

Remember to call in at 415-983-2634.
Wunderground Meteorologist Shaun Tanner
Local Weather
57 °F

Partly Cloudy
Previous Entries for 2016
Recommended Links