16/01 Luna Llena: la primer luna llena del año!
By: serazul , 1:25 AM GMT on January 16, 2014
Luna Llena el 16/01/14: la primer Luna Llena del año

Este 16/01 viviremos la primer Luna Llena del año que tendrá lugar en el grado 26 del eje Capricornio/Cáncer.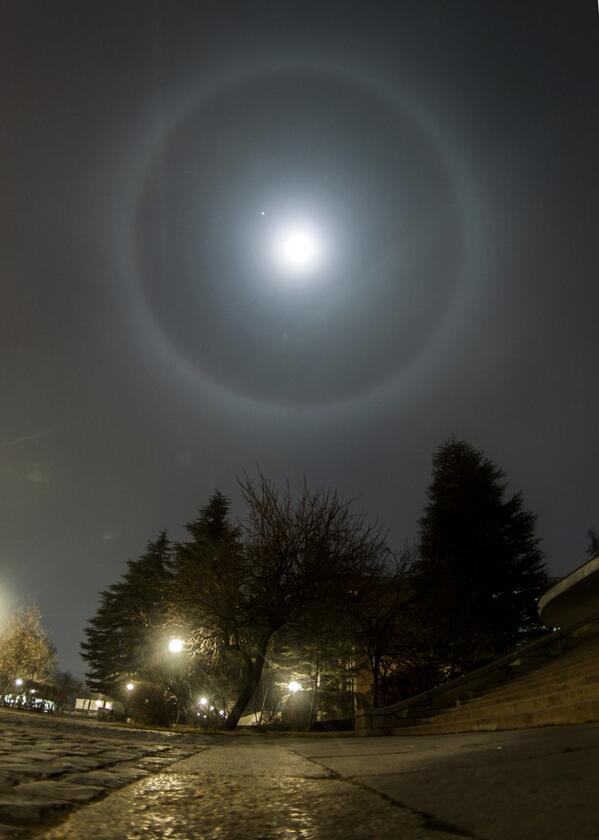 Halo lunar y Júpiter, Turquía.
http://twitter.com/Alerta_Noticias/status/4236046 88819200000/photo/1

La Luna Llena marca un instante en el que la conciencia (el Sol) y el mundo oculto de la emoción (la Luna) se miran frente a frente.

Es un momento para observar con la máxima conciencia lo que ocurre puertas adentro de nuestro ser; el Sol ilumina aquella zona llena de secretos, sentimientos ocultos, miedos, el lugar en donde se alberga el pasado que muchas veces tanto nos limita.

Al sacudir un poquito la "caja de pandora" puede que nos podamos sentir más sensibles, vulnerables, nostálgicos.

Es importante aprovechar esta oportunidad que el Cielo nos regala para sumergirnos en nuestras profundidades y observar: observar lo que necesita ser sanado, lo que necesita ser concluido.

Esta Lunación al suceder en el eje Cáncer/Capricornio nos está representando un instante de movilización entre el deber y el sentir, entre nuestra seguridad personal y el rol que desempeñamos en la sociedad. Quizás las mayores emociones que se intensifiquen sean las que tengan que ver con el pasado, los recuerdos familiares, los dolores o rencores acumulados desde niños, el anhelo de formar una familia, la necesidad de seguridad, contención y cuidado.

Esta es una oportunidad para conectarnos con nuestra energía ancestral, nuestra herencia, conectarnos con aquellos recuerdos que necesitan ser sanados y perdonados para poder limpiar tanto nuestro hogar interno como externo.

Si deseas, el día 16/01 por la noche puedes intentar abrir tu espíritu a través de una meditación para concentrarte y conectarte con aquel rincón que guarda todo aquello que deseas que sea sanado y perdonado, para purificar tu alma y darle lugar a que ingresen nuevas emociones.

Conectémonos con el AMOR y el PERDON, sentimientos tan necesarios en estos tiempos oscuros que estamos viviendo…

Centro Urania
http://www.centrourania.com.ar
The views of the author are his/her own and do not necessarily represent the position of The Weather Company or its parent, IBM.
Reader Comments
Comments will take a few seconds to appear.
Ser Azul - Blog de Clima
About serazul
Ser Azul-Blog para informe Meteorologico e influencias de Astros
Recent Posts
Previous Entries for 2017
Recommended Links