Always on My Mind
It's now been a year two years three years four years five years since I origionally wrote this, yet you are.....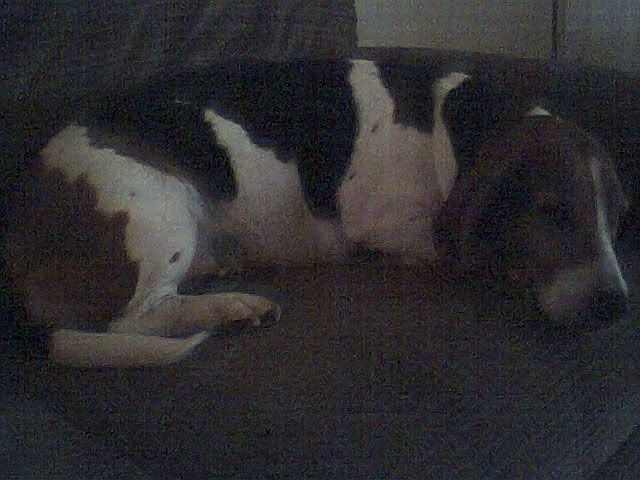 You came into my life when I met your previous owner and we got along pretty well. You were growing up in a house full of teenagers and their friends, and your lifestyle reflected theirs, late nights and a diet of pizza, burgers and tacos more than dog food. I cautioned that diet was not good for you, but I had no say in the matter.

There came a time when your owner could no longer care for you, and I was asked to take you as my own. We both had adjustments to make, I had never had an inside dog, you a diet more appropriate and an owner that was more of a morning person. You did adjust, but never changed that "I ain't eatin that $&!%" look when I gave you your morning cup of "healthy weight" dry food. Eventually some time during the day you would eat it, perhaps knowing that in the evening you would get a can of the "good stuff". You would still occasionally get some of the human food of your youth, but that was few and far between. You looked forward to being let out in the morning, but it had to be in the front yard, none of that fenced in back yard stuff. You knew your limit of how far from the house you could go, but would constantly test it, pausing at the boundary to look back and see if I was watching. If I was, you would linger for a while and then slowly come back to the house. If not, you were off until I noticed and always seemed to accept your "bad dog" lecture.

When you began to slow down some I thought it to be due to approaching your senior years, arthritis beginning to kick in. Your symptoms became more serious and initial tests only indicated a slight heart murmur. You initially responded well to medication, but that lasted only a few weeks. Further testing indicated some blood test issues and it appeared the heart murmur was getting worse. Ultrasound showed your heart to be strong, but revealed the cancer that was attacking your liver. A biopsy of the liver confirmed the ultrasound.

The last few weeks we had plenty of belly rubs, and you got to enjoy the human foods that you liked much more frequently. The chicken tenders and steak bones that this time had much more meat left around the bone.

The most important factor was your quality of life, and the time came I had to make the most difficult decision of my life.

Thank you for the years of love and companionship. I look forward to you greeting me on the other side of the "rainbow bridge"..
The views of the author are his/her own and do not necessarily represent the position of The Weather Company or its parent, IBM.
Reader Comments
Comments will take a few seconds to appear.
Post Your Comments
Please sign in to post comments.
Not only will you be able to leave comments on this blog, but you'll also have the ability to upload and share your photos in our Wunder Photos section.
nrtiwlnvragn's WunderBlog
Recent Posts
Previous Entries for 2017
Recommended Links