Please STOP
, take about TWO minutes and read of what our fellow blogger and his family are doing!
You'll be glad you did!

WU's own
Katadman
(Scott) sent me this info at my request and agreed to let me post it. His family is making an extensive effort to help with FELIX relief, including an extended visit there!
They leave for Nicaragua on October 6th.
Below is an appeal letter for help from Rachel, his daughter. Scott himself did considerable relief work there following Hurricane Mitch which killed 1,000's. He says it's a very poor area, and that they desperately do need help. He's also speaks very highly of the Miskitos as being a friendly, humble, caring people.
Felix's death toll is believed to be around 200 from sketchy reports, but there has been considerable additional loss to property and crops. And, the reports of death and devastation keep climbing. The country's native Miskito Indians were also hit particularly hard. Devastated terrain has hindered relief. Over 8,000 homes are believed destroyed, 18,000 believed to be in shelters, churches and schools destroyed, over 7 million acres of forests lost, and many accounts of people still missing.
HELP IS NEEDED! Please read the following and support them in this very worthwhile, noble effort.

It's good to know that there is such great efforts made by individuals outside of governments and that bureaucracy which often prevents getting help to people that truly need it and as quickly as it's needed!
Scott and his family live in sTexas, so please be COURTEOUS with your communications and GENEROUS with your contributions!
NOTE, TOO, that "Missions of Grace" is a [501(c)3] and donations can be tax-deductible.

I personally applaud this momentous effort by them and hope that WU bloggers, our friends and neighbors can also be helpful. Please, let's do what we can to help make this helpful mission extremely successful!
Thanks, TONS in advance!!!
--------------------------------------------
Hello Friends!!!

The (document below) is a flyer for an upcoming trip to Nicaragua that my mom, Cheri, will be making on the 6th of October. I am sending it out in an attempt to collect items and monetary donations for the hurricane victims. Thanks to everyone for reading it and for the help and prayers. If you can please send it on to friends, families and co-workers...print it out and post it on the wall! Please help us get the word out, because as the number grows of people involved so will the numbers of lives being changed...
Thank you so much!!!!
Rachel L. Mauldin
Missions of Grace
Emails:
missionsofgrace@satx.rr.com
nicalady1@hotmail.com
raquelucha82@hotmail.com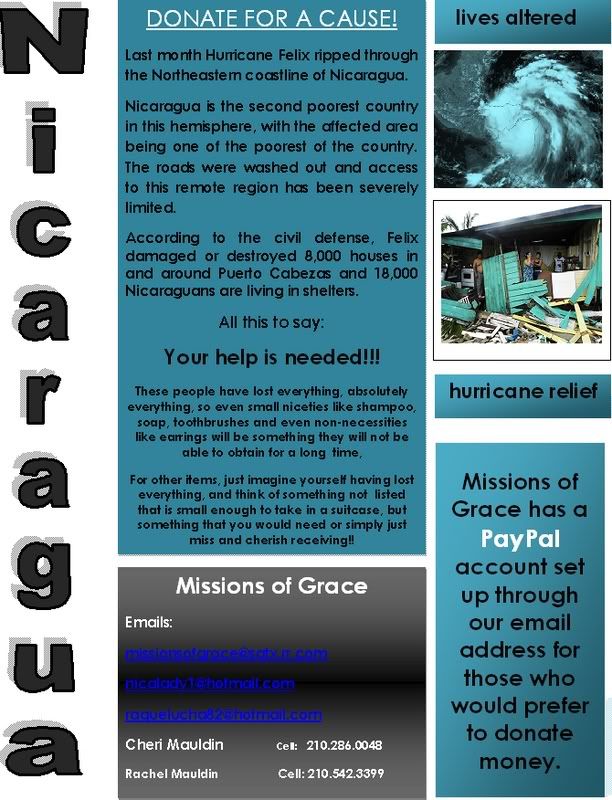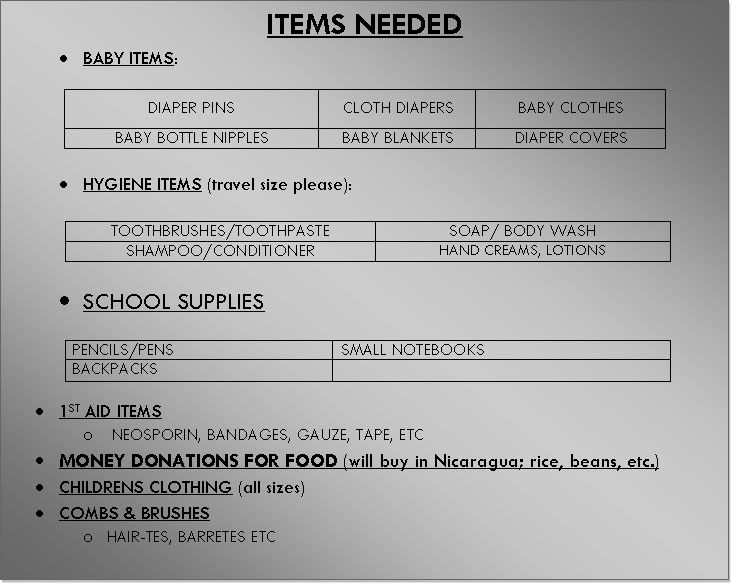 ABOUT GRACE MISSION: (RE: Scott Mauldin, or Katadman) Missions of Grace does not retain any portion of donations given for relief work. 100% is passed on to those for whom it is intended. All funds go to their designated purpose.

MLC's Felix blog of pictures, stories, links
FELIX -
Miskito Community loses forestlands; over 7 million acres estimated
MORE INFO forthcoming! And, I've asked Scott to give us as much info for posting as possible. I'm hopeful that their trip is a safe and fulfilling one! Thanks, all for helping!
The views of the author are his/her own and do not necessarily represent the position of The Weather Company or its parent, IBM.