It's bird. It's a plane. It must be a hurricane!!! Nope, it's just a spinning ULL! CLARKE KENT COULD STOP A SPEEDING BULLET -- BUT, A TRICKY ULL IS ANOTHER STORY, and a serious "forecasting" factor in Metropicalis!
ULL (Upper Level Low)
is an area of cold air aloft (20,000 to 30,000 feet) that is rotating counter-clockwise. These sometimes steer hurricanes and less frequently, transform into a warm core low and work their way down to the surface to become a tropical cyclone. You can see this large upper level low over the mid-western US in the above photo. Sure looks kind of like a hurricane, doesn't it!

THE ULL AND DEAN
-- We all watched Dean track through the Caribbean...and it kept going west and then west and then west! Of course the main reason for that was the high over the CONUS ridging southeastwards behind Dean driving it westwards. But, what about that ULL (center GOM) many thought could change Dean's track?
Many suspected Dean might catch the trail of the ULL that was spinning and moving west in the GOM and steer the storm on a more northwards course. Obviously, that didn't happen. The ULL moved on westwards as the high kept building back in behind Dean. It then moved on west to the Yucatan, just side-swiping Jamaica and staying south of the Caymans.
However, (as they say) "if" a few things had happened Dean may have taken a more northerly course. Jamaica could possibly have taken a direct hit, then passed over the Caymans on its way into the GOM. Had the high not ridged so much and the ULL been slower, deeper or further south, we may have been seeing a central GOM coast landfall. Some of the early model runs including the GFDL at one time suggested just that scenario.
So, I thought I'd blog this time on the ULL. After reading, maybe we'll have a somewhat better understanding of the ULL and what it means in forecasting! Perhaps even, it may give us a better understanding of how it effects modeling tracks. Unlike the high SST's, the ULL is generally in a state of flux. Either strengthening or weakening; and, unless stationary, moving too. So, it makes sense that the ULL is quite a difficult and "variable" factor in forecasting. And no doubt, critical.
DEAN's Forecast Track:
Despite an early northwards projection from some of the models, most eventually became congruent to take the low west, followed a few days behind by Hurricane Dean. The tracking of this upper-level low gave forecasters enough time to monitor any changes in the speed of the low, and thus correctly make changes to their forecast.
With past storms, the situation is generally the same. In most cases, instead of an upper-level low moving west across the Gulf, it's a building trough coming in from the western United States. Typically, as in the cases of Hurricanes Ivan, Isidore, Katrina and Rita, the westward moving hurricanes find the western edge of the breaking-down high and begin their turn north. Had Dean been just a little further west of its location, a landfalling hurricane in the northwestern Gulf of Mexico may have been possible.
Of course, it was all about timing. Any slight delay or advance of that turn compounded by the degree of the turn can make even a reasonably-accurate forecast off by several dozen miles. These changes compound quickly as a storm progresses, especially in areas such as the GOM, or the Mid-Atlantic. A slight change in direction by a hurricane can throw the forecasted landfalls off by as much as 200 miles.
-
In 1997 HURRICANE BILL
developed from a non-tropical upper level low above Puerto Rico. Though infrequent a ULL can work its way down to the surface and become tropical.


HURRICANE BILL and how it formed from a ULL.
Bill developed from a large upper-level low that separated from the mid-oceanic trough northeast of Puerto Rico. On 7 July, satellite images indicate that cloudiness and showers associated with the upper- level low began to increase and although surface pressures were quite high north of Puerto Rico there was a small perturbation of the wind field and a trough at the surface. A low pressure center formed from the trough just east of the Bahamas and moved toward the west-northwest. The upper-level low moved southwestward into the Caribbean Sea resulting in a decrease in the wind shear over the surface low.
The first indications that a tropical depression might be forming was a 24-hour pressure drop of near 3 mb in the eastern Bahamas as the area of low pressure approached. Convection then gradually became organized and it is estimated that a tropical depression formed near 0600 UTC 11 July. By then, the tropical cyclone was already moving northeastward ahead of a cold front located over the eastern United States. The system reached tropical storm status by 1200 UTC on the same day.
Bill continued moving toward the northeast about 20 to 25 knots and reached cool waters. An eye was depicted on high resolution visible images at 1300 UTC 12 July, suggesting that Bill reached hurricane strength in spite of the cool waters. A special Dvorak classification from the Tropical Analysis and Forecast Branch (TAFB) indicated that Bill reached its peak intensity of 65 knots at 1500 UTC 12 July. The minimum pressure estimated at that time was 986 mb. Thereafter, Bill became absorbed by a frontal system and was no longer identifiable by 0600 UTC 13 July. Bill was never forecast to become a hurricane.
IMPORTANT TO FORECASTING:
Upper level lows are important to forecasting and can dramatically alter one's forecast. Upper level lows can occur in association with a mid-latitude cyclone or may begin without the aid of a mid-latitude cyclone. Upper level lows without the aid of a surface low can develop when air flows over a mountain range, in association with an upper level short wave, or in association with a jet streak.

COMMON PATTERNS:
When analyzing a strong mid-latitude cyclone, some common patterns can be noticed. One is that the trough associated with a mid-latitude cyclone tilts toward the cold air (generally tilts to the northwest with height). Therefore, the upper level low pressure (trough) in association with a mid-latitude cyclone may be several 100 kilometers displaced from the surface low toward the west or northwest. Since the forecast models have a more difficult time initializing an upper level low than a surface low, upper level lows can result in a busted forecast. The forecast models have a better vertical resolution of the low levels of the troposphere as compared to the upper levels. In some mid-latitude cyclones, the tilt of the mid-latitude cyclone will be enough to allow the upper level low to displace from the surface low.
WHAT CAUSES AN UPPER LEVEL LOW?
An upper level low is a region of positive vorticity. This positive vorticity can be caused by counterclockwise curvature around the upper level trough and counterclockwise shear associated with the speed shear of a jet streak. The circulation around an upper level low can build to the surface over time. In these cases, two areas of low pressure will be noticed on the surface chart. These are sometimes referred to as double-barrel low-pressure systems. Upper level lows can also decrease in intensity through time.

A HUGE FORECASTING PROBLEM
is determining whether an upper level low will strengthen or weaken with time. When nowcasting, they are best viewed on satellite imagery. Image by image they should be monitored for intensity. When the clouds brighten (become whiter) in association with the upper level low, that is an indication the upper level low is strengthening.

BEST SEEN:
If an upper level low does show on the analysis or forecast models it is best seen at the 500 millibar level or 700 millibar level. Upper level lows have been responsible for bringing unexpected heavy snows in the winter. The spin-up of vorticity in an upper level low causes the air to rise and cool. Since the upper level low is tilted over the cold air, cold surface temperatures and upper level lifting combine to produce wintry precipitation well behind (to the west or northwest) or the surface cold front. When a mid-latitude cyclone begins to mature, watch for the development of the upper level low.
"Looks like the gates to the fort are open now!"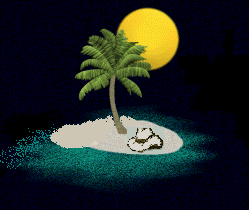 "Awareness, preparedness and safety" is everything!
Your comments and suggestions are welcome. Thanks in advance! Have a good one!
MLCPS:
Don't forget to check out
Tropical Lagniappe
for some great links to other blogs and websites from fellow WU members! There's some great info here and I always learn something each time I visit them!
The views of the author are his/her own and do not necessarily represent the position of The Weather Company or its parent, IBM.