LIVE - streaming video
from the Tea Party march on Washington.
...it takes a few seconds to load, but fine after that.
Is this a DEPRESSION?
Congress is coming back and will now make every effort to pass some sort of massive, ineffective and incredibly costly healthcare bill. And, this was all very strategic - with back to school, football, etc - much of the family focus will turn away from the evening news and Congress will slither back into Washington to do their handiwork with less watching eyes.
Lots of other things going on in the world of economics as well - gold busting the $1,000 mark, the dollar's value sliding, more UN talk of adopting some new world currency and most likely I think we can expect to see some northwards movement in energy prices as well.
Keep in mind -
the key word here is "unsustainability"
and that is where the attentiom must turn. Again, imo, there can be no "jobless recovery" with 500,000 losing extended UC benefits and that
total expected to climb to 1,500,000 by eoy.
In years past that total has never reached even 50,000. Yet, the POTUS and his sorted entourage with their ultra-left liberal agenda insists on loading up future generations with gargantuan amounts of debt with which we have no ability to repay - not now, nor anytime in the foreseeable future. They refuse to and are incapable of addressing the concerns that must be addressed - growing the economy by renegotiating or revolking our crippling trade agreements - the only way to grow the taxbase without loading more and more burden on fewer and fewer hard-working, tax-leveraged citizens.
Things must be done to encourage economic growth and expansion. There must also be some very serious, very pain-staking measures taken to cut spending. Yet, "The Messiah", his adminstration and the Congress are considering none of these. In fact, every measure they are taking produces exactly the oppposite of what this country needs! Certainly, it makes me wonder - no, really, it exposes and confirms their socialistic agenda to remake what we've known as the "land of the free" into something we no longer recognize.
...the following is a blog of our friend, Mish, with a plethora of supporting articles and other links.
Depression Debate - Is this a Depression?
In
1929 Versus 2007: Employment Change
Barry Ritholtz posted a chart of unemployment with a comment: "This chart makes it pretty clear that the current recession is no Depression"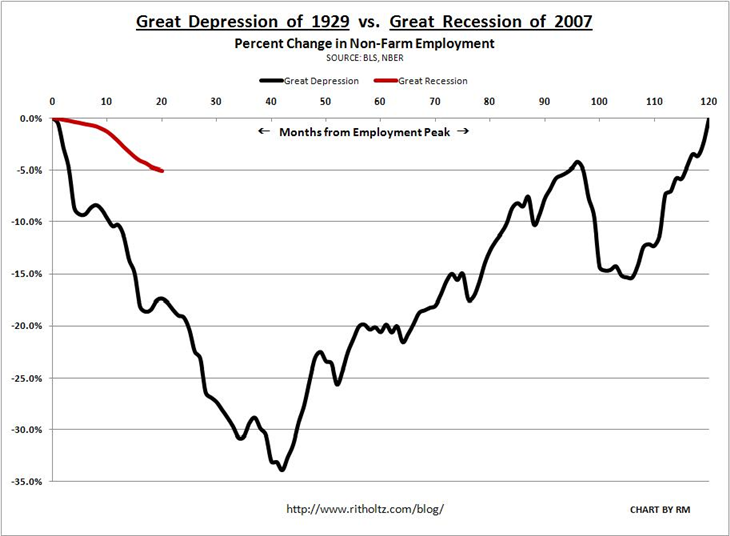 Actually the chart does not make anything clear other than unemployment is not as bad now as during the great depression. Given that no definition of the word depression was made it is certainly unclear whether or not we are in a depression.
- Does one define a depression in terms of unemployment alone? If so what is the cutoff?
- Do we include U-3 numbers as Barry did or should we use U-6? Is U-6 even accurate?
- Do we count unemployment the same way now as during the great depression?

The answer to the latter is no, and anyone 16 years old without a job in 1930 was considered unemployed.
Comparing Recessions

Here is a chart from
Calculated Risk
with my forward assessment on jobs.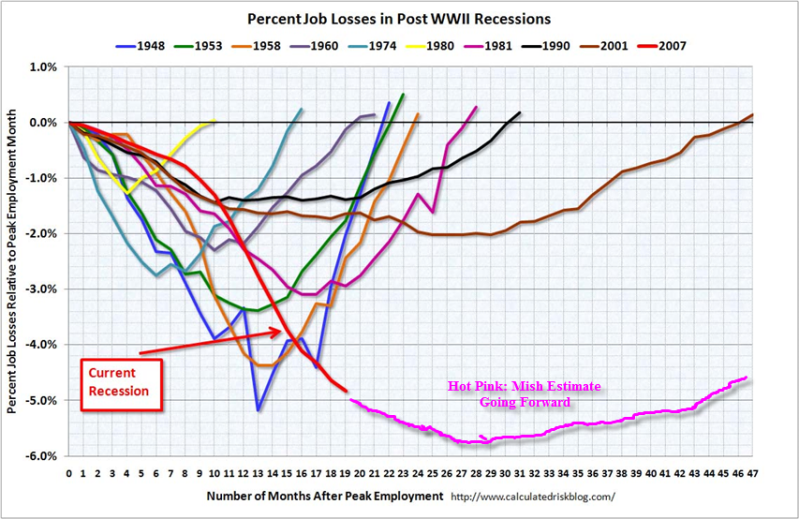 Does that chart depict a "recession" or something else? If something else, do we have to keep saying the "worst recession since the great depression" or is it a "depression"?
Others have posted charts saying this was not a depression because GDP growth will not drop to -10%. Is that the definition of depression?
Point blank there is no official definition of the word.
I think one needs to look at a number of factors including GDP, unemployment numbers, duration of unemployment, consumer spending, asset prices, housing prices, consumer prices, treasury yields, wages, consumer spending, bank failures, foreclosures, etc, to make a reasonable determination.
Here's the deal.

- The US is in the midst of the steepest decline in home price on record.
- Short-term treasury yields went negative and are still close to zero.
- Long-term treasury yields hit record lows.
- Foreclosures hit record highs.
- The stock market had the biggest collapse since the Great Depression.
- U-6 unemployment is a whopping 16.8% and still rising.
- The PPI (producer price index) had the biggest drop in 59 years.
- The CPI is at -1.3% is declining at the fastest pace since 1950 according to government calculations. The real CPI by my calculations is -6.2% (See
What's the Real CPI?
for details).
U-6 does not count recent graduates looking for a job but living at home in search of one. It also does not count self-employed real estate agents who have not made a sale in a year. However it does count all the "self-employed" selling trinkets on Ebay making $200 a month or less. I do not have totals for that, but structural unemployment plus structural underemployment is likely North of 20%.
One does not see any of that that in the first chart. Nor does one see falling wages, the likelihood of
Structurally High Unemployment For A Decade
, massive bank failures,
Food-Stamps Reach 33.8 Million in April, 5th Consecutive Monthly Record
, or the ongoing commercial real estate bust with
One Sixth Of All Construction Loans In Trouble
.
These are characteristics of a depression, not a recession. It's time to stop pretending otherwise.
Mish takes a long hard look at many factors. And, while it may not technically be a depression or depression in every aspect; but, nor do I imagine that every aspect was depression-like in the 30's either. There are a few things undeniably certain - the taxbase is shrinking, the economy is not expanding. We are borrowing and spending exponentially more than we ever have in the history of all administrations combined. We have no real plan to regrow our wealth as a nation; and subsequently, have no means to service the interest on our debt, much less "pay" debt principle! That has to change! And, we must also cut the size and scope of government. Without both of these measures the country will continue to slide irrevocably down a dark path.
Please help DEFEAT CAP & TRADE in the US Senate here!
...seems the tropics are hardly over at this point near peak of season!
72-HOUR sfc forecast
TWO
North Atlantic Discussion
WIND SHEAR
Shear Tendency
LATEST STEERING CURRENTS
Latest SFC Map
We're reaching the peak of the 2009 Hurricane Season on September 10th, so, there is more than 1/2 the season remaining - a longs ways to go yet; and, things are definitely heating up! Hopefully, through awareness and preparedness there will be little injury and loss of life. Even the threat of a storm causes much anxiety for many. Despite all the damage that may occur to property, injury can be prevented and lives can be saved.
Get a plan, if you don't have one! Take it seriously. Have a plan "B" and be ready to execute. Talk with your neighbors. Call your friends and relatives and discuss plans with them. Remember the elderly, indigent and handicapped. Remind them all of safety precautions and evacuation plans. Have a destination and a second possible destination. Exchange plans, numbers and destinations. Ask others to pass the idea around.
Of course, local authorities will be the best resource for information and action plans. Listen to them and encourage others to listen as well. These small efforts can have a large effect on the safety of peoples lives.
You can make a difference!
"Awareness, Preparedness and Safety" should be the game plan!
Your comments and suggestions are welcome.
PLEASE, feel free to still comment on politics and other news happenings in addition to the weather.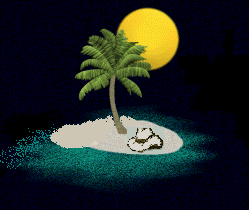 MLC <----------------says, "Thanks in advance and have a good one!"BLOG RULES:
Simple - Keep it
absolutely civil towards fellow bloggers.
And, don't get heavy on the partisanship - it's quite obvious that corrupt, petty, inept, greedy, power-lustful politicians are plentiful on both sides of the aisle. It's ok to take jabs at them - either party, any official or candidate; but, leave the total "blame game" out of this - it's ALL of them, everyone! If you think otherwise, then you probably don't want to bring it in here! Informational and news statements (not weather related - PLEASE FOLLOW OFFICIAL FORECAST AND ADVISORIES!) in this blog by me are generally backed by valid and usually corroberating links. Newcomers are welcome to this blog but are scrutinized more heavily until I discern the nature of their posting habits. Regulars have more leeway even with large and differing opinions, provided their posts are not made with any personal attack or similar innuendo. Otherwise, those who have not proven themselves to me (and that's all that matters) may be considered pot-stirrers, trolls or ban circumventors and are subject to being banned without warning. The ban may be relieved at anytime at my discretion pending review of the blogger's posting history and perspective in other blogs - should I see them. This is an adult blog for the maturely vested, not a juvenile hall or playground. Adults who act like young, irresponsible children will be asked to leave or be banned - all others are VERY WELCOME! :)
The views of the author are his/her own and do not necessarily represent the position of The Weather Company or its parent, IBM.