IMPORTANT TROPICAL NOTICE!
I wanted this blog to first address awareness, preparedness and safety! These things are important NOW, not when landfall is a couple of hours away! I hope you'll see it that way, too, and click on the two links below. Please take time to review them and I believe it will be very helpful.

CLICK ON THIS LINK...you'll be glad you did!
http://www.redcross.org/beredcrossready

Hopefully, through "awareness and preparedness" there will be little injury and loss of life. Even the threat of a storm causes much anxiety for many. That, in itself is destructive, even without a landfall! Despite all the damage that may occur to property, let's all hope that we're doing what we can to help prevent harm and death to people in harm's way.
Get a plan, if you don't have one! Take it seriously. Develop a plan for yourself. Have a plan "B" and be ready to execute them. Talk with your neighbors. Call your friends and relatives and discuss it with them if you can. Remember the elderly, indigent and handicapped. Remind them all of safety precautions and evacuation plans. Have a destination and a second possible destination.
Exchange plans, numbers and destinations. Ask others to pass the "safety" word around.
Of course, local authorities will be the best resource for information and action plans. Listen to them and encourage others to listen as well.
Visit
Patrap's Blog,
a great guy who believes in promoting preparedness and safety. Also, another good one is
Hurricanecrab's Blog.
These small efforts can have a large effect on the safety of peoples lives.
You can make a difference!
The
Tropical Weather Discussion
from the NHC is a great place to start to get solid information. It basically, "tells it like it is" without all the hubbup!
HURRICANE DEAN (WU quick links)
is out in the wCaribbean traveling west and is NOW a MAJOR CAT 5 hurricane at it approaches the Yucatan peninsula!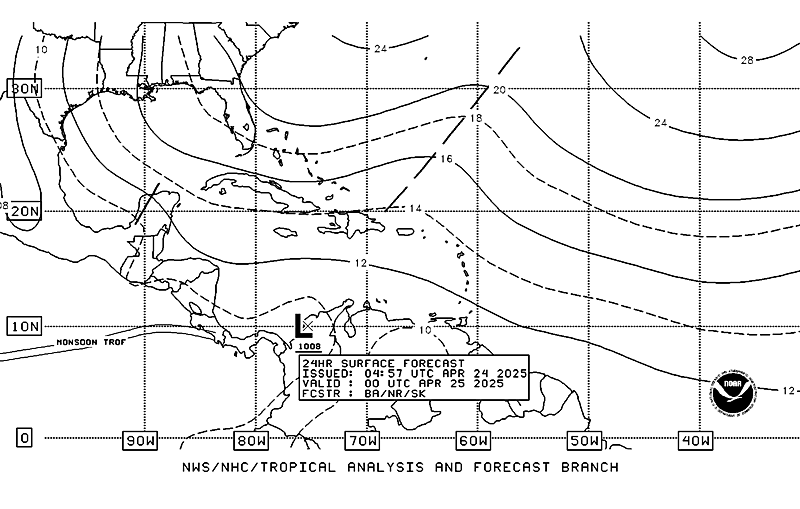 The 24-HOUR Surface Forecast Map:
Dean is an intense CAT 5 hurricane and likely to cause sweeping damage across the peninsula, re-emerging in the Bay of Campeche as a strong hurricane. Then, Dean is likely to intensify again to major hurricane status before making a second landfall on the Mexico mainland.
NOTICE: new NAVY INVEST 92L at 24n,60.5w moving wnw.
Some development is possible, but it's fairly disorganized, but will be interesting to see how convection may build through the night.
LATEST STEERING CURRENTS
- Dean is still being driven west by the ridging high over the se conus. Dean will come ashore somewhere north of Chetumal as a CAT 5 storm with a huge storm surge upwards of over 30 feet.
GOES WATER VAPOR LOOP
HURRICANE DEAN,
now a strong CAT 5 hurricane is expected to make landfall early Tuesday morning on the Yucatan coastline. Dean's center is now at about 18n,85w. Speed is near 20 mph with sustained winds recorded at near 160 mph at the surface and gusting near 180 mph. Surface pressure has dropped to 915 mb and reportedly has tied Hurricane Janet of 1955 as the 10th strongest hurricane ever recorded in the Atlantic basin.



CURRENT TCHP VALUES:
Dean's CAT 5 status is likely caused by the high TCHP values in the nwCaribbean and may intensify further before landfall. The Caribbean's and GOM's hot temps, TCHP and loop eddys are fuel for rapid and dangerous intensification.
(TCHP and SST's in the Caribbean and GOM)
--------------------------------
I left this up for this blog, because WU shows the GFDL as a featured model on the their site.
IMPROVING THE INITIALIZATION OF HURRICANE-OCEAN MODELS
- as related to TCHP, is a technical, but interesting read about how the GFDL is being used to improve hurricane intensity prediction in the GOM.
"Looks like the gates to the fort are open now!"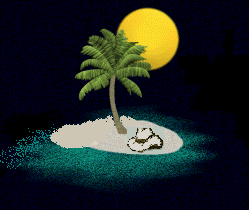 Drop back in! Things are gonna get rough somewhere, unfortunately. "Awareness, preparedness and safety" is everything!
Your comments and suggestions are welcome. Thanks in advance!
Have a good one!
MLCPS:
Don't forget to check out
Tropical Lagniappe
for some great links to other blogs and websites from fellow WU members! There's some great info here and I always learn something each time I visit them!
The views of the author are his/her own and do not necessarily represent the position of The Weather Company or its parent, IBM.