94L is on its way! I don't think it'll cross the islands as strong as Dean, and I also think it'll find a more northerly track before the high pushes back in. But, it sure looks like we're going to get another named storm, probably Gabrielle, if 96L becomes Felix later this evening or tomorrow.
Latest NAVY MicroVAP.
This TWP shot shows that there is more moisture available than is immediately seen. Look at the "dark" areas now around 94L which means that the storm has become better organized, producing more moisture and creating a better development environment.
CURRENT MID LEVELS WATER VAPOR
Here's the current view of water vapor at the mid levels from the cimss. It's gaining a little momentum in development because there's more moisture available to the system than immediately visible. While 94L is getting some dry/dusty air entrainment, it continues slowly strengthen and track westwards with better development conditions. It's also more likely to make more of a wnw turn as it becomes stronger.
94L is more likely to enter the eCarib as a TD or a weak TS. On development: faster and stronger = more northerly, while slower and weaker = more westwards. Still low development for sure, right now; but, I still believe it will become a named storm, probably Gabrielle if 96L becomes Felix later this evening, or tomorrow.
Another look at dry, stable air.
While there is dry aire you can see that area wnw of 94L that is clearing the way for more favorable development conditions for 94L.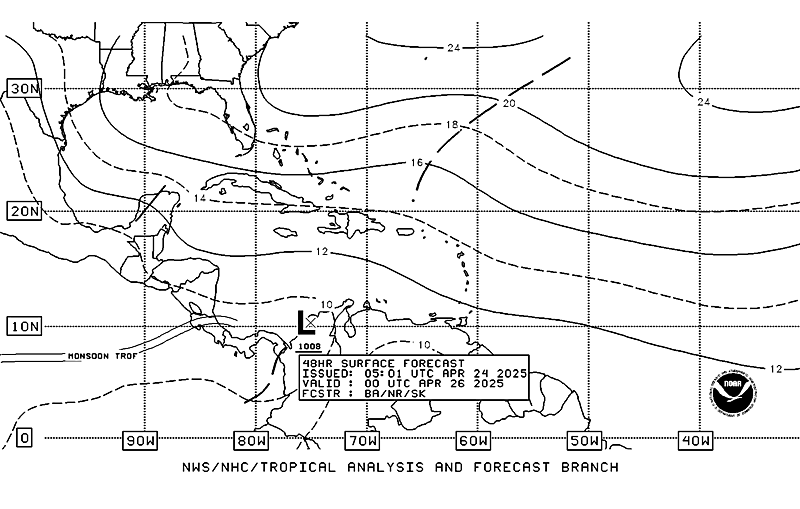 48 HOUR SURFACE FORECAST MAP
The low between the Gulf high and the Atlantic high is a key player right now (IMHO) getting stronger, stretching deeper southwards. Any development, though slow, would still likely track like Dean with the high being slower to build back in, and taking a more wnw turn after passing through the islands. I don't look for any real strengthening until it gets closer to the islands, and at this time more than likely somewhere just south of Dean's track. That, however, is likely to change to a more northerly track, especially if the high doesn't build back in as strong like it did with Dean.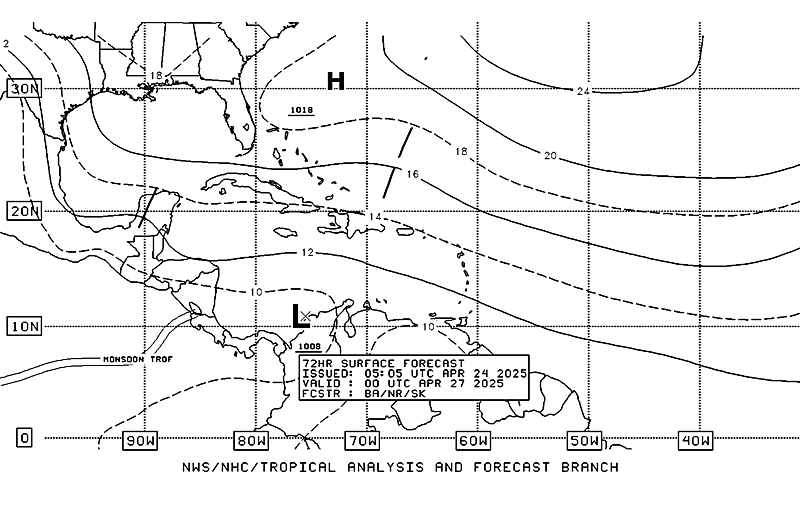 72 HOUR SURFACE FORECAST MAP
SFC map shows 94L as a possible tropical cyclone after it enters the eCarib. Of course, things can change in the tropics on a dime. Lots of things going on right now and the wave in the eATL looks to be serious, too.

Tropical Latest Image - GOES-East IR 4 Floater #1
RAMSDIS 14 km Water Vapor
The TCHP values are still high in the nw Caribbean away from Dean's track. In fact, the nw and nCarib waters may have gotten a little warmer and extended its stretch up to the Yucatan channel. So, while Dean did some damage as Doc Master's points out in his current blog, there is still a great deal of hot waters and high TCHP in the eCarib and the GOM, too.
LATEST STEERING CURRENTS
CURRENT DUST LOOPS
There are several links to SAL, but EUMETSAT is my favorite. For me it shows a more true, actual view of the dust which is in pink. The links also show airmass and fog. These views appear to be "dimensional" and while SAL mostly occurs at the surface or low levels, if you'll take a look, it also shows orange and red, depicting a look at mid and upper level convection. For me this is a good first way to look at the layers of any developing CV storm.
EUMETSAT (dust angle 1)
EUMETSAT (dust angle 2)
REAL-TIME SAL satellite imagery for tracking can be found here, too.


Latest Surface Map

The National Buoy Center
850mb Vorticity
Wind Shear
24hr shear tendency
GOM/Caribbean Sea Surface Temps
Latest TWO
Latest NHC Tropical Weather Discussion
LATEST NAVY MICROVAP
CURRENT MID LEVELS WATER VAPOR
Here's the current view of water vapor at the mid levels from the cimss.
Latest Infrared Shortwave in the eATL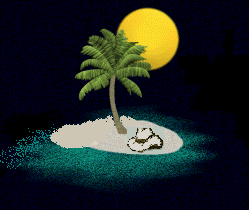 "Awareness, preparedness and safety" is everything!
Your comments and suggestions are welcome. Thanks in advance! Have a good one!
MLCPS:
Don't forget to check out
Tropical Lagniappe
for some great links to other blogs and websites from fellow WU members! There's some great info here and I always learn something each time I visit them!
The views of the author are his/her own and do not necessarily represent the position of The Weather Company or its parent, IBM.