Lemons, Lemons, Lemons
Nothing like freshly squeezed lemonade, or adding a dash of lemon when grilling fish, or fresh juice over a salad to lighten things up for those hot summer days. One of my favorites is Lemon Fettuccine with Smoked Salmon that takes only 20 minutes to prepare. Serves 4, but it's so tasty that I say after a second generous serving, it only serves 2 with a small bit for leftovers. Great recipe I tried on the back of a package that became a fave and involves a few of those fresh herbs from the garden too!

Lemon Fettuccine with Smoked Salmon
2 Tablespoons extra virgin olive oil
3 teaspoons minced fresh garlic
1/3 cup sun-dried tomatoes, drained and julienne cut
Zest and juice from 2 small lemons
1/3 cup cold butter/Smart Balance, cut into pieces
2 Tablespoons chopped fresh Italian parsley
1 Tablespoon chopped fresh oregano
1 (3oz) pouch Chicken of the the Sea Premium Smoked Pacific Salmon, flaked into bite sized pieces
1/2 lbs fettuccine, cooked according to directions on package
1/4 cub toasted pine nuts
Grated Parmesan Cheese
Chopped fresh basil

In large skillet, in hot oil, saute garlic. Add tomatoes and lemon juice; saute 1 minute longer. Add cold butter, lemon zest, parsley and oregano. Stir until butter has melted and mixture has thickened slightly; remove from heat. Gently fold in the salmon bits. Pour salmon lemon mixture over fettuccine; gently toss until coated. Sprinkle with pine nuts, Parmesan cheese and fresh basil.

Enjoy!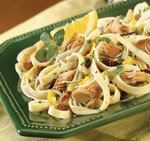 The views of the author are his/her own and do not necessarily represent the position of The Weather Company or its parent, IBM.
Reader Comments
Comments will take a few seconds to appear.
Post Your Comments
Please sign in to post comments.
Not only will you be able to leave comments on this blog, but you'll also have the ability to upload and share your photos in our Wunder Photos section.
dragonflyF15's WunderBlog
Recent Posts
Local Weather
59 °F

Mostly Cloudy
Previous Entries for 2017
Recommended Links