European weather and more
By: barbamz , 6:05 PM GMT on August 29, 2013
September 15: Autumnal Sunday greetings from my sister's garden:




The inhabitants of the garden apparently are a bit sad that summer is waning.

----------------------------

The wreckage of Costa Concordia seen form space before and after erection. Article from September 18 is in Germany, but just move the bar in the middle of the picture.

September 16th: Two screenshots during the salvage of the Costa Concordia in Italy with "romantic" sunset light:





Current European weather: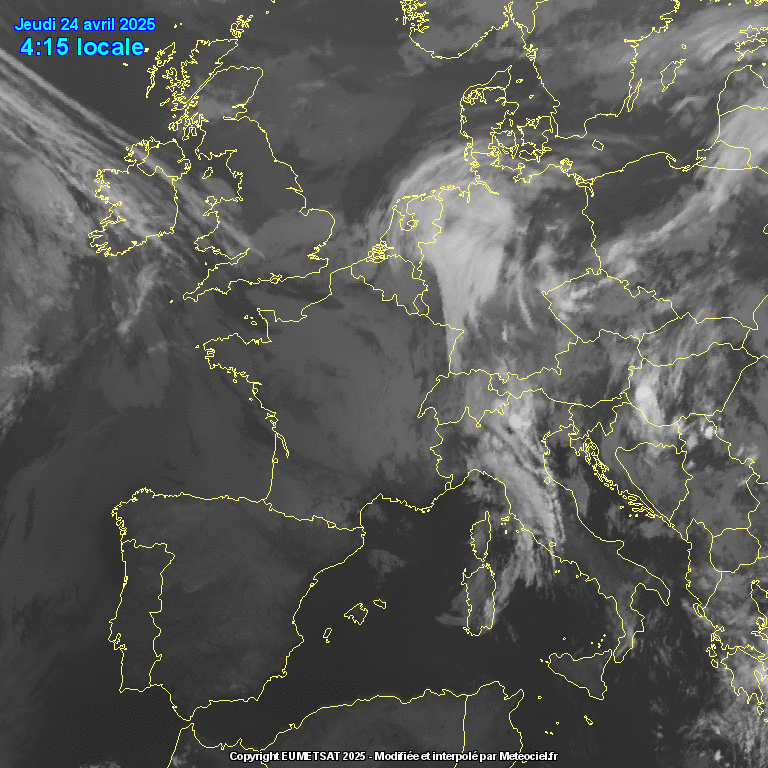 September 8 and following days: Nothing very dramatic to report, just autumn is sending his first rainy waves into Western Europe. Heavy rainfall in some regions though.





------------------------------------------------- ---

European weather news:

Two spectacular waterspouts dancing off the coast in Croatia (Rovinij) at September 11:



Still the same weather pattern in the Mediterranean which was dominant already for weeks: Stream of unstable air emerges Tunisia and is heading to soutern and mid Italy and further to the Adriatic sea:



Saved image September 12.




September 6, 2013:
Falmouth looks like winter scene after freak hail storm
BBC, 6 September 2013 Last updated at 21:31 BST
A freak hail storm left part of Falmouth in Cornwall looking like a winter's scene.
PE teacher Tommy Matthews, 52, of The Gluyas arrived home from work to find an inch of hail covering the street.
Neighbours' garages were flooded and manholes burst as the hail turned into a stream of water.
The hail storm, which hit at about 17:00 BST, came amid a Met Office warning of heavy rain in the South West overnight and into Saturday.


Earlier, end of August:



Video (August 30) from Reggio Calabria which usually is connected more with the threat of Mafia than with hazards of severe weather. But the first minute should be able to compete with a tropical storm, no?






August 30:


Saved image: MCS is building offshore Tunisia.





More news from recent weather action in the Mediterranean:



Translation by me with some help from giggle :)
Near collision on Tuesday evening for cruise ship company Grandi Navi Veloci. Due to bad weather and a tornado that had raised a giant column of sand, shortly after the completion of boarding cars and passengers in the port of Tunis, a cargo ship adrift came close to ferry "La Superba". On board were hundreds of Italian tourists. Luckily the collision has been avoided, and after a backward maneuver the alarm was canceled. The video of the incident was posted on Facebook by one of our readers in the Val di Susa, director of the cruise, Alfredo Alpe. www.repubblica.it
Source in Italian language


European weather related news:

Wood-burning stoves ruining Germany's air
Deutsche Welle English, September 19, 2013
Heating with wood is inexpensive and, if done correctly, it can be eco-friendly. Some 15 million fireplaces and wood-burning stoves are installed in homes across Germany, but the soot produced is harmful to health. ...

EU drafts plan to fight invasive species
Deutsche Welle English, September 12, 2013
Invasive animals and plants are threatening Europe's native species. The invaders can even become dangerous for humans too. After complaints from farmers and experts, the EU is now planning bloc-wide legislation. ...

Hottest Days in Some Parts of Europe Have Warmed Four Times More Than the Global Average
Science Daily , Sep. 11, 2013
Some of the hottest days and coldest nights in parts of Europe have warmed more than four times the global average change since 1950, according to a new paper by researchers from the Grantham Research Institute on Climate Change and the Environment at the London School of Economics and Political Science and the University of Warwick, which is published today (11 September 2013) in the journal Environmental Research Letters.
The researchers translated observations of weather into observations of climate change using a gridded dataset of observations stretching back to 1950. The hottest 5 per cent of days in summer have warmed fastest in a band from southern England and northern France to Denmark. By contrast, the average and slightly hotter than average days have warmed most in regions further south in France and Germany. In eastern Spain and central Italy there has been broad warming across all types of days, but in most places those days which are cooler than average have not warmed so much.
The paper points out that some locations and temperature thresholds have seen little change since 1950. The authors suggest that the results highlight the scale of the difference between global change and the local climate changes felt by individuals.
Dr. David Stainforth, the lead author on the paper, said: "Climate is fundamentally the distributions of weather. As climate changes, the distributions change. But they don't just shift, they change shape. How they change shape depends on where you are. In Britain, climate change will feel very different if you live in Northumbria to if you live in Oxfordshire; different again in Devon." ...
Whole article see link above.

Who, what, why: How does a skyscraper melt a car?
BBC, 3 September 2013 Last updated at 15:07 GMT
A London skyscraper dubbed the Walkie-Talkie has been blamed for reflecting light which melted parts of a car parked on a nearby street. What happened?
It's like starting a fire with a parabolic mirror.
"Fundamentally it's reflection. If a building creates enough of a curve with a series of flat windows, which act like mirrors, the reflections all converge at one point, focusing and concentrating the light," says Chris Shepherd, from the Institute of Physics.
The half-finished 37-storey "Walkie Talkie"- nicknamed such because of its tapering rectangular design - is indeed a curvy building. Its design, which has also been compared to a brimming pint glass, has come under controversy before.
It transpires the car, a Jaguar on Eastcheap in the City of London, was parked at just the spot where the focused light landed. ...

At least 28 wildfires still burning out of control in Portugal
EuroNew Video, 29/08 13:45 CET
Wildfires are continuing to rage in parts of Portugal
Around 1,400 firefighters are tackling the flames which intensified in the early hours of Thursday morning because of high winds.
At least 28 fires are still out of control in the northern and central areas of Portugal, particularly in the mountain range of Caramulo and the national park of Alvao. ...

-------------------------------------------------

Storms for newbies:

Recently I stumbled over this nice introduction on youtube which would tell you all you need to know about - huhhhh - storms:

Of course, as a middle aged German I had no clue what it is, and was at first quite puzzled when watching :)

More infos for people who don't know "Bill Nye the Science Guy" may read the article on Wikipedia.

------------------------------------------------- ---
Previous messy blogs:

August 2013: About tornados in Germany, tropical scenery at Rhine River, sea- and lakemonsters, wild weather in the Mediterranean and more stuff.

July/August 2013: Heat wave in Germany and Europe and its bangs at the end, combined with monster hail.

Not very messy blogs:

July 2013: Spectacular exchange of an old spire in my town

June 20, 2013: Storms in Germany June 20th

June 2, 2013: Walk with me around the volcano lake

February 2013: Chasing Ice
The views of the author are his/her own and do not necessarily represent the position of The Weather Company or its parent, IBM.
Reader Comments
Comments will take a few seconds to appear.
Post Your Comments
Please sign in to post comments.
Not only will you be able to leave comments on this blog, but you'll also have the ability to upload and share your photos in our Wunder Photos section.
Mid of Germany
Recent Posts
Previous Entries for 2017
Recommended Links
Personal Weather Stations