European weather and more
By: barbamz, 6:05 PM GMT on August 29, 2013
September 15: Autumnal Sunday greetings from my sister's garden:




The inhabitants of the garden apparently are a bit sad that summer is waning.

----------------------------

The wreckage of Costa Concordia seen form space before and after erection. Article from September 18 is in Germany, but just move the bar in the middle of the picture.

September 16th: Two screenshots during the salvage of the Costa Concordia in Italy with "romantic" sunset light:





Current European weather: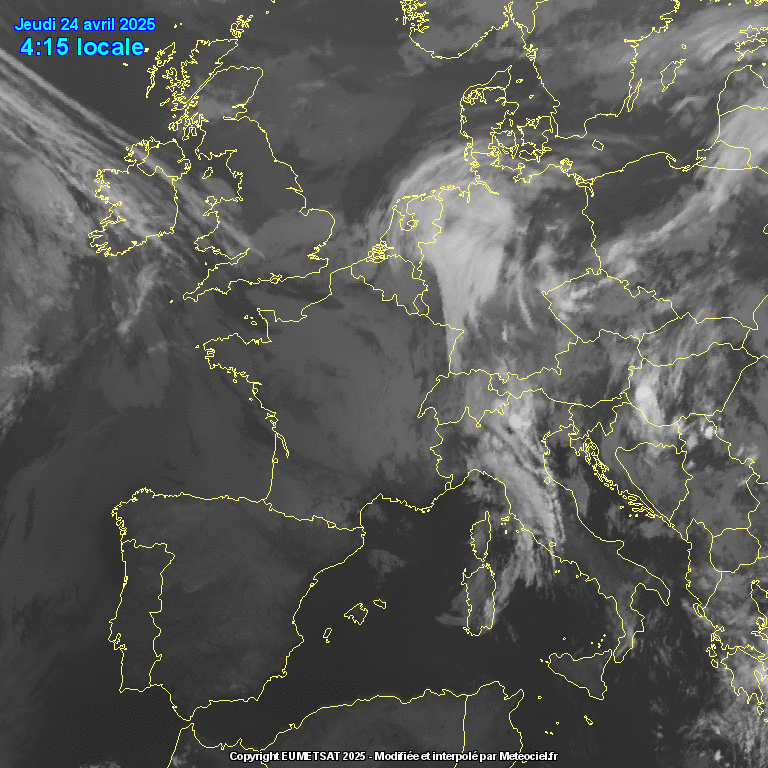 September 8 and following days: Nothing very dramatic to report, just autumn is sending his first rainy waves into Western Europe. Heavy rainfall in some regions though.





------------------------------------------------- ---

European weather news:

Two spectacular waterspouts dancing off the coast in Croatia (Rovinij) at September 11:



Still the same weather pattern in the Mediterranean which was dominant already for weeks: Stream of unstable air emerges Tunisia and is heading to soutern and mid Italy and further to the Adriatic sea:



Saved image September 12.




September 6, 2013:
Falmouth looks like winter scene after freak hail storm
BBC, 6 September 2013 Last updated at 21:31 BST
A freak hail storm left part of Falmouth in Cornwall looking like a winter's scene.
PE teacher Tommy Matthews, 52, of The Gluyas arrived home from work to find an inch of hail covering the street.
Neighbours' garages were flooded and manholes burst as the hail turned into a stream of water.
The hail storm, which hit at about 17:00 BST, came amid a Met Office warning of heavy rain in the South West overnight and into Saturday.


Earlier, end of August:



Video (August 30) from Reggio Calabria which usually is connected more with the threat of Mafia than with hazards of severe weather. But the first minute should be able to compete with a tropical storm, no?






August 30:


Saved image: MCS is building offshore Tunisia.





More news from recent weather action in the Mediterranean:



Translation by me with some help from giggle :)
Near collision on Tuesday evening for cruise ship company Grandi Navi Veloci. Due to bad weather and a tornado that had raised a giant column of sand, shortly after the completion of boarding cars and passengers in the port of Tunis, a cargo ship adrift came close to ferry "La Superba". On board were hundreds of Italian tourists. Luckily the collision has been avoided, and after a backward maneuver the alarm was canceled. The video of the incident was posted on Facebook by one of our readers in the Val di Susa, director of the cruise, Alfredo Alpe. www.repubblica.it
Source in Italian language


European weather related news:

Wood-burning stoves ruining Germany's air
Deutsche Welle English, September 19, 2013
Heating with wood is inexpensive and, if done correctly, it can be eco-friendly. Some 15 million fireplaces and wood-burning stoves are installed in homes across Germany, but the soot produced is harmful to health. ...

EU drafts plan to fight invasive species
Deutsche Welle English, September 12, 2013
Invasive animals and plants are threatening Europe's native species. The invaders can even become dangerous for humans too. After complaints from farmers and experts, the EU is now planning bloc-wide legislation. ...

Hottest Days in Some Parts of Europe Have Warmed Four Times More Than the Global Average
Science Daily , Sep. 11, 2013
Some of the hottest days and coldest nights in parts of Europe have warmed more than four times the global average change since 1950, according to a new paper by researchers from the Grantham Research Institute on Climate Change and the Environment at the London School of Economics and Political Science and the University of Warwick, which is published today (11 September 2013) in the journal Environmental Research Letters.
The researchers translated observations of weather into observations of climate change using a gridded dataset of observations stretching back to 1950. The hottest 5 per cent of days in summer have warmed fastest in a band from southern England and northern France to Denmark. By contrast, the average and slightly hotter than average days have warmed most in regions further south in France and Germany. In eastern Spain and central Italy there has been broad warming across all types of days, but in most places those days which are cooler than average have not warmed so much.
The paper points out that some locations and temperature thresholds have seen little change since 1950. The authors suggest that the results highlight the scale of the difference between global change and the local climate changes felt by individuals.
Dr. David Stainforth, the lead author on the paper, said: "Climate is fundamentally the distributions of weather. As climate changes, the distributions change. But they don't just shift, they change shape. How they change shape depends on where you are. In Britain, climate change will feel very different if you live in Northumbria to if you live in Oxfordshire; different again in Devon." ...
Whole article see link above.

Who, what, why: How does a skyscraper melt a car?
BBC, 3 September 2013 Last updated at 15:07 GMT
A London skyscraper dubbed the Walkie-Talkie has been blamed for reflecting light which melted parts of a car parked on a nearby street. What happened?
It's like starting a fire with a parabolic mirror.
"Fundamentally it's reflection. If a building creates enough of a curve with a series of flat windows, which act like mirrors, the reflections all converge at one point, focusing and concentrating the light," says Chris Shepherd, from the Institute of Physics.
The half-finished 37-storey "Walkie Talkie"- nicknamed such because of its tapering rectangular design - is indeed a curvy building. Its design, which has also been compared to a brimming pint glass, has come under controversy before.
It transpires the car, a Jaguar on Eastcheap in the City of London, was parked at just the spot where the focused light landed. ...

At least 28 wildfires still burning out of control in Portugal
EuroNew Video, 29/08 13:45 CET
Wildfires are continuing to rage in parts of Portugal
Around 1,400 firefighters are tackling the flames which intensified in the early hours of Thursday morning because of high winds.
At least 28 fires are still out of control in the northern and central areas of Portugal, particularly in the mountain range of Caramulo and the national park of Alvao. ...

-------------------------------------------------

Storms for newbies:

Recently I stumbled over this nice introduction on youtube which would tell you all you need to know about - huhhhh - storms:

Of course, as a middle aged German I had no clue what it is, and was at first quite puzzled when watching :)

More infos for people who don't know "Bill Nye the Science Guy" may read the article on Wikipedia.

------------------------------------------------- ---
Previous messy blogs:

August 2013: About tornados in Germany, tropical scenery at Rhine River, sea- and lakemonsters, wild weather in the Mediterranean and more stuff.

July/August 2013: Heat wave in Germany and Europe and its bangs at the end, combined with monster hail.

Not very messy blogs:

July 2013: Spectacular exchange of an old spire in my town

June 20, 2013: Storms in Germany June 20th

June 2, 2013: Walk with me around the volcano lake

February 2013: Chasing Ice
Updated: 6:22 PM GMT on September 20, 2013
Tornado update from Germany
By: barbamz, 7:29 PM GMT on August 10, 2013
Weather and Environmental News from Germany:

August 26:
Germany: Insurance claims for damage from July hailstorm may exceed $800 million
Industry-wide insurance claims for damage caused by the July hailstorms in Germany are estimated to exceed €600 million ($801.3 million), Reuters reported.
German insurer SV SparkassenVersicherung A.G. raised its damage claims estimate to €600 million. The storm caused €40 million worth of damage every minute. Munich Reinsurance Co. executive Torsten Jeworrek said reinsurance claims are likely to exceed €10 million.

New German video about the aftermath of those hailstorms.
Note: There were two devastating hailstorms in a row in nearly the same region: July 29 and August 6. More about them on my previous blog.


Update August 21 about tornadoes in Germany

As recently on the main blog the question arouse how common tornadoes in Germany would be, I've tried to put together some informations.



Tornado in Wittenberg/Germany, June 2, 2002, Photo Hardy Schmidt. Source.

My attempt to translate a passage in wikipedia: "In Germany, the annual number of observed tornadoes is several dozen, with quite a high number of unreported cases, especially weaker events. Exact figures are not available due to a lack of reliable statistics. According to the figures available about five or more F2-tornados take place every year, F3-tornados are expected to happen every two or three years, and F4-tornados every 20 to 30 years. According to present knowledge a F5-tornado in Germany is an event of the century or even less often."

Informations and maps about tornadoes in Germany until 2005 (not updated any more) can be found on tordach.org in German and thankfully English language as well. Here some quotations:



There are a total of 1027 recorded tornado observations in Germany in the years 855-2005.




Our earliest reliable tornado report dates from 855. Only in the 1800s tornado reports were published more often, but still remained below an average of one per year. In the second half of the 19th century the number of tornado reports rose significantly. This was due to a greater public awareness caused by some strong tornadoes and due to the growing scientific literature on tornadic storms in Germany and other European countries. Also the effort made by Alfred Wegener to obtain a European tornado climatology (cf. Wegener, 1917) led to a reporting frequency of 2 to 3 per year between 1880 and 1910. Higher scrutiny towards severe local storms by researchers and the weather service, as well as the work performed by Johannes Letzmann led to the then highest number of tornado reports in one single decade: 100 cases were recorded from 1930 to 1939. The events of World War II caused the number to plunge to about 1 per year again. From 1950 on the number of reports has always ranged between 40 and 120 per decade. Since about the year 2000, the number of reports has risen dramatically, mainly concerning reports of weak events. This trend is very likely to continue - as shown in the tornado map above, many cases from east Germany remain undiscovered, just as the archives of forest authorities in Germany mostly remain unexplored. So this is mainly a reporting effect and not the footprint of global climate change.

Another useful site by Thomas Saevert tries to track (confirmed) tornado reports in Germany on maps for every year:



2013 so far 8 confirmed tornadoes and 101 suspicious events. Source.



2012 there were 36 confirmed tornadoes and moreover 178 suspicious events.

Latest event August 19, 2013:
August 19:Tornado rips up church campsite, injures 27
The Local, published: 20 Aug 2013 09:32 CET
A tornado tore through a campsite belonging to a church in southern German on Monday afternoon, injuring 27 people, including 16 children aged between 10 and 13 years old.
Triggered by unusually humid weather, the tornado hit the campsite in the Aalen area in the state of Baden-Württemberg. It ripped up two large tents belonging to a local diocese, and damaged eight others. Roofs came off five buildings and trees were uprooted.
There were around 100 children and adults at the campsite, 27 of whom were injured badly enough to need medical help.
One 10-year-old girl had such bad back injuries that she was taken to a Stuttgart hospital by air ambulance. Five others, including three supervising adults, also sustained more serious injuries – mostly broken arms.
The tornado caused an estimated €200,000 of damage to the site. Those who were not physically injured were looked after in a local sports hall, where they were treated for shock.

German video about the aftermath:


Timelapse from another storm August 19 at Nuremberg/Germany.



Smoking Ban: Shipping Shifts to Cleaner Fuel
Spiegel English, By Christian Wüst, August 16
The residential areas along the banks of the Elbe River in Hamburg are among the city's most desirable neighborhoods, home to established merchant families. The views are magnificent, but sometimes the air quality is not.
Outdoor furniture and windowsills are often coated with a black, oily residue. The affected residents can only take comfort in the fact that they are being subjected to the excretions of an industry that has made Hamburg rich.
Ships are the dirt eaters of our mobile society, and although their contribution to global pollution is only minor (see graphic), they are a nuisance on a local scale. Their diesel engines burn heavy oil, the dregs of refineries. "It's more like a thick mush than a liquid," says Christoph Brockmann, vice president of the Federal Maritime and Hydrographic Agency in Hamburg. The highly viscous material has to be heated to 50 degrees Celsius (122 degrees Fahrenheit) so that it can be pumped through the fuel lines and into the engine.
Out of the chimney then comes the muck. Brockmann has a few photos on his mobile phone showing ship smokestacks emitting plumes of black and yellow smoke. Black is soot and yellow is sulfur. "These photos are ugly," says Brockmann, "we don't want that anymore."

A Cleaner Alternative

Brockmann, who has a degree in oceanography, says that one of the drivers of change is an epochal switch in ship fuel from heavy oil to natural gas. It is the greatest possible leap the spectrum of hydrocarbons offers -- from the dirtiest to the cleanest fossil fuel. Fortunately, diesel engines tolerate both.
Transportation Minister Peter Ramsauer also wants this change. On Friday, he attended a presentation involving the testing of exhaust gases from a Caterpillar ship engine in Warnemünde, a seaside district of the northeastern port city of Rostock. The six-cylinder engine generates about five megawatts of power and can be switched from heavy oil to natural gas while running. The output remains the same, but pollutants disappear almost completely. Sulfur dioxide and soot levels sink to almost zero, while nitrous gases are reduced to about 20 percent.
Natural gas is actually usable on ships in its densest storage form, liquefied natural gas (LNG), which is cooled to -160 degrees Celsius and liquefied. In Scandinavia, some ferries are already operating on LNG. And Brockmann estimates that the freighters commonly used in the Baltic Sea could be operated with LNG with only minor reductions in cargo space.
Ramsauer is already talking about an "LNG National Action Plan," and German gas company Linde formed a joint venture last year with Hamburg ship fuel provider Bomin, to develop LNG infrastructure around the major ports in the North and Baltic Sea region. The first planned locations are in Hamburg, Bremerhaven and Rotterdam. ...
Whole article see link above






Porpoises return to Germany's revived rivers
Deutsche Welle English, August 12
Just a few years ago, many German rivers were ecological wastelands. The fish had ulcers and the porpoises died out. Today, the rivers are thriving. Can lessons from the banks of the Elbe save rivers around the world?
Plastic garbage floats on the water. Fish appear more dead than alive as they gasp for air on the surface. Horror scenes from all corners of the globe emerge as unfortunate testaments to the world's polluted waters. Just a few years ago, German river landscapes reflected similarly distressing images. But now, even porpoises - close relatives of the dolphin - are making a comeback in German waters.
The Elbe River especially, from its source in the Czech Republic to its mouth beyond Hamburg in the North Sea, was considered doomed. Until German reunification in 1990, the German Democratic Republic dumped untreated sewage directly into the river.
Researchers determined that in 1988 a cocktail of pollutants were transported by the Elbe to the sea. The toxic ingredients included 16,000 tons of nitrogen, 10,000 tons of phosphorous, 23 tons of mercury and 3 tons of the highly toxic chemical compound pentachlorophenol. ...
How was the river rescued? The closure of many East German factories, the continuous treatment of waste water and the implementation of stricter environmental regulations saved the Elbe, along with other German rivers, Veit Hennig said. Anglers and swimmers are now commonplace on the Elbe, as well as other German waterways. Even the animals, like porpoises, are returning.
On the banks of the Elbe river in Hamburg, whale researcher Veit Hennig explained why the porpoises are returning to the Elbe from the North Sea.
"The observation rates have been increasing for the past four years," Hennig said. This past year alone, he said there were 200 chance sightings. ...



-----------------
From my town Mainz:
August 10, 2013

Okay, our cruisers aren't as big as the ones in the Caribbean, and Rhine River isn't that huge as the ocean, but as you see we are trying to catch up to Florida at least in the category "atmosphere". I've spend this summer afternoon at Mainz Beach and had a nice time.
Note, the platform for beachvolleyball was completely inundated two months ago during the period of highwater, though most of the European flooding still was east of us.



The little natural beach on the other side of the River at Mainz-Kastel with its Reduit in the background (former casern from 19th century; but many centuries ago the Romans were already there with their military buildings, protecting their bridge over Rhine River).



My personal view of the scenery, lol.


Here my little attempt to serve as a sports reporter, lol, with a youtube video. This afternoon there was a charity beachvolleyball match at Mainz Neach between some professionals and a promi team, consisting of Thomas Tuchel, coach of our local soccer team which is playing in the first German soccer league, Hans-Peter Betz, a famous TV speaker and actor in carnival time, when he is starring as Johannes Gutenberg, who once invented printing in Mainz, and a lady from a nearby volleyball team. The promi team won. The money is for children with cancer.

August, 15:



Pic from my balcony-terrace in the middle of the town, showing gigantic hollyhocks. The watering of all the stuff costs me a fortune, lol, and usually there is at least one blackbird dwelling between the pots and lurking for raisins and apples. And it will get some every day as it has been very dry the last two months and I doubt the bird will find many earthworms in the parks nearby.



Drought monitor for Germany since June 1, 2013


European news:

40,000 lightning bolts strike Italy in a day
The Local / Italy, published: 28 Aug 2013 15:55 GMT+02:00
Summer came to an electric end in Italy on Tuesday as 40,000 lightning strikes rained down on the country, an expert told The Local.


Severe weather in Italy including tornadoes August 25/26/27. More see comment section.




CO2 vents. Credit: Plymouth University

Insight into marine life's ability to adapt to climate change
Phys.org. 7 hours ago
A study into marine life around an underwater volcanic vent in the Mediterranean, might hold the key to understanding how some species will be able to survive in increasingly acidic sea water should anthropogenic climate change continue.
Researchers have discovered that some species of polychaete worms are able to modify their metabolic rates to better cope with and thrive in waters high in carbon dioxide (CO2), which is otherwise poisonous to other, often closely-related species.
The study sheds new light on the robustness of some marine species and the relative resilience of marine biodiversity should atmospheric CO2 continue to cause ocean acidification.
A team of scientists led by Plymouth University, and including colleagues from the Naples Zoological Station in Ischia; the Marine Ecology Laboratory ENEA in La Spezia, Italy; the University of Texas Galveston; and the University of Hull, conducted a three-year research project into the potential mechanisms that species of worm polychaetes use to live around the underwater CO2 vent of Ischia in Southern Italy.
The researchers collected specimens found in waters characterised by either elevated or low levels of CO2, and placed them in specially-constructed 'transplantation chambers', which were then lowered into areas both within and away from the volcanic vent.
They monitored the responses of the worms and found that one of the species that had been living inside the CO2 vent was physiologically and genetically adapted to the acidic conditions, whilst another was able to survive inside the vent by adjusting its metabolism. ...
Whole article see link above.




Photo source: Wikipedia

Splashdown: The re-entry test
EuroNews video: 25/08 19:43 CET
Europe's newest spacecraft, the IXV, or Intermediate eXperimental Vehicle, has moved a step closer to its planned launch in 2014.
The craft completed a pre-launch test off the coast of Sardinia, which involved it being dropped into the Mediterranean from a height of 3,000 metres.
For the most part the vehicle performed perfectly during the test, with parachutes deploying as expected. However, just after splashdown a problem arose, as the inflatable devices which should add support to the buoyant IXV once it is in the water had failed to inflate. ...




Black grouse population boosted by good weather
BBC, 24 August 2013 Last updated at 13:10 GMT
Warm weather has resulted in a record-breaking breeding season for rare black grouse, conservationists have said.
The birds were once common in southern England, but are now found only in four upland areas in Northumberland, County Durham, North Yorkshire and Cumbria.
An annual breeding count by Game and Wildlife Conservation Trust (GWCT) count found that, on average each hen had produced more than four chicks.
This was almost four times the number reared in previous years.
Some hens were spotted with 10 or 11 young.
Dr Phil Warren from the GWCT described this as "quite exceptional"...


More rare sightings of sea creatures in Europe:
Dolphin spotted swimming miles up River Dee
Experts believe the common dolphin, which is more usually found at sea, must have chased fish up the river
Press Association / The Guardian, Wednesday 21 August 2013 16.16 BST

European forests near carbon saturation point
EuroNew Video, 19/08 07:36 CET
A new study has warned that Europe's forests are showing signs of reaching saturation point in their ability to absorb carbon dioxide....

Drought shrivels harvest in Central Europe
Deutsche Welle English, August 16, 2013
Farmers in Austria and Hungary are rethinking climate change as a bitter drought tears through their fields. How will they grow food if the weather is so unpredictable? ...
For farmers in Austria and across the border in Hungary this is just the latest bout of extreme weather to ravage their fields. In March, temperatures dropped to record lows. This was followed in May and June by some of the worst flooding the region has seen in recent history. Now, high temperatures and poor rainfall threaten to wipeout what is left of this year's harvest...
... In the more mountainous parts of Austria, it's usual for cows to come down from the Alpine meadows at the end of summer; fat and content from the lush green grass. But this year, in some parts of the country, the cows are already down from the Alm because there is no grass and in some cases no water. Farmers in the Alps and, like Christian Schmidt in the croplands of the east, are wondering what changes they need to make in order to survive.
"One can't suddenly, because of one year, plant olive trees – they would probably freeze in the winter," he said. However Schmidt believes that in the long term the "rotation of crops" and their varieties will have to change....



VIDEO: Divers swim with whale off Norway
The local, published: 15 Aug 2013 10:16 GMT+02:00
Two intrepid Norwegian free divers swum for two hours underwater next to the whale which strayed into a bay near Bergen last week, shooting some amazing video footage.

Wow, that's a road, lol! Rostov/Russia.

13.08.2013: If you think your local roads are bad, take a look at this examples of crap workmanship near Rostov, Russia. The road turned into an asphalt moguls run after some recent flooding.


Killer Fish With Teeth? Danish Swimmers Escape Waters Fearing Killer Fish
Science Daily, Aug. 12, 2013 — The capture in the Danish/Swedish strait of Oresund of a fish some twenty centimeters in size and with long sharp teeth has caused Danish swimmers to leave the water fearing an invasion of meat eating killer fish, Piranhas. There is however no cause for panic say experts. The fish, though exotic, is a Pacu, not a piranha. None the less they caution male swimmers to protect their privates when swimming in the sound. ...


World wide weather and environmental news:

Africa: Desert Plantations Could Help Capture Carbon
By Nehal Lasheen and Imogen Mathers, 26 August 2013
Planting trees in coastal deserts could capture carbon dioxide, reduce harsh desert temperatures, boost rainfall, revitalise soils and produce cheap biofuels, say scientists.
Large-scale plantations of the hardy jatropha tree, Jatropha curcas, could help sequester carbon dioxide through a process known as 'carbon farming', according to a study based on data gathered in Mexico and Oman that was published in Earth System Dynamics last month (31 July).
Each hectare of the tree could soak up 17-25 tonnes of carbon dioxide a year, they say, at a cost of 42-63 euros (about US$56-84) per tonne of gas, the paper says. This makes the technique competitive with high-tech carbon capture and storage.
Klaus Becker, the study's lead author and director of carbon sequestration consultancy Atmosphere Protect, says that a jatropha plantation covering just three per cent of the Arabian Desert could absorb all the carbon dioxide produced by cars in Germany over two decades.
"Our models show that, because of plantations, average desert temperatures go down by 1.1 degree Celsius, which is a lot," Becker says. He adds that the plantations would also induce rainfall in desert areas.
Jatropha, which is a biofuel crop, needs little water, and coastal plantations would be irrigated through desalination, Becker says. ...

Interesting article on Jatropha Curcas on Wiki.



Piura's first neem tree was planted 14 years ago. They often live up to 200 years

An interesting story of hope:
Using neem trees to combat desertification
Deutsche Welle English, August 13
It requires little water, grows fast and lays deep root - we're referring to the neem. An intiative to plant the "miracle" trees in Peru's arid north has proven to be a boon for the climate and local communities, too. ...

Wikipedia about the neem tree.


Published 14.08.2013
150 Thousand People Affected in Sudan Flood. Heavy rains and flash floods in Sudan have killed at least 36 people and forced thousands to leave their homes. The number of people affected by this month's flooding in Sudan has climbed to about 150000 and is expected to rise further. Young people use social media to draw attention to thousands left without shelter, food and clean water.

Southern Africa: Severe Drought Puts Millions At Risk in Angola and Namibia
15 August 2013
Johannesburg/Windhoek/Luanda — As one of the worst droughts in 30 years grips the southern African countries of Angola and Namibia, the threat of hunger, malnutrition, disease and lost livelihoods is growing.
After almost three decades of low seasonal rainfall and a second year of failed rains, more than 778,000 people are either severely or moderately food insecure in northern Namibia. These include an estimated 109,000 children under the age of five at risk of acute malnutrition. An estimated 1.5 million people in southern Angola are now food insecure. ...


Spaceweather:

Sprite, With Video At 10,000 Fps
Taken by Jason Ahrns on August 12, 2013 @ Southern Nebraska

Video: Perseid Meteor Shower 2013
from Jeff Sullivan
Updated: 10:15 PM GMT on August 28, 2013
Mid of Germany
Recent Posts
Previous Entries for 2016
Recommended Links
Personal Weather Stations