The Curious Travels though Bear Camp Road
By: angel49 , 6:59 PM GMT on September 23, 2013
Today (September 20, 2013) is the first four day weekend in nearly a month, and I am ready. I have been looking forward to this adventure for a while. I love to travel and on the slate today is the trip to the Oregon coast to the Weather Underground photographer's second annual gathering in Gold Beach. There are two ways to get to the coast from my home in Central Point. One way, travel through Grants Pass, meander south through the Smith River canyon heading south west toward Crescent City, cut over to Brookings after Jedediah Smith State Redwoods, then head north to Gold Beach. The second way is the now infamous road called Bear Camp Road. The mileage distance of Bear Camp is less than the distance down and up through Brookings. You'd think Bear Camp would be a short cut, but Bear Camp is no short cut.
(Do you think the sign, which is located within the first 5 miles of the eastern edge is located, says it all?)

Bear Camp Road was, unfortunately, made infamous in December 2006 because a couple who was told, by a gas station attendant in Merlin, Oregon (this was part of the story I heard), Bear Camp Road was a short cut to the coast. This San Francisco family didn't know they would be driving through the woods, nor did they realize, the time of year they were traveling they would come across snow, get their car stuck and the father unfortunately died trying to find help for his trapped family. Ironically, I heard from a local river rat, the father was not far from a lodge occupied most of the year and where he could have found help. How they made it as far as they did amazes me, especially after taking the trip myself today.

I knew it would be long, steep, paved but treacherous. Bear Camp is know and well traveled by many a river rat as the 'go back' to Merlin after trips down the wild and scenic section of the Rogue River. When I went on my river rafting trip last May, I didn't have the fortune of traveling the road because it was still closed due to snow, in May. That piqued my curiosity. I wondered how bad it can really be. How could this poor family get lost out there, on this BLM road? I had to find out for myself.
(The sign 5 miles in from the East side)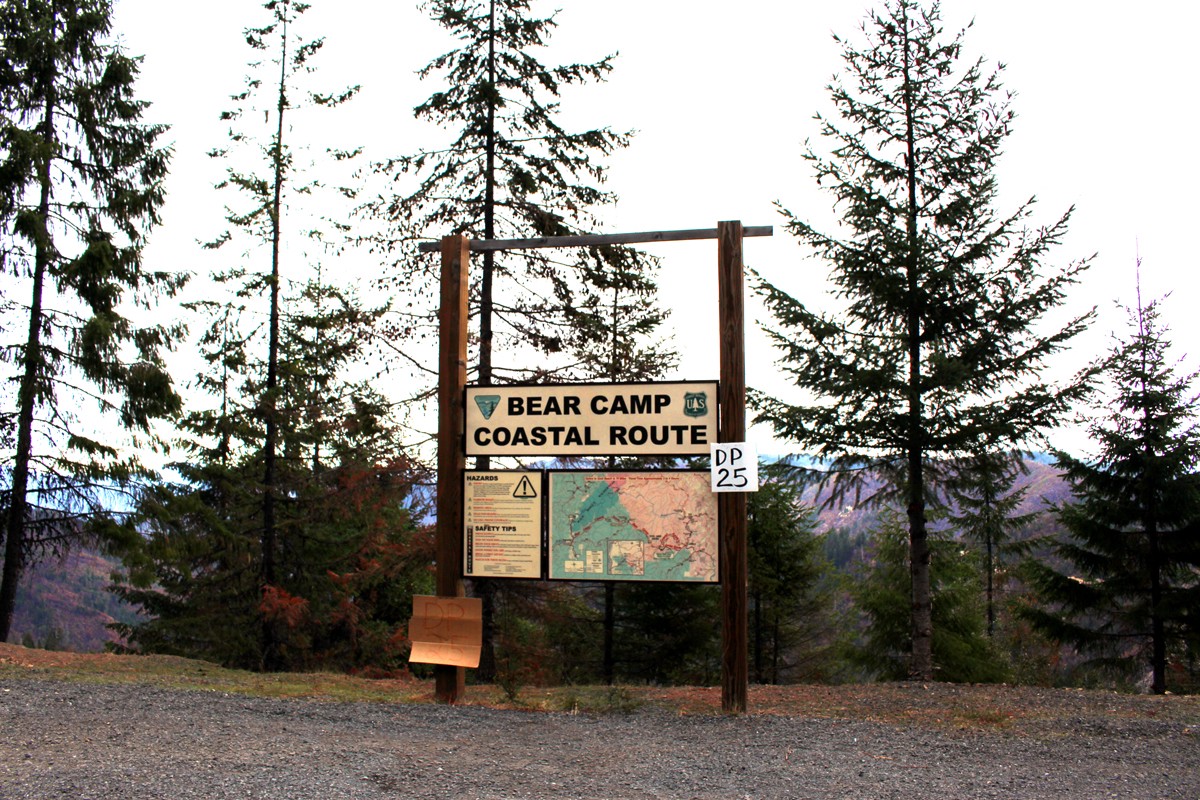 DANGER, Will Robinson!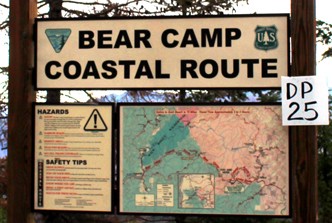 Leaving with plenty of daylight to spare, a full tank of gas, food and a blanket, I set off today to satisfy my curiosity. Galice road is easy, your typical two lane country road. Easy for me. I've been on many a road like this. The left turn to Galice river road takes you up to the beginning of Bear Camp road. The BLM has designated Bear Camp road 34-8-36. I even found it on Google maps when I was looking up drive times. The drive times for the two routes are nearly the same. The road is paved. I thought, great, how bad can it be? When I drove out to the Oregon Star Party, east of Prineville, Oregon, that road was paved, had two lanes, and only had one spot where it was twisty for a few miles. Piece of cake. Maybe Bear Camp would be the same. Nope, it wasn't. At first, it was forgiving, a nearly two lane road, with dirt turnouts, plenty of room to pass other traffic. Was there traffic up on Bear Camp? Yep, there were a few cars at first, but it was not a problem to pass. No room on the side of the road for mistakes, but eh, do-able.

I got to the area of Bear Camp road where Jesse, a young woodland fire fighter died when he wrecked the truck he was driving during the Big Windy fire last July and August. Someone had set up a memorial to him. Bear Camp began its climb into the wilderness steeply at this point and he was coming down. I could see how he could have crashed.

The other reason why I drove Bear Camp is because I knew the drive would afford me some views of the Big Windy Fire area. I watched the Big Windy fire, online from when it started until the end of August. I fell in love with the river last May on my first wild and scenic Rogue River trip and was sad to see the forest burning. I wanted to see what I could, from Bear Camp Road, of the fire area for myself. I was not disappointed and not surprised to see there were pockets of fire still burning, even two months later. The sky was a bit cloudy and there was forecast of rain in Gold Beach, maybe rain in Grants Pass, but I got lucky and had no rain when I took my pictures the few times I stopped.

(Views of the Big Windy fire area from Bear Camp road)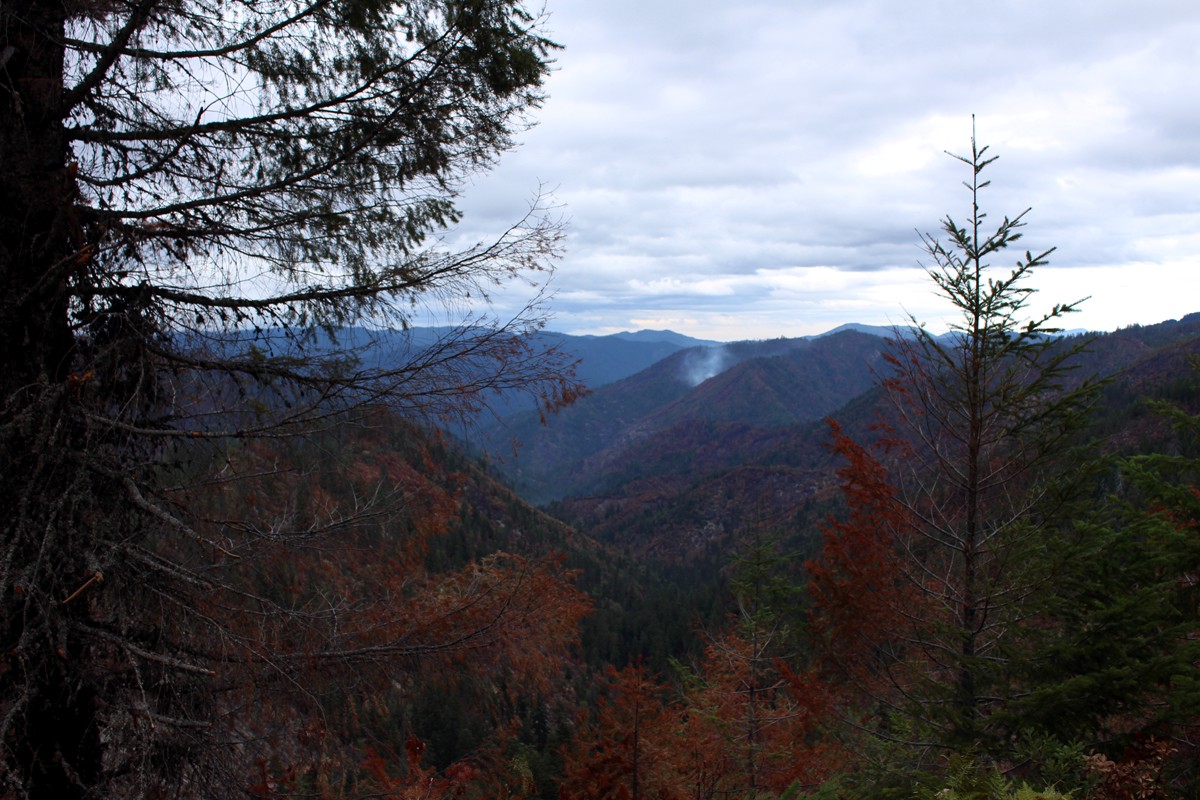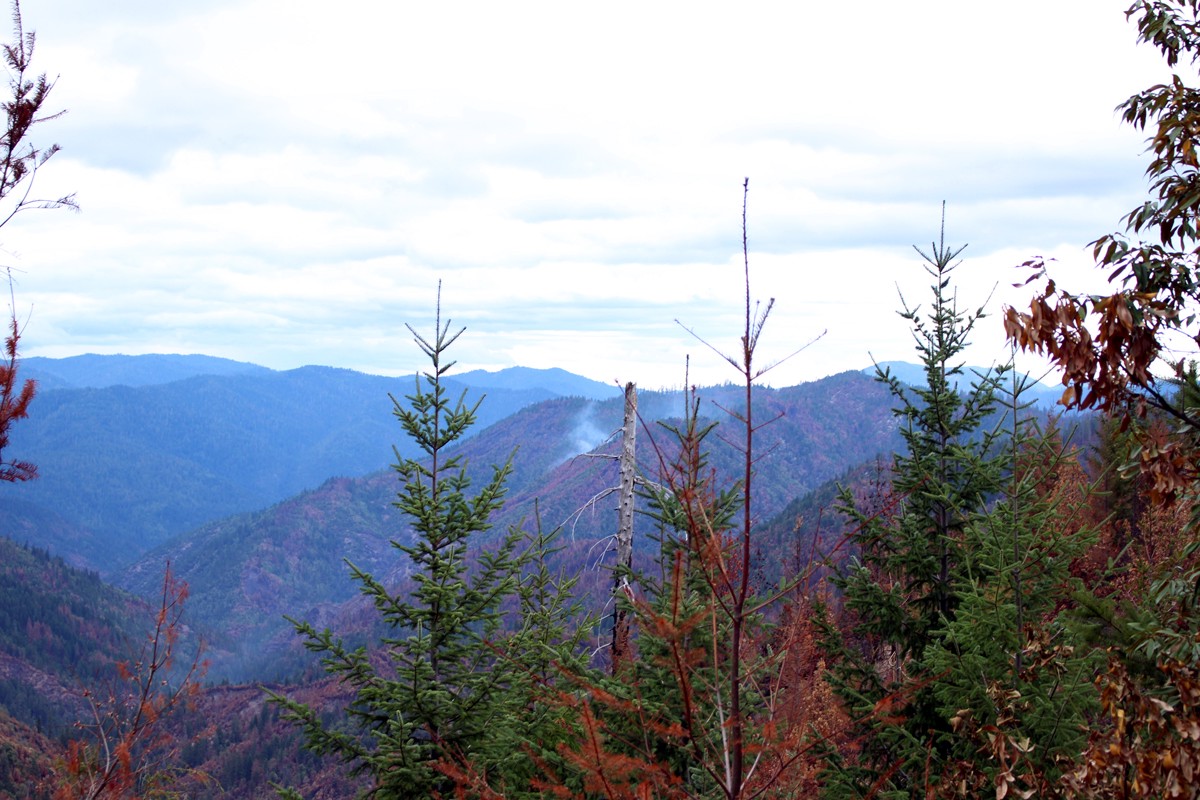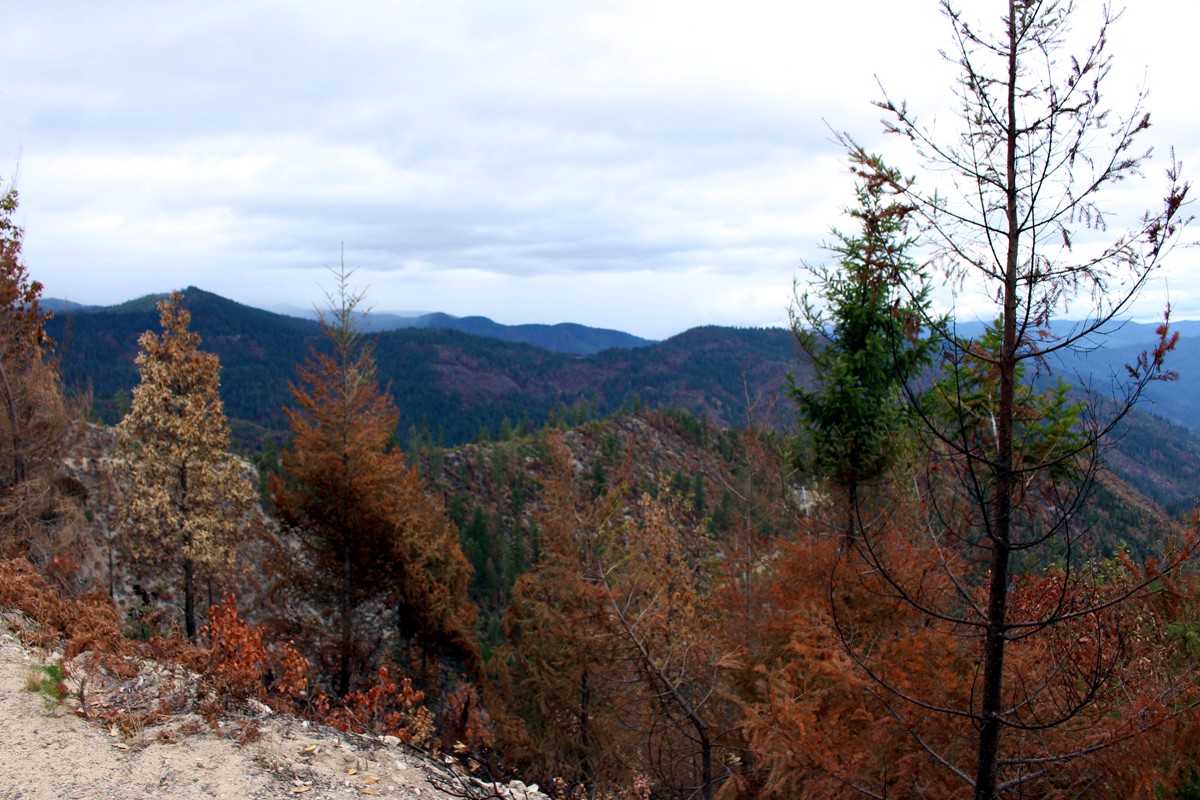 I took my last picture of where I thought the western edge of the Big Windy Fire would have been and headed west again. I thought Bear Camp was done climbing, but I was wrong. Not only did the road continue to climb, it got narrower. Not too bad, the road was still wider than a one lane, so still enough room for two cars to pass. Some spots, the road wasn't wide enough. There was one or two times I came across traffic in the opposite direction, and knowing the rules of backcountry roads, the car going downhill has the right of way. So, I backed up and let the two trucks go ahead of me since the road was so narrow. No biggie, I can deal with this too.

I could see in the distance when I was taking pictures earlier what looked like a squall of rain, but I was hoping, maybe, it would be nothing but a squall. The rain began to come down. The further I traveled, the more it rained. It rained hard enough to put the wipers on full crazy wiping as I climbed toward the summit.

At one point, as my Jeep climbing higher toward Bear Camp Summit, I knew I would have to go down. It's raining, is the road slippery? Dunno. Do I want to find out on this narrow little spit of road where all I see is a hill on one side and a cliff on the other and I cannot see the bottom of the hill? The uphill grade of the road made the Siskiyou Summit look like flat land. I really don't want to find myself at the bottom of the hill. Thankfully for 4 wheel drive and dropping the tranny into 3rd than 1-2 gear, I proceed to follow the mini rivers of runoff up and down the mountain at 25 to 30 mph. The road feels more like an oversized deer trail than a road, other than the pavement under the tires. The rain continues to fall, making pockets of fog in places where the visibility drops to nearly nothing. Great! Now, I'm driving on a slippery road AND I can't see. I guess 25 mph seems to be the best speed for the situation.

I got to Bear Camp Summit and it was pouring rain. No opportunity to get out and take a picture at the sparse overlook, housing only a sad, singular picnic table. When I came off of Bear Camp summit, I was chasing the mini rivers of water down the mountain as I was drove. I got over the summit unscathed, but the downward side was more intense than the uphill side from East. As I proceeded down from the summit, I noted a sign saying the pavement will be gone in places. A wet, steep dirt road is less fun to drive on than a paved road. I drop my speed to 20 to 25 mph. No slipping down the mountain for me! How long is this trip going to take? 4 to 5 hours per the big Bear Camp map sigh on the road? I do have all day to get there. What am I worried about? It's an adventure! I'm tired by this point and I was wishing it was over.

The other 'fun' part of driving Bear Camp road is the curves. I've driven on curvy roads. The highway over from Clear Lake to Calistoga, that's a curvy road with many hairpin turns you HAVE to take at 20 mph. There's good old highway 17 between Los Gatos and Santa Cruz. Highway 17 is about 20 miles, four lanes and 55 mph of crazy, twisty driving. Ironically, those roads have nothing on the Bear Camp Coastal Route. I thought I was going to get dizzy going through turn after turn up and down the hills of this road. How many miles did the sign say? 70? 80? Gosh, I don't remember. Oops, pay attention to the road, there's an uneven section ahead AND it tips down towards the cliff or you are running over another section of dirt road. I usually pay attention to the road when I drive, but Bear Camp required a huge amount of my attention every step of the way. Paying attention was tough at first, but halfway across the mountain, I found I got the swing of this twisty road. Until someone came the other direction in what seemed like lightning speed and really close to me because of the incredible narrowness of the road. At one point, during the first third of the drive, my phone chimed its text message notification. Am I really getting a signal, all the way out here?!? Darn near made me jump out of my skin, I was focusing on the road so intensely!

When I thought I wasn't close to the end, and I felt I tired of going back and forth, up and down, boom, the road ended and a stop sign appeared. That was it? I was glad I made it to the end, relatively unscathed.
(The end of Bear Camp Road. My white Jeep in the picture)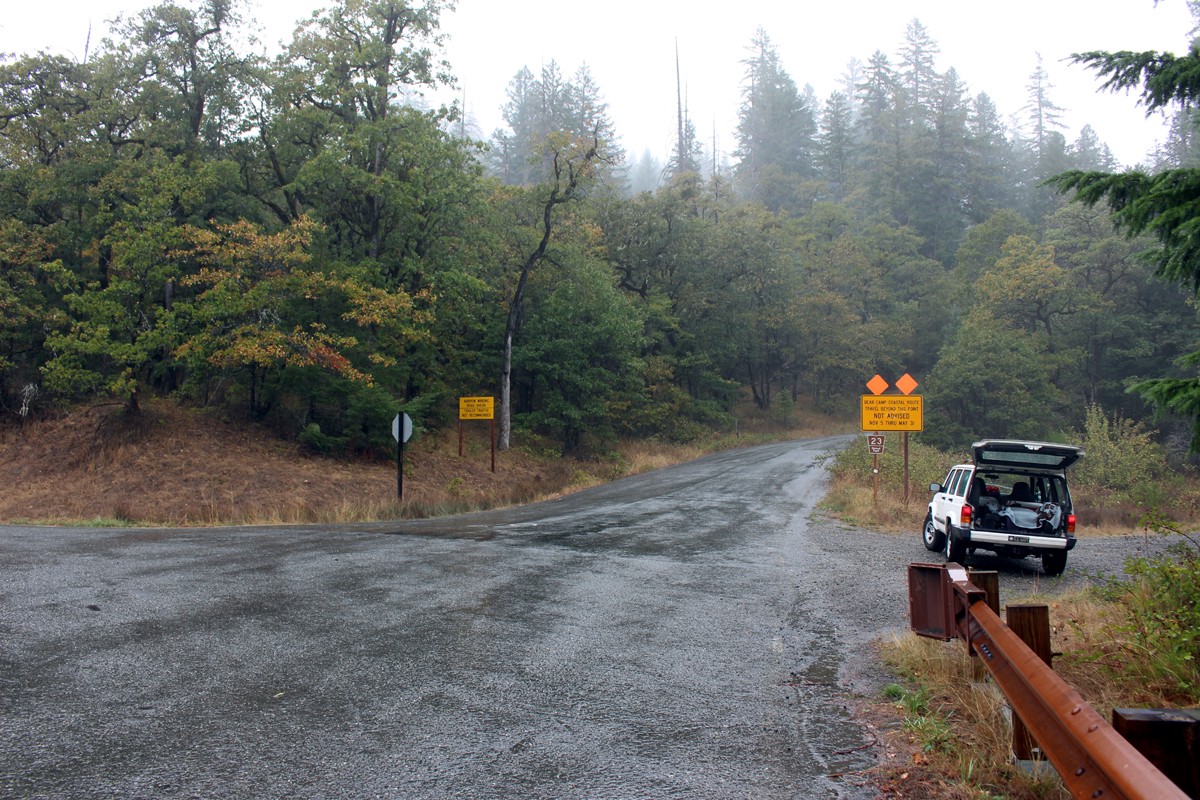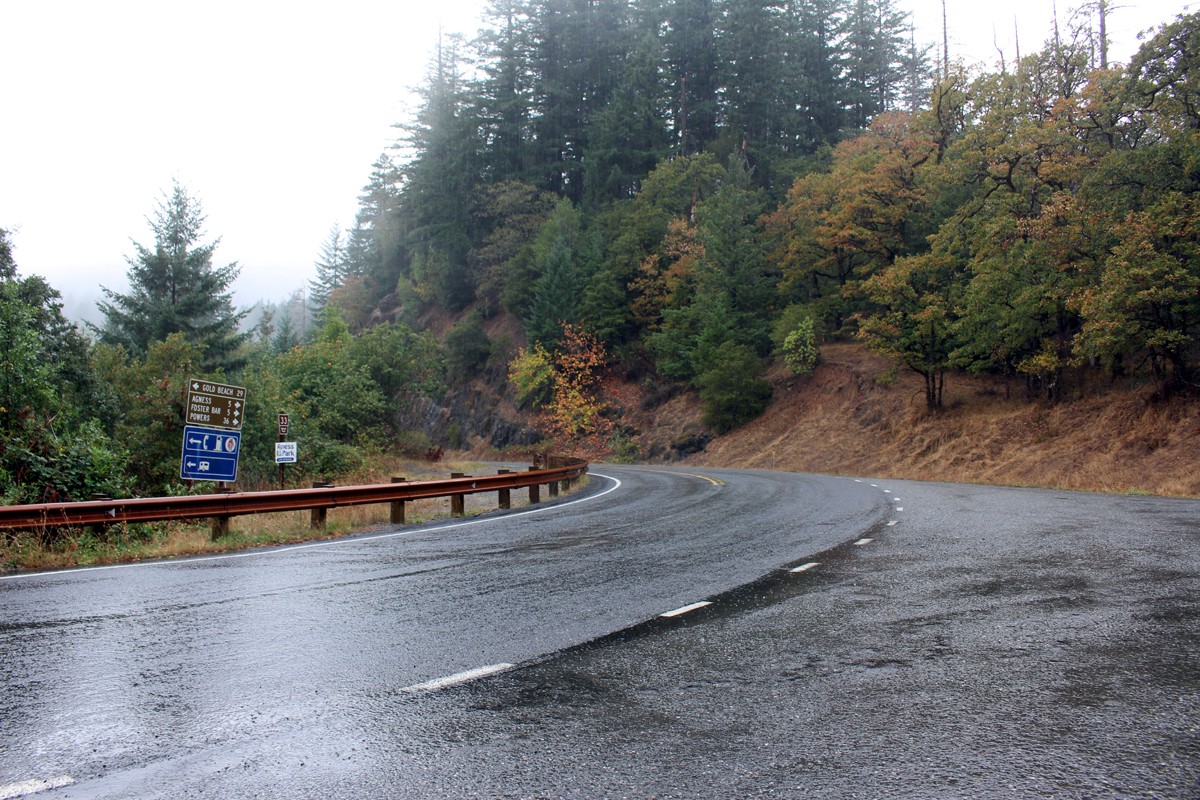 What do you think? Would you take the sign's advise or no? Could it be any clearer?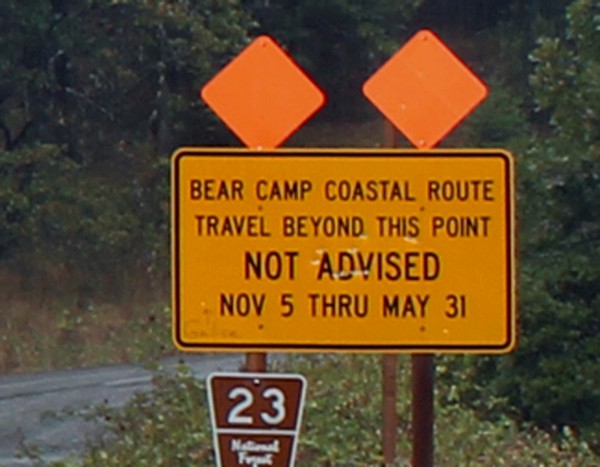 I saw many dirt roads diverging off Bear Camp, even though there were signs saying "Road Closed" the signage was so good I couldn't see how you could get lost. You could get lost. The signage was temporary and could have been moved or hidden in the snow, gates could be left open or anything could occur. The road could be hidden by snow itself. The elevation of Bear Camp is quite high. It felt like I was driving in the sky from time to time!

Instead of meandering toward Gold Beach, I went up to the Foster Bar pull out I was at in May for old time sake. The end of the wild and scenic section of the river where there is NO cell phone coverage, there resides an old fashioned pay phone. I took a picture of the phone. Pay phones are an endangered species! A couple of folks were packing up and pulling out of the wild and scenic section of the Rogue, even in the rain. Now, there are some hearty river rats! 9 months and I'll be back, in my river rat skin!
Foster Bar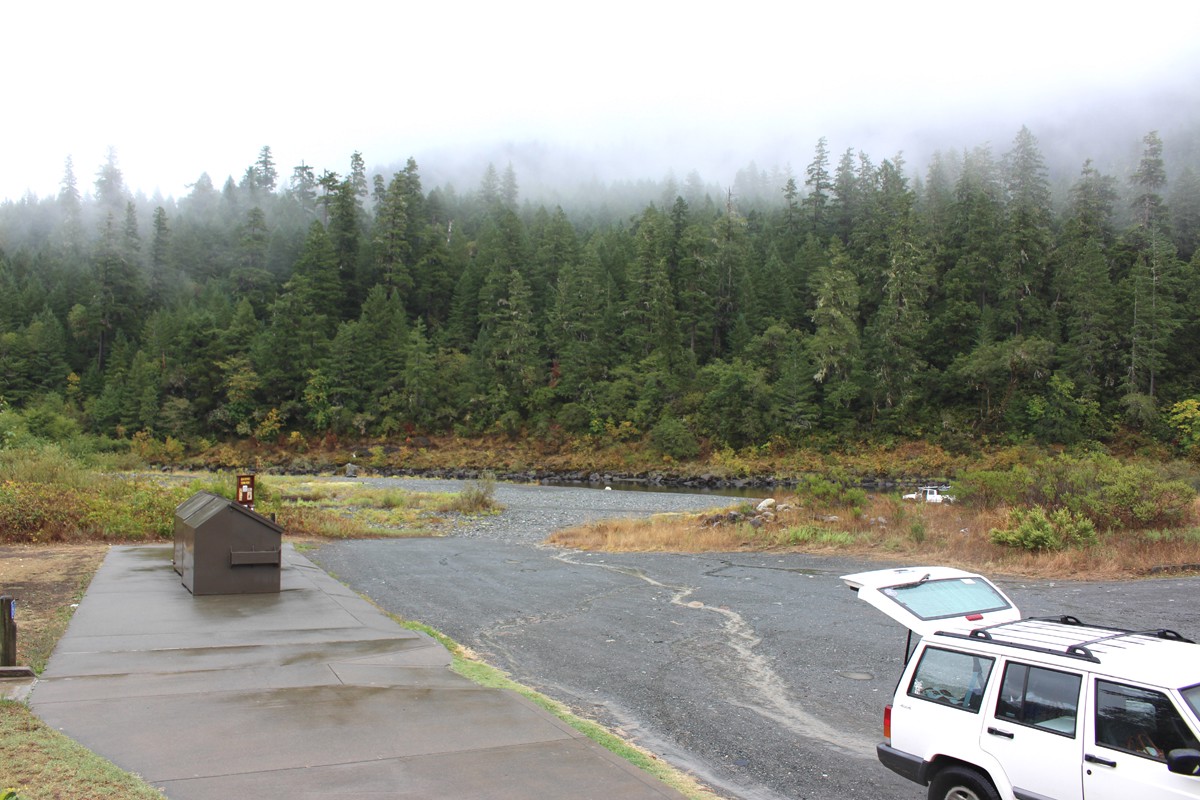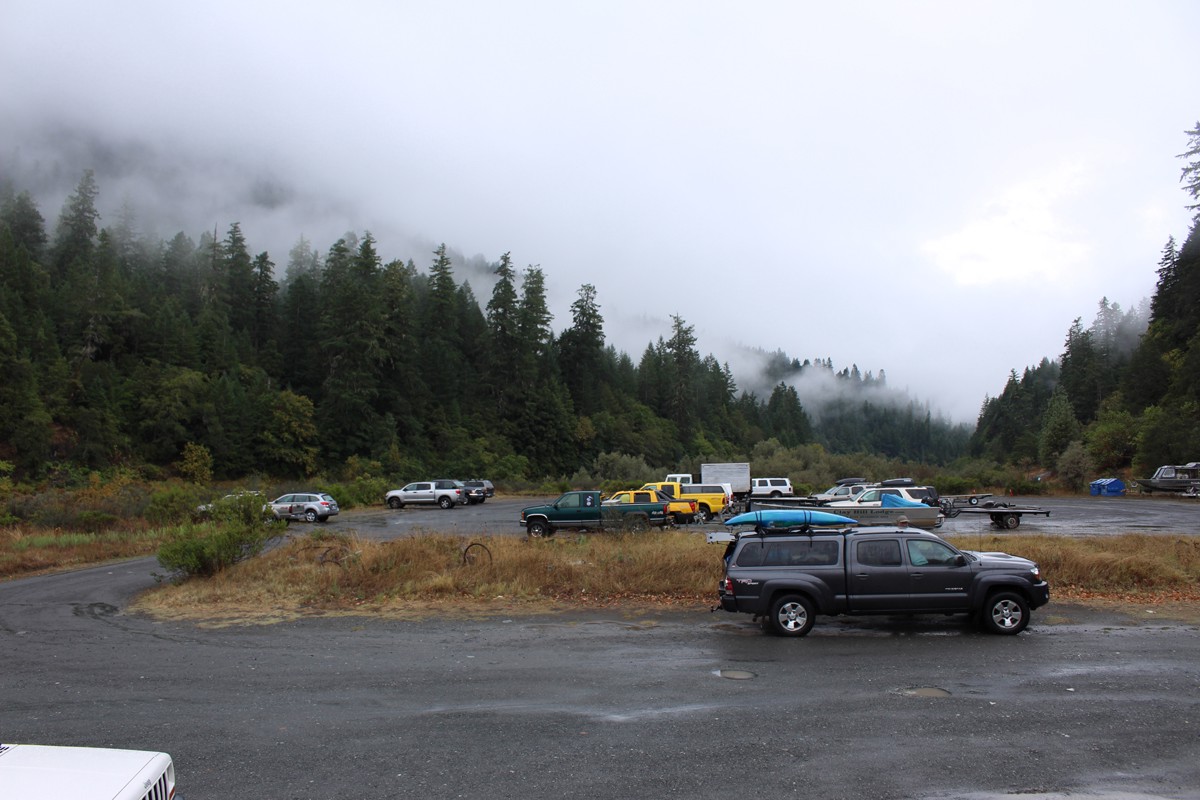 Foster Bar's Pay Telephone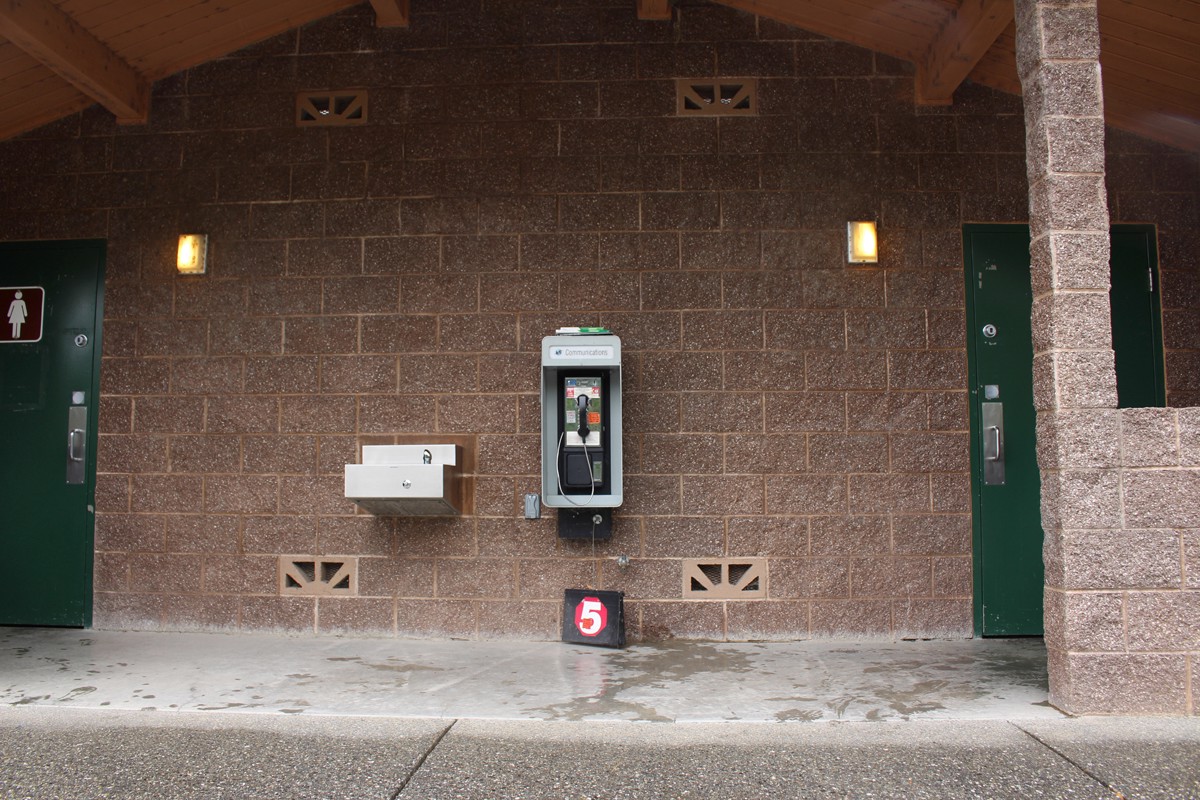 Bear Camp road, how you showed me your beauty today, but had a bit of beauty elude me. Heavy rain and fog in spots prevented me from seeing the beauty of the mountains all around, but I knew it was there. I would not want to meet you in the winter-time, but I know better than to venture out in your neck of the woods then. Maybe some crazy adventure seeking renegades or lost families might meet you, but not me. I know better.

The views of the author are his/her own and do not necessarily represent the position of The Weather Company or its parent, IBM.
Reader Comments
Previous Entries for 2017