Just Numbers
By: WatchinTheSky, 6:31 PM GMT on December 06, 2012
Thursday 12-6-12! Is that significant?? (I did put on my own shoes!) A week away from 12-12-12!!


We are a week into the 4th rainiest month for Escondido (not as though that means much since we only have 3 months with significant rain) and barely .25" has fallen with no rain likely for the 2nd week.

Since the rainfall totals are not impressive to look at, I thought I might track the rain deficit instead, a much bigger number so far this rain season - July to June.

Averaging 3 sources for data, by Nov we should be around 2.2" of rain. My gauge is at 1.29" - deficit is .91", about 58% of normal.

December average is ~1.8", so far .25" rain - should be .36" but we could still be at .25" by mid month, if WU forecast holds up.
(update 12-14-2012, December has turned average for precip with one good shot Thursday. We are now at about 1.8"!)


We are typically building toward peak rain in March, so the 'tide could turn'.

All these numbers got me thinking, and webbing, and I came across a few interesting charts and data (from city-data.com) for this area as compared to the US.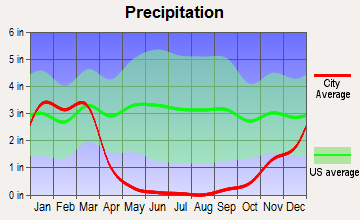 This one is interesting to me in that the country as a whole seems to have very consistent rain each month, though clearly, not Escondido - and I would have guessed, not many individual locations.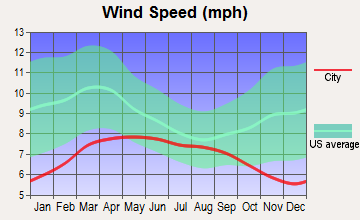 I know we are not generally 'windy', but apparently we are generally much below average. And significantly so in and around October when the Devil Winds blow and cause the media much excitement. These wind events are damped out of sight in this chart.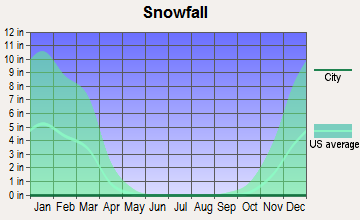 This chart cracks me up, we are flatlined - whereas the US has plenty of exposure to the white fluffy stuff. It is not as if we don't get cold enough. Just the way the wind blows, but this cause me a digression. Odds, many things affect odds but they are left out of the conversation to make a bigger point sometimes (usually?). You have better odds of being struck by lightning than winning the lottery. Unless you live in Greenland, say, where there is little to no lightning (certainly compared to Florida). Better odds of being bitten by a shark - unless you lived in say, Ohio, where there are not too many sharks swimming the streets :)




Added this for PSP! I was surprised at this one - but really shows the impact of May Gray and June Gloom on our curve. The US average is trending up while we plummet in these months. Sunny SoCal is not so sunny in May or June!

Here is a fun one - Escondido area historical eathquake activity is slightly below the California state average but 1459% higher than the US average. Over a thousand percent higher - sweeet!

Natural Disasters - apparently we are prone - The number in San Diego county (35) is a lot greater than the US (12). This bit of data was not explained well, I am guessing this means events in our county compared to all US counties - 4.5 thousand square miles, by no means the biggest - but the county is larger in area than the combined states of Rhode Island and Delaware. Lots of room for things to go wrong! Most of our disasters were fire related (19) and some if not most were due to the high winds that don't show on the wind chart. 14 disasters were due to floods, interesting with the relatively low rain fall.




Updated: 5:20 PM GMT on December 14, 2012
The views of the author are his/her own and do not necessarily represent the position of The Weather Company or its parent, IBM.
WatchinTheSky's WunderBlog
Recent Posts
Local Weather
59 °F

Mostly Cloudy
Previous Entries for 2017