The Eleventh Hour
By: Tricia , 6:49 PM GMT on November 11, 2009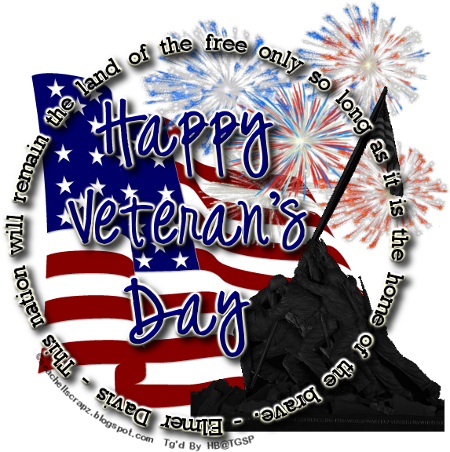 The Eleventh Hour

While most know that Veterans Day honors those who have served in the military, the meaning behind its exact date (November 11) may not be so familiar. Here's the backstory:

Back in 1918, in the 11th hour of the 11th day of the 11th month, a stop to hostilities was declared, ending World War I. An armistice to cease the fighting on the Western Front was signed by the Allied powers and Germany.

President Woodrow Wilson immediately proclaimed the day "Armistice Day," kicking off the annual commemoration on November 11. But over the years, with veterans returning from World War II and the Korean War, Armistice Day became Veterans Day — a day reserved to honor veterans returning from all wars. But 11/11 still represented the end of the Great War in the public's mind, and the date stuck.
In 1921, unidentified dead from the war were buried in Arlington National Cemetery in Washington, D.C., Westminster Abbey in London, and the Arc de Triomphe in Paris. The tradition to honor those killed in the war but never identified continues every year in the U.S. The ceremony is held at 11 a.m. at the Tomb of the Unknown Soldier at Arlington National Cemetery.

My two cents - I thought it was interesting that this occurred in 1918, which is seven years after 1911. (See what a wonderful mathematician I am?) No, really, this is cool, I promise. . .Can you just imagine what this day will be like on November 11, 2011? 11/11/11. Wow!

Happy Veteran's Day!

Yes, it is Veteran's Day 2009, and with each passing year it seems we can never thank our soldiers near enough! Their service and dedication is second to none, and I for one, believe they need a break more than anyone. I would like to see our world return to a more peaceful society when our soldiers could blend in the background. We knew they were there and they made us feel safe, but they didn't have to be front and center where they are today.

I think almost every single one of us has a soldier or two close to our hearts and defending our freedom on a daily basis. I know I have someone that I care about there. And I hope I have made sure he knows how much I appreciate what he has done. I'm pretty sure I don't thank him near enough. How can you? I lost count as to how many of our WU family has soldiers there. The one most on my mind is, of course, Nick. I know his mom thanks him for us. I just hope he can really grasp the depth and reality of our thanks! THANK YOU NICK and thank you to every soldier out there! WE SALUTE YOU!

Tell a soldier today how much you care! It doesn't matter if you know them or not, but I promise you will put a smile on their face!


I came across this on Facebook this morning and wanted to share:

The SOLDIER, not the preacher, gave us freedom of religion;

The SOLDIER, not the poet, gave us freedom of speech;

The SOLDIER, not the reporter, gave us freedom of the press;

The SOLDIER, not the community organizer, gave us freedom to assemble;

The SOLDIER, not the politician, the freedom to vote.

It is the SOLDIER who salutes the flag, serves beneath the flag, and whose coffin is draped by the flag.



Reader Comments
Comments will take a few seconds to appear.
Tricia's WunderBlog
Recent Posts
Local Weather
76 °F

Overcast
Previous Entries for 2016