Spring Weather did Finally Arrive, for a Moment
By: SwampDuck , 1:24 PM GMT on April 17, 2014
Temps started rising into the normal range about a week ago. It was very pleasant, mid 50s during the day, low 30s at night. Then a short cold front came in. Hi Tuesday (day before yesterday) was about 28 and the low Wed morning was 12.3 F. A tad chilly. But as the budding of trees and plants seems to be a couple weeks later than I am used to I guess it didn't cause any real damage in my area. Heck, even my crocuses are barely out of the ground, they had flower buds but they hadn't opened.

The 4 inches of fluffy snow we had at the same time wasn't even so bad but the ice that was underneath made the roads very slippery on my ride into the city of Alpena Wed morning. Here's a photo of that morning. The day before it was dead grass everywhere.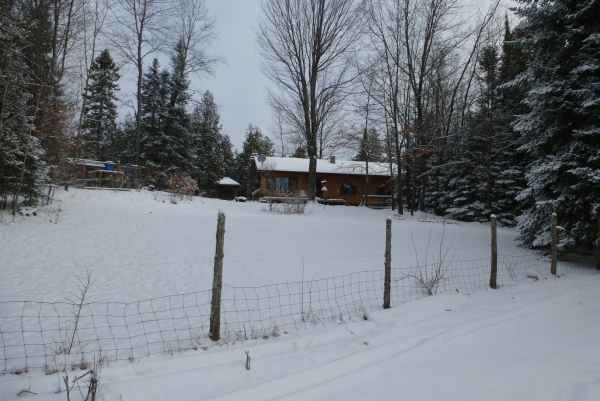 The dogs didn't seem to mind.




It's mostly gone now, though the colder night temps caused it to fuse to the pond ice. There was a foot of water on the ice, now there's an inch of ice on top of the water. Ice layers you could say. Two days ago Hubbard Lake still seemed to be ice covered as well. Looking forward to seeing some big water around here. Might help us to feel warmer even if it's only in our heads.

Come back, spring!
The views of the author are his/her own and do not necessarily represent the position of The Weather Company or its parent, IBM.
Reader Comments
Comments will take a few seconds to appear.
Weathering Life in a Cedar Swamp
Recent Posts
Local Weather
41 °F

Clear
Previous Entries for 2017
Recommended Links