El Nino Update & What Not
By: Skyepony, 4:52 AM GMT on March 13, 2007
From my What Not forder. Sometimes you see my gfs confidence drop. Usually it's just a feeling or it hasn't been verifiying on something, this is fun to check the gut against.

FSU/NWS TLH COMET Experimental Forecast Confidence Graphics

~~~~~~~~~~~~~~~~~~~~~~~~~~~~~~~~~~~~~~~~~~~~~~~~~ ~~~~~~~~~~
NHC Tropical Disscusion

Local text Products
Local Forecast Graphics.

Click to make larger



Local Hazards
Wind & Sea....Rip Current.....Fire weather......Lightning.......Severe Hail.....Severe Winds.....Tornados





These will update automatically with conditions.
Credit~NWS More East Central FL Graphical Hazard maps & these full size are available there.
Local NWS Hazardous Weather Outlook


Watching for rain..


click map to go interactive





Got .28" of rain yesterday:)

Monday less of a rain chance, atleast it isn't as fleating. Chances are best to the north. Highs in 70s-80s. Rain chances continue through the night.

Tuesday we hope for more rain, as a low may form in the west gulf, quickly passing the north end of the penensula tuesday night. Tues- Thursday the temps quickly rise.

Confidence is low for the end of the week so I'l stop there.

The word is the jellyfish have subsided.




click maps to make bigger

Surfers & Surge
cool wave watch graphic.
NOAA Wave Watch III
Storm surge threat model...Always wondered if or how vulnerable your or friend's place would be to surge? Covers Volusia, Brevard, Indian River, St Lucie & Martin Counties.


Radar/Satellite/Microwave
Melbourne NEXRAD Radar
NOAA Satellite Services ~ I like the RGB by day, rainbow at night with some Water Vapor thrown in once in a while.
Navy site~good to keep up with invests

Models~
Local Meso Model (well it covers most the state)~ lots of informative blue bars, each a different model, above it to click on too. Forecasts weather for the nexr 24 hrs.
FSU Model page
Shear loop .
Comparing different models shear, steering & percipitation loops.

Click to make maps bigger.

STEERING CURRENTS



HAZARDS



Tropical Deppression Probibility



~~~~~~~~~~~~~~~~~~~~~~~~~~~~~~~~~~~~~~~~~~~~~~~~~ ~~~~~~~~~~



Indian Ocean~ 95B 20kts 1004mb still pretty close to land

Southern Hemisphere

Jaya 20kts 1004mb ~ Turned SW, staying over water & avoiding Mozenbique for now.

97S~gone

99P~gone
~~~~~~~~~~~~~~~~~~~~~~~~~~~~~~~~~~~~~~~~~~~~~~~~~ ~~~~~~~~~~
Updated April 9th~ As of the morning the graphs are out but not the summary... I'll have to highlight the summary later today. ENSO mostly steadied this week, with a little bit of cooler water welling up on the east end.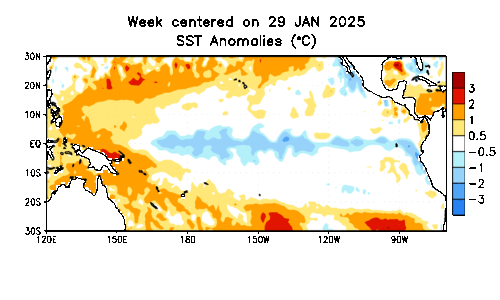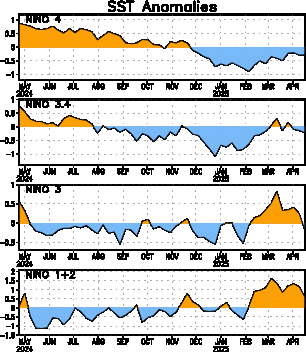 Anomilies are -.6 in regions 3, .1 in region 3,4. -1.2 in region 1,2. And +.3 in region 4. Overall for the week it went down .3 in region 1,2 ~ Region 3 stayed the same ~ The central & western Pacific in regions 3,4 & 4 are falling off slower, 3,4 & 4 stayed the about the same. The cold water up wells in the East & then travels west.

much of the USA.


CPC Synopsis: A transition from ENSO-neutral to La Ni�a conditions is possible during the next 3 months. Same as last 2 weeks.


The # that counts is region 3&4, that principal (now) # .1, same as last week, now conditions are neutral.

The ESPI Stayed -.97 for the last 2 weeks for the last 30 days.

ENSO steadied this week as I'd expected. Next week I expect roughly the same.
~~~~~~~~~~~~~~~~~~~~~~~~~~~~~~~~~~~~~~~~~~~~~~~~~ ~~~~~~~~~~

Create your own visitor map!
LinkLink
Updated: 7:14 PM GMT on July 14, 2011
Skyepony's WunderBlog
Recent Posts
Local Weather
75 °F

Partly Cloudy
Previous Entries for 2016
Personal Weather Stations
West Eau Gallie

Melbourne, FL

Elevation:
29 ft
Temperature:
75.7 °F
Dew Point:
38.5 °F
Humidity:
26%
Wind:
10.0 mph from the NE
Wind Gust:
-

Updated: 5:33 PM EDT on October 23, 2016