Sea Ice Melt facts and predictions
By: RTSplayer , 9:20 PM GMT on September 20, 2012
twenty years from now from now in August you might be able to take a ship right across the Arctic Ocean."
Using the 5 year running average of net melt rate, August 1 will be ice free in about (ten to fifteen years).
using the updated models being run for the 2014 IPCC report, found that "a seasonally ice-free Arctic Ocean within the next few decades is a distinct possibility
The 5 year running average net sea ice minimum volume loss is now 602cu km/yr, the same as this years net loss.
If this rate is linear and there is no further acceleration, then the volume minimum will be zero for at least one day in September in 6 years or less, assuming no more "giant drops" like 2007 or 2010. If the rate is exponentional with a growth factor of the 5th root of 2 per year, as it appears to be, then there will be at least one ice-free day in September in 4 or 5 years.
There will be at least one ice free day in both August and October in 10 years or less, and more likely 7 or 8 years, with September being totally ice free by then.
August will be totally ice free, for the ENTIRE MONTH, some time between 10 and 15 years, at the present 5 year average LINEAR rate of net loss.
As I said on another board, Volume is what melts, not extent or area. Extent and Area simply describe how the Volume is distributed.
Since most of the volume loss is coming from the thinning of ice in the past 5 years, it will eventually start coming more and more from loss of area and extent as average thickness reaches 1 meter or less, because all three values: volume, area, and extent, are squeezed to zero simultaneously for the real world value, not our estimates.
See below: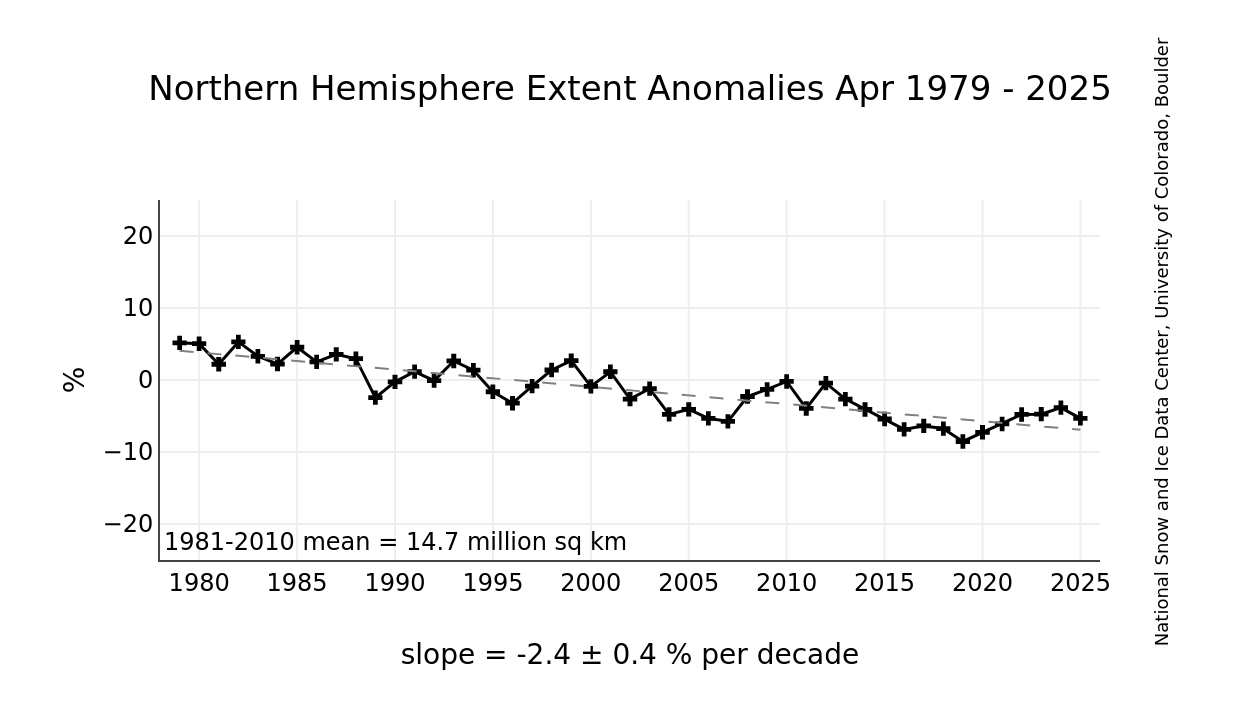 and
Notice the VERY rapid decline in annual minimum Area and Extent in the past year or two? This happened because THICKNESS has become so little that it is very easy for area to be lost.
This trend in loss of area will now grow exponentially at a rate of ~15% per year, roughly matching the exponential rate of volume loss, rather than 10 to 15% per decade as in the past, because the thickness is approaching 1 meter.
In the past, the area was partially maintained as thickness decreased, now that is no longer possible, and the graphs are beginning to show the evidence, though it will take another year or two for the data to convince any legitimate skeptics.
Further, winter maximum volume will be below the 1979 September minimum volume in about another 6 to 9 years, representing a complete seasonal bifurcation.
Now remember, warming does not stop when the ice melts. In fact, it greatly accelerates as I've pointed out many times. Remember, the Heat of Fusion of water is around 80 times the Specific Heat Capacity of water, so the "heating" of water will be far greater in terms of temperature than anything we have yet seen once this ice melts completely.
Now that I've come to have a better understanding of these trends, I am convinced that not only is AGW real, it is significantly worse than the IPCC has ever predicted.
It should be noted that the "linear" rate would remain approximately the same even if we magically quit producing net gains in CO2 and Methane tomorrow and never looked back.
The views of the author are his/her own and do not necessarily represent the position of The Weather Company or its parent, IBM.
Reader Comments
Comments will take a few seconds to appear.
RTSplayer doesn't have a bio yet.
Recent Posts
Previous Entries for 2017