The fascinating story of ice cream, Part I
THE FASCINATING STORY OF ICE CREAM

I doubt whether the world holds for anyone a more soul-stirring surprise than the first adventure with ice cream.
~Heywood Broun




Have you ever met a person who doesn't love ice cream? I have not!

Ice cream - it tastes better than any other dessert, creamy, smooth, soft, cold, mouth-watering flavors. It is served after a meal for dessert, during a meal as a digestive sorbet, eaten during a passeggiata, on a hot day to cool down, on a cold day just for the pure pleasure. It lifts up the spirit, it helps a child feel better, and it evokes wonderful childhood memories.

Voltaire said it well:

"Ice cream is exquisite. What a pity it isn't illegal."
~Voltaire

The origins of ice cream is traced back to antiquity, albeit not in the form we know today. There are many references in ancient texts, both in ancient texts and in archeological findings.

In the Bible, Isaac offers Abraham goat milk mixed with snow, one of the first references to 'ice cream'.

In ancient Troy pits designed to preserve ice and snow have been found during archeological excavations.

Historical tradition says that King Solomon was a frequent user of frozen drinks, and that Alexander the Great continuously ate snow mixed with fruit and honey during his marches and battles. Records show that Alexander had his slaves bring ice down from the mountains into the trenches during the siege of Petra.

Some researchers have concluded that the origin of ice cream goes back three thousand years BC in China. It is an improbable conclusion, certainly it wasn't the form of ice cream we know today. What is true, however,is the fact that the Chinese did discover how to conserve winter ice for summer use by storing it in ice-houses.
Marco Polo brought back from China the information of how to artificially freeze a mixture of water and saltpeter.

Egyptian Pharaohs served a granita like dessert during banquets. Supposedly Cleopatra offered Caesar and Anthony fruit mixed with ice.

Ancient Romans produced their nivatae potiones(my best translation is 'iced drinks' or 'drinks cooled with snow').
Snow was brought to Rome from the volcano Vesuvius,and from Etna in Sicily.
General Quinto Fabio Massimo invented a type of sorbet, and Emperor Nero offered his guests a drink made with cut up fruit, honey, and snow. (I suppose he kept cool eating his snow concoctions while Rome burned!)

Towards the end of the IX century, the Arabs who invaded Andalusia(Spain)and Sicily brought with them the cultivation of sugar cane, and citrus fruit. The Arabs used sugar syrup instead of honey as a sweetener.
In Sicily sugar cane was grown in the area of Mount Etna, as were oranges and lemons (these fruits were known to the Greeks and Romans but were not eaten because they were too acrid). Etna snow was combined with fruit juices and sugar syrup,creating a sorbet.
The word sorbet comes from the Arabic word scherbet (probably derived from the Turkish word chorbet), meaning sweetened snow.
Long before the Arabs invaded Sicily, snow from Etna had been brought down to the towns in baskets, surrounded by hay and salt. Then it was deposited in deep cellars where it kept for several months. In fact Etna snow and ice was a thriving trade business with Rome and other Mediterranean areas.

Returning Crusaders from the Holy Land brought back recipes for sorbets made from citrus fruit, mulberries, and jasmine.

During Middle Ages the sorbets and other 'refined' foods, disappeared from the culinary offerings. After all these foods were synonymous with sin!

The discovery of the New World in the 1500s (technically 1492) marked the end of the Middle Ages. With the end of the Middle Ages, ice cream as we know it today began its voyage to heavenly deliciousness! The art of living and eating well was revived once again.





The Renaissance brought many changes to the literary as well as the culinary world. It also brought a lot of controversy about who should be given the credit for the new era in ice cream making.

A Florentine, Catherine de' Medici is given credit, by some, for bringing the sorbet to the court of Francis I (1494-1547) when she married the Duc d'Orleans (Henri II). It is thought that she brought her staff along to cook for her and her family. One of her chefs was a young man named Ruggeri. Ruggeri had participated in a contest to prepare 'the most singular dish that had ever been prepared'. It seems that Ruggeri prepared an iced dessert, using old recipes and adding 'a tad of fantasy'. The sorbet impressed the judges who declared "we have never tasted a dessert so exquisite before now'! Catherine and the Duc d'Orleans were married in Marseilles where during the wedding banquet Ruggeri served his sorbet. The year was 1533.

Generally,Florence(Italy)gets the credit for the first ice cream (gelato). A Florentine who was the architect to the Royal Court of the Medici family, Bernardo Buontalenti, was hired to organize luxurious events for their banquets. He was responsible for the stage constructions, theater events, fireworks, and food. For one of his food creations he invented frozen desserts made with zabaglione and fruit (Buontalenti had a good knowledge of chemistry).It is recorded that in 1565 the Medici were to receive a delegation from Spain. A sumptuous feast was prepared by Buontalenti which included a gelato. The happy Spaniards spread the word throughout Europe about the delicious gelato.

Truth or myth, the Florentines Ruggeri and Buontalenti are both given credit for the birth of the 'real' ice cream.




FROM SICILY TO PARIS

The following is my favorite epoch for the story of ice cream. It deals with a Sicilian who adopted a name held by some of my ancestors, a famous café' where coffee, gelato, and intellectual conversation flourished.




Francesco Cuto' known as Francesco Procopio dei Coltelli was born in Sicily. His Baptismal record found in a church in Palermo shows that he was born February 9, 1651. His parents were Onofrio Cuto' and Domenica Semarqua. Francesco added Procopio as his second name, and the French gave him the surname Couteaux meaning knife in French. Cuto' is a homophone of cuteaux. Translated back into Italian Francesco is now known as Francesco Procopio dei Coltelli. Procopio is derived from Procopius, a famous historian who wrote "Secret History, the Anekdota" (published for the first time in 1623). (Although Procopio is one of my ancestral maternal surnames, I have absolutely no connection to the father of ice cream.)

Francesco's grandfather was a fisherman who liked to build 'ice cream machines'. The grandfather left his invention, called gelatiere in Italian, to his grandson. Francesco improved his grandfather's machine and when he thought that he could produce gelato (Italian ice cream) on a large scale, he decided to travel to Paris to promote his new product.




Francesco began his career in Paris by selling refreshments, including lemonade and coffee, from a kiosk (lemonade stand).In 1686 Francesco opened his café' named Le Procope, the French version of his adopted name. Le Procope was a great success and it has become the oldest continually functioning café' in Paris and perhaps the world. Yes, Le Procope is still in business today, more than three hundred years later! It has been refurbished in the 18th –century style and is run as a restaurant.

Le Procope served the exotic (for those times) coffee, sorbets in many flavors including strawberry, etc. King Louis XIV personally handed Francesco a special royal license to sell a mélange of refreshments including spices, 'frozen waters' flavored with anise, orange, lemon, cinnamon, frangipan. And of course, his improved version of the Italian 'ice cream' gelato. It was this gelato that gave Francesco the distinction of being called "The Father of Italian Gelato".



Clientele at Le Procope in 1743

Soon after Le Procope opened, the Comedie-Francaise also opened its doors. It was located across the street from the café'! The café' became a famous cultural and political gathering place in the 18th and 19th centuries. Among notable people who frequented the café' were Robespierre, Victor Hugo, Paul Verlaine, Honore' de Balzac, La Fontaine, Gambetta, Anatole France, Voltaire, Rousseau, Alain-Rene' Lesage, Georges Danton, Jean-Paul Marat, Denis Diderot, Jean le Rond d'Alembert, Benjamin Franklin, Thomas Jefferson, John Paul Jones, Oscar Wilde, Henry Wadsworth, Longfellow, Napoleon Bonaparte, George Sand, George-Luis Leclerc.

There are many stories about the people who frequented Le Procope, the following are just a few:




Voltaire is the one with the raised hand.



Voltaire's desk at Le Procope

Voltaire (1694-1778) consumed forty cups of coffee a day at Le Procope! Hopefully they were demi-tasse cups! Today above the door at Le Procope are found the following words: 'Café' a' la Voltaire'. It was Voltaire who said "Ice cream is exquisite. What a pity it isn't illegal".



Plaque at Le Procope to honor Ben Franklin

When in 1790 the news of Benjamin Franklin's death reached Paris, Le Procope was draped in black in his honor.

During the French Revolution the café' was a meeting place for many revolutionaries. The Phrygian Cap, the symbol of Liberty, was first displayed at Le Procope.

Napoleon frequently had to leave his hat at Le Procope while he went in search of money to pay for his coffee!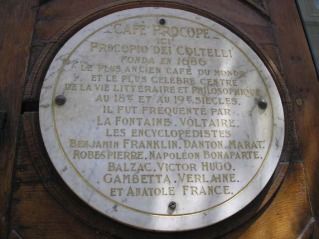 TO BE CONTINUED…. Part II will be the next blog. The topic will be about the journey of ice cream in America (Colonies-USA).

Cafe'Procope ice cream recipe: half a liter of cream (2 cups); 25 cl of milk (one cl equals 10 ml); an egg yolk; 375 grams of sugar (a little over 12 oz). This recipe is definitely very different than the flavored ices served until Procope came up with this recipe.






"I found I could say things with color and shapes that I couldn't say any other way - things I had no words for." Georgia O'Keeffe
The views of the author are his/her own and do not necessarily represent the position of The Weather Company or its parent, IBM.
Reader Comments
Comments will take a few seconds to appear.
Post Your Comments
Please sign in to post comments.
Not only will you be able to leave comments on this blog, but you'll also have the ability to upload and share your photos in our Wunder Photos section.
Proserpina's WunderBlog
Recent Posts
Local Weather
50 °F

Clear
Previous Entries for 2017
Recommended Links