The road to paper-making, Part II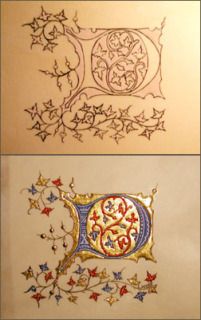 Illuminated Parchment

Part II

Parchment/Vellum

Papyrus was useful and certainly easier to use than the earlier writing surfaces, but the plant was grown only in the Nile region and the availability was up to the papyrus producers of that area. When Alexandria temporarily cut off the export of the papyrus a new easily available source for a writing surface had to be found.

In the 2nd century BC a great library was set up in Pergamom ( Bergama in modern Turkey) which rivaled the famous Library in Alexandria. Not wanting competition from another library, Alexandria stopped the export of papyrus.

As the availability of papyrus became scarce, Pergamon developed a new writing surface made from skins of animals. Pergamon became a production center for this new writing surface called parchment.

Animal pelts were easily available to make parchment, moreover parchment had other advantages over papyrus. It was much more durable than papyrus and withstood hard wear and usage. In addition parchment was not easily destroyed by fire.Parchment pretty much replaced papyrus in the 4th century and was popular until the late Middle Ages when paper replaced parchment.

Of course leather had been used as a writing material for a long time before the use of parchment. The first mention of Egyptian documents written on leather goes back to the Fourth Dynasty but the oldest known animal skin scroll is probably from the Egyptian 12th Dynasty. But even though both materials are derived from animal skins, leather is not truly parchment. The process treatments are different and the resulting surfaces are very different.

Parchment is not the only writing surface made from animal skins vellum is also made from animal skins. Although the two words often are used interchangeably, there is a difference. Parchment is generally made from the split skins of calf, sheep, and goats. Vellum is fine parchment made from calf skin.

I will use parchment and vellum interchangeably.

Etymology of the words parchment and vellum:

Parchment : 'From Middle English parchement, from Old French parchemin, via Latin pergamīna, from Ancient Greek Περγαμηνός (Pergamēnos, "of Pergamun"), which is named for the Ancient city of Pergamon (modern Bergama) in Asia Minor, where it was invented as an expensive alternative for papyrus.' ( Wiktionary)

Vellum: Vellum is derived from from the Latin word 'vitulinum' meaning "made from calf", leading to Old French 'Vélin' ("calfskin") (Wikipedia)

Below is a brief description of the making of parchment:

As stated above, parchment was made from animal skin. After the pelt was flayed, the skin was soaked in water to remove grime and blood. Then it was placed in a wooden or stone vat that contained a dehairing solution that included lime. While in the vat it was stirred several times a day. The unhairing took eight or more days. Once de-haired, the skin was soaked in water to make it workable then the skin was placed on a stretching frame. Both sides of the skin were scraped with a special curved knife to remove the last of the hair and to get the skin to the right thickness. To smooth the surface and to make the ink penetrate more deeply, the parchment was rubbed with pumice powder while still wet and on the frame. Once dry and taken off the frame the skins kept their form.

How was parchment used? The following are a few examples:

"Parchment, like leather, was used to make scrolls, however parchment lent itself best to the codex form of book. The Romans used parchment tablets and possibly small "notebooks" for writing drafts and notes. To protect fragile papyrus scrolls while being handled, the Romans made covers out of parchment. These covers were called paenula and were often brightly colored. In addition, a small parchment strip, called a titulus or index, was attached to each scroll. These strips carried the title of the work and were also brightly colored." (http://papyri.tripod.com/vellum/vellum.html)



Parchment binding

Another early use of parchment was to make Portolan charts. Portolan charts are navigational maps based on compass directions and estimated distances observed by the pilots at sea. They were first made in the 13th century in Italy and later in Spain. Below is an example of a Portolan chart made in 1533 by Jacobo Russo from Messina.




Most of the finer medieval manuscripts, illuminated or not, were written on parchment, as were some of the Buddhist texts. All Sifrei Torah were (and still are) written on kosher klaf or parchment.



Page from an early 15th Century French Book of Hours depicting St. George slaying a dragon.



A page from a Torah

A quarter of the 180 copy edition of Gutenberg's Bibles printed in 1455, were printed on parchment.

Parchment was used for paintings, especially if they needed to be sent long distances. Parchment was also used for drawings and watercolors.


Music on parchment


Pen drawing on parchment, Middle Ages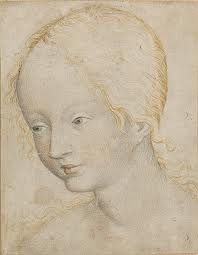 Watercolor on parchment

"Parchment has traditionally been used instead of paper for important documents such as religious texts, public laws, indentures, and land records as it has always been considered a strong and stable material. The five pages of the U.S. Constitution as well as the Declaration of Independence, the Bill of Rights, and the Articles of Confederation are written on parchment."
(Quote from: http://www.archives.gov/preservation/formats/paper -vellum.html)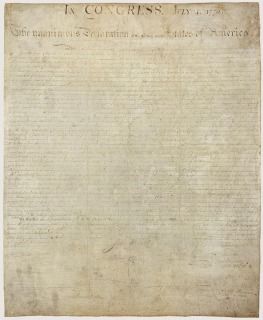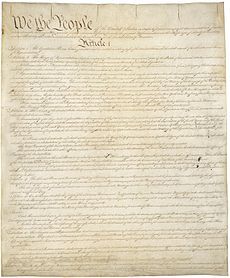 John Hancock, the President of the Congress, was the first to sign the sheet of parchment measuring 24¼ by 29¾ inches.

For Interesting information about the history of the Declaration of Independence and its engrossing on parchment please go to: http://www.archives.gov/exhibits/charters/declara tion_history.html

Modern usage of parchment /vellum:

British Acts of Parliament are still printed on parchment, as are those of the Republic of Ireland. Also it is still used for Jewish scrolls of the Torah. Luxury bookbinding, memorial books, documents in calligraphy are a few more examples of modern use of parchment.

In some universities the word parchment is used to refer to the certificate presented at graduation ceremonies (even though the modern document is printed on paper). Some universities, for doctoral graduations, give the option of having the certificates written by a calligrapher on parchment. The University of Notre Dame still used animal parchment for its diplomas, as does the University of Glasgow.



Tempera and gold on parchment by Niccolo da Bologna


Quote from William Shakespeare's "Hamlet", Act 5, Scene 1

Hamlet: Is not parchment made of sheepskin?
Horatio: Aye, my lord, and calves' skins too.





...from Heaven!
Reader Comments
Comments will take a few seconds to appear.
Post Your Comments
Please sign in to post comments.
Not only will you be able to leave comments on this blog, but you'll also have the ability to upload and share your photos in our Wunder Photos section.
Proserpina's WunderBlog
Recent Posts
Local Weather
47 °F

Clear
Previous Entries for 2016
Recommended Links