Let's Dance.
LIFE MAY NOT BE THE PARTY WE HOPED FOR, BUT WHILE WE ARE HERE WE MIGHT AS WELL DANCE!

(Anonymous)


"We dance for laughter,

we dance for tears,

we dance for madness,

we dance for fears,

we dance for hopes,

we dance for screams,

we are the dancers,

we create the dreams."


- Author Unknown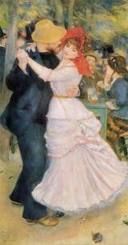 Sorry but for the moment I do not have the time to put together a real blog. So let's dance!
I love the way the sun plays on the petals.
"Colors, like features, follow the changes of the emotions." Pablo Picasso
The views of the author are his/her own and do not necessarily represent the position of The Weather Company or its parent, IBM.
Reader Comments
Comments will take a few seconds to appear.
Post Your Comments
Please sign in to post comments.
Not only will you be able to leave comments on this blog, but you'll also have the ability to upload and share your photos in our Wunder Photos section.
Proserpina's WunderBlog
Recent Posts
Local Weather
66 °F

Partly Cloudy
Previous Entries for 2017
Recommended Links